Binsar: A Walk Through The Wildlife Sanctuary
 Binsar valley is said to be the perfect Himalayan paradise. Located in the wonderful state of Uttarakhand, the tiny village is situated at an altitude of 2420 m. Binsar is also a great destination for solo travel, since there are so many hidden gems here, that you have full liberty to go out and explore.
Binsar temperature  & tranquillity of the place allows you to just sit back and soak in the beauty that surrounds you. You can also just meditate in this Himalayan retreat and introspect as much as you want.
Binsar Wildlife Sanctuary
Finally, the day came when I was to visit the famous 45 sq km of Wildlife Sanctuary. The extremely reputed Binsar Wildlife Sanctuary is a haven for wildlife lovers and tourists who come here to enjoy the diverse and rare flora and fauna.
I paid the entrance fees and walked into a narrow muddy path canopied by dense trees. I noticed that the Himalayas were just peaking beyond the trees. It felt as if the entire sanctuary was cradled by the Himalayas.
About The Town
There was no dust, dirt or pollution, and everything was so pristine and clean. I immediately fell in love with the place and couldn't wait to spend some relaxing time here.
Before entering Binsar you will give to go through a checkpoint and pay around 400 rupees. Binsar has one of the most amazing and diverse wildlife sanctuaries which attracts a lot of wildlife lovers.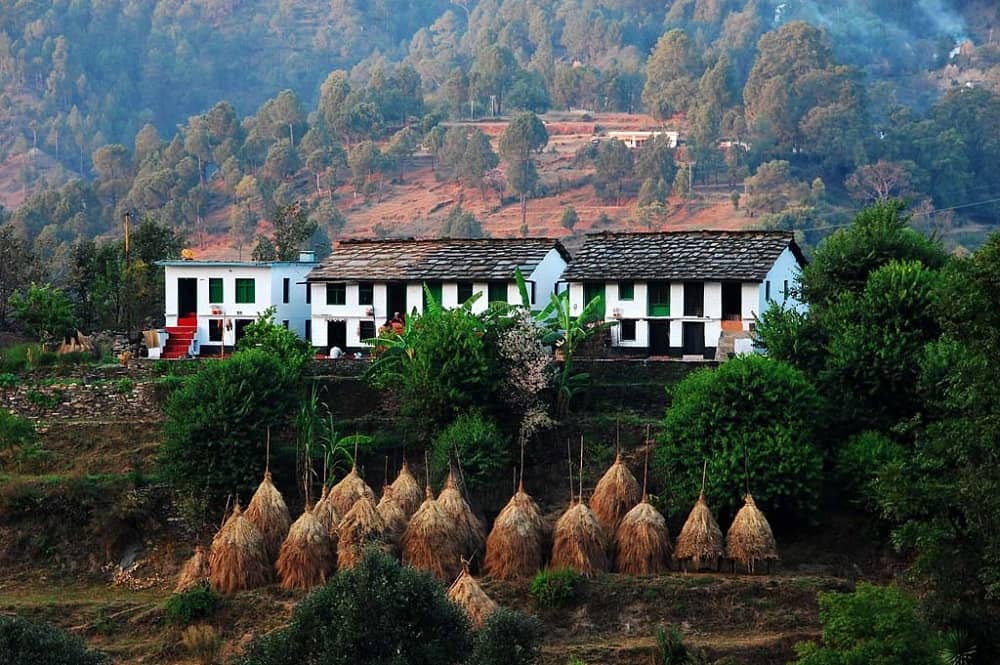 Binsar is surrounded by the mesmerising Himalayan mountains, and there is nothing more enriching than seeing the mountains no matter where you are at Binsar. They serve as a perfect backdrop to the green fields and blue skies here at Binsar.
Things To Do At Binsar
Spend A lazy Afternoon
Binsar is the kind of place where you can just sit idly and stare at the mountains all day long without feeling bored. You will not even realise when the time passes, as you will be so in the moment.
The moment You reach at Hotel in the midst of the wildlife chirping birds, the clouds and the snowy peaks, and just like that two hours had passed.
Later on, I had a delicious and authentic Kumaoni lunch and decided to roam around. Everything is just so laid back and slow here. It is like time has halted and you can just go about doing what you like. Such is the beauty of this place.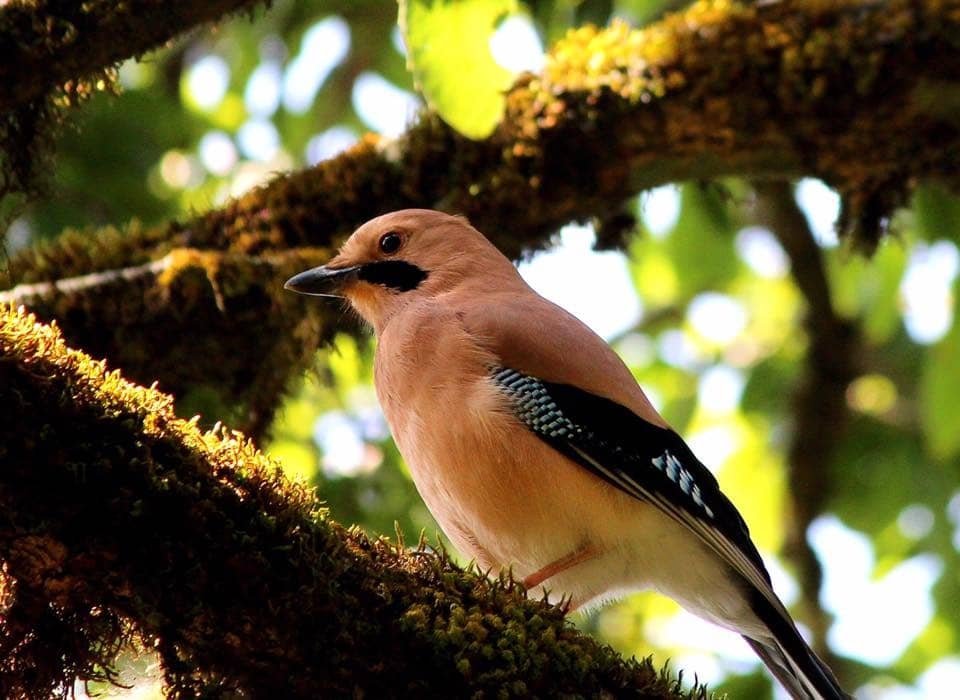 Moon Gazing
On my first day, I didn't do much. I pretty much just walked around near my accommodation and before I knew it the moon was rising.
What I didn't realise at that time is, that this entire moonrise itself is a majestic scene. Some of the locals coaxed me to look up and what I saw truly blew my mind.
It was like a glowing orange ball was rising from behind the mountains- it reminded me of a phoenix rising from the ashes.
Later the orange light faded away and it just glowed. The moon was shining with all its glory, making the snow-covered peaks of the Himalayas even more stunning.
Wake Up Early And Explore
The next day I woke up as soon as I could to witness the awe-inspiring sunrise. I had heard that the sunrise in Binsar emanates a kind of peace that I will never experience again. And it was so true!
As I woke up everything was so silent save for the few birds that were singing their melodious hymns. The place was so quiet that I could hear the gentle breeze distinctly. The sun slowly began to rise and the village transformed into a paradise!
After this, I decided to have breakfast and spent some time exploring Binsar. Binsar is a great place to just set off and explore new places.
In my journey to unearth new places here, I even spoke to a few villagers and got an insight into their lives. All of these are now sent anecdotes that made my trip to Binsar even more memorable.
Stare At The Himalayan Peaks
Take decided to talk to the small shrine to witness the snow peaks of the Himalayas. As I reached there I realised how magnificent and wonderful the Himalayas truly are.
The clouds slowly parted their ways and revealed behind them the snow-covered gigantic mountains that took my breath away.
Some of the locals asked me to walk a little more since the view was better up ahead. How right they were! I was shocked to see pristine peaks each standing together.
The Ambience
As I started exploring I realised that this Wildlife Park was more than just about the flora and fauna. The entire atmosphere was the Park was magical.
I could hear the soft sound of the little streams in perfect harmony with the chirping of the birds. The trees seemed to dance and sing with the wind, and there was a symphony in the Park that made it all the more alluring!
Jeep Safari in the Binsar Wildlife Sanctuary 
One of the most popular and convenient ways to explore the Park is by hopping on to safari jeep and riding away. Several jeeps are depending on the passenger capacity and you can pick anyone according to your preference and convenience.
If you do plan on going to this amazing Park then you must take a guided tour to understand the beauty of this Park in a better way.
The guided tour will also ensure that you are taken to places where the animals frequently come making it easier to spot them.
The Bird Watching 
The Binsar Wildlife Sanctuary is also a great place for birdwatching. Even though I am not much into bird viewing, I too was captivated by the number of exotic and colourful birds that flew past me.
You will have lots of chances to witness some of the most gorgeous Himalayan birds. Undoubtedly you will also find a lot of photographers and birdwatchers, who come here to capture these birds in action.
My guide helped us spot some of these birds. Many of them are masters at hiding. So I had to look carefully to spot some of them.
Trek Away in the Sanctuary 
The Binsar Wildlife Sanctuary is also a dreamy place for hiking, trekking or jungle trails. After finishing my guided tour I also decided to embark on a short hike to fully grasp the essence of the Wildlife Sanctuary.
This lovely Wildlife Sanctuary is also a great place to just walk and set out for an adventure. You can get up close to the animals and birds, or simply discover new avenues. And if you ever get lost you will always have the heavenly Himalayas to guide to back.
After a short walk, I reached a place called the Zero Point from where you can catch some of the most amazing views of Chaukhamba, Panchachuli, Nanda Devi, Mt. Trishul.
After spending some time gazing at the unparalleled beauty that lay in front of me I decided to head back to civilisation.
 Best Time To Visit Binsar
Binsar is a winter wonderland during the months of January and December. If you are looking to view the Himalayas in their full grandeur then definitely come here during those months.
If you want to enjoy the greenery and the wildlife of Binsar then come here in the Summer Months- March, April and May.
These months are great to see the colours of Binsar and enjoy the flora and fauna. You should avoid the monsoon months, as it isn't a good time to visit this town.