Top Yoga Ashrams in Rishikesh

: List for choosing a yoga Ashram

Top Yoga Ashrams in Rishikesh– Rishikesh is probably the most popular destination for Yoga in India. There are numerous Yoga Ashram in Rishikesh and a multitude of styles to choose from. Thus, it's essential that you choose what best meets your needs. Find out about some of the top yoga ashrams in Rishikesh and their specialties in this article. Most of them offer other courses besides Yoga Teacher Training. Most of them offer a variety of offerings apart from Yoga Teacher Training, like Ayurveda for example!
Here is a  detail list of  top Yoga Ashrams in Rishikesh
1- Parmarth Niketan Ashram
Parmarth Niketan, situated on the banks of the holy river Ganges in Rishikesh, has 1,200 rooms on its sprawling eight-acre campus and is one of the top yoga centers in India and the largest ashram & Top Yoga Ashrams in Rishikesh in the area.
It has a sprawling 8 acres with various standard accommodations as well as various views that cater to everyone's tastes. Stay for 15 days will get you two yoga classes and three meals a day included in your package! The ashram also runs an extensive course in yoga, Vedic heritage and spirituality, and teacher training courses. Outsider visitors are welcome to attend daily classes by giving a donation.
2- Sivananda Ashram
A beautiful 3-acre property in the midst of Rishikesh, Sivananda Ashram is a peaceful place offering daily yoga and meditation classes. It is home to a library, a fruit orchard, and lush gardens filled with tropical flowers.
The ashram was built by respected yogi Swami Sivananda on his return to India after traveling throughout the West for many years sharing yoga with the rest of the world. You'll be welcomed here like family and treated like royalty as you enjoy delicious vegetarian food (also provided free of charge!) from its kitchen. If you're looking for an authentic blending of traditional practices with contemporary culture, this wonderful ashram will fit in perfectly with your busy schedule!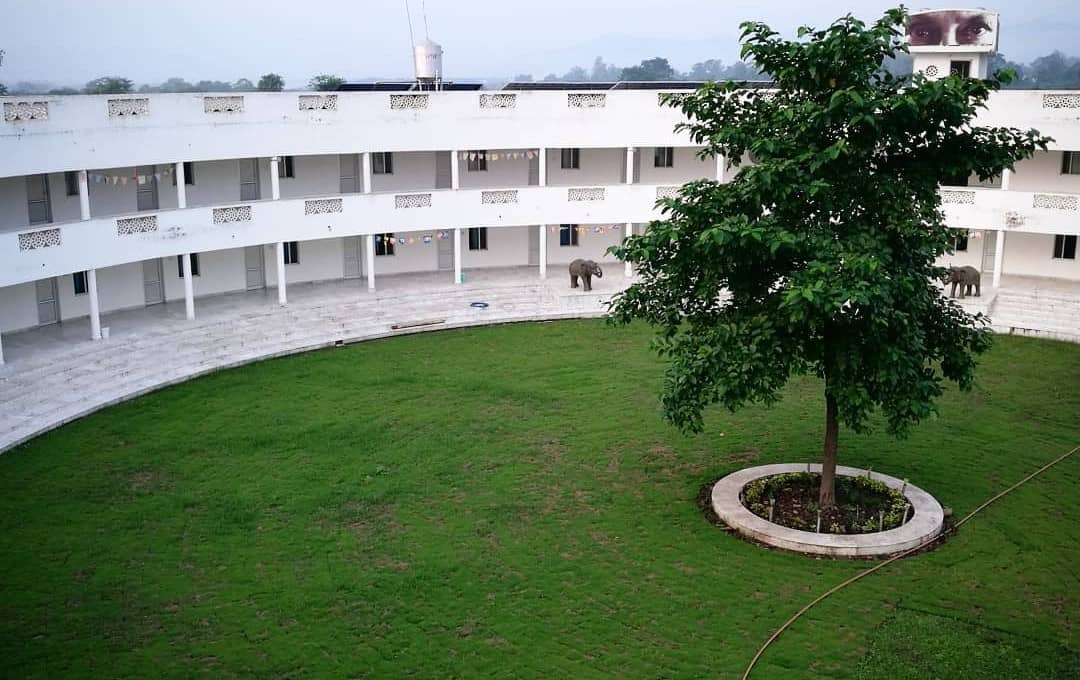 3- Aurovalley Ashram Rishidwar
The world is becoming smaller and more diverse, but at the same time, we're all interconnected. The idea behind Aurovalley Ashram is to create a place where as many people as possible can feel like they're at home.
Where you can be whoever you want to be and however you want to define yourself without being judged for it. Centrally located in Rishikesh along the banks of the Ganges River, we have so much on offer – yoga, meditation classes, quiz nights, or perhaps just some time for some 'me' time in the tranquility of nature.
This experiment was born from the aspiration of Swami Brahmdev to open a space for consciousness growth, following the Integral Yoga of Sri Aurobindo and The Mothers. Founded in 1985, Aurovalley is a nonprofit charitable institution registered to offer yoga classes and workshops by the Government of India.
Visiting, short-term students or permanent residents are all welcome to become a part of the daily classes and activities open to everyone. Even though visiting foreigners are always looked after as a guest in this sacred place, children are highly revered and treated as liberated beings themselves who have much to contribute in their own unique way.
4- Phool Chatti Ashram
The Phool Chatti Ashram is a multifaceted site of worship and contemplation located within the foothills of the Himalayas. It offers an interdisciplinary dialogue between Yoga Dharma and Jainism. A hodgepodge of influences from Hindu, Buddhist, and Jain philosophies combined in a diverse set of programs ranging from content dealing with meditation, breathing (pranayama), cleansing, chanting, Mauna (silence), puja (worship), kirtan (sacred singing), asanas (postures), and other important aspects of the yogic path. There are opportunities for meditative walks among nature as well.
5- Swami Rama Sadhaka Grama
Sadhana Mandir ashram was founded in 1966 by famed humanitarian Swami Rama, author of books about spiritual attainments and his exemplary life in India. In Living with the Himalayan Masters, he documents the Five Thousand-Year-Old traditions of meditation, which is a cornerstone of the teachings available at this Ashram. This peace garden on the banks of the Ganges River has a unique setting away from the hustle and bustle of Rishikesh which surrounds it on all sides.
Numerous retreats are held throughout the year including weekend retreats and longer 10-day retreats (like The Yoga & Meditation Intensive), catering to visitors from all over India who travel here for their vacation time or to simply relax for a bit under the watchful eye of Hemendra Sharma, head teacher at Sadhana Mandir Ashram Holistic Health/Yoga Retreat Centre.
6- Omkarananda Ashram
Omkarananda Ashram of the Himalayas welcomes travelers, peace lovers, and nature enthusiasts who wish to visit this beautiful city. Omkarananda Ganga Sadan is known for its accommodation facilities as well as its yoga center where Iyengar yoga classes are taught daily except Sundays. All courses are conducted in a peaceful environment thanks to the ghat along with its spectacular views.
The guests will get a chance to know about the spiritual understanding of Bhagavad Gita through lectures that can be scheduled in advance. You will find it very peaceful at this destination where the monks are often seen selling bananas and coconut at competitive prices to keep the tourists entertained during their stay.
7- Yoga Niketan
Rishikesh Yoga Niketan was founded in 1964 by Swami Yogeshwaranand Paramahansa, a renowned master of Raja Yoga who spent most of his life in the Himalayas. The teachings of this traditional ashram, which is located in the Muni-Ki-Reti area of Rishikesh, are based solely on the Eight Fold Path as per the Patanjali Yoga Shastra. Students must follow a strict daily schedule of yoga, meditation, and lectures. The ashram has 100 comfortable rooms available for students, all with private bathrooms and hot water.
8- Ved Niketan Dham
This peaceful ashram was founded in the sixties by internationally recognized Vedic scholar by H.H Vishwaguruji Maharaj. Meditation And Yoga Institute is famous for its spiritual retreats on the banks of the Ganges river. The ashram is located about a ten-minute walk from the Ram Jhula area.  Now the ashram runs by the Art of Living organization. The ashram focuses on chanting, yoga, Bhagavad Gita, and spiritual courses, as well as welcoming visiting teachers who apply yoga therapy practices during their retreats at this ideal spot for beginners and advanced students alike! More than 150 rooms with attached bathrooms are available for students.
9- Osho Gangadham Ashram
Interested in meditation? Osho Ganga Dham is an ashram north of Rishikesh and south of Badrinath. Follow the dirt road, continue through the town on the right side next to the river, and you will find it. Various types of meditation are taught at this ashram, which might be of interest to people who like traveling to isolated areas with very few distractions.
Rooms range from dormitories to deluxe private rooms but they only take cash upfront. For those looking for a more casual experience, there is nothing better than taking a bath by crossing the river – this is also a great spot for meeting new friends or simply relaxing on your own.
10 – Kriya Yoga Ashram
The temple Ashram contains sixteen pillars, the symbol of 16 sholas (Kalas). Half of sixteen is eight, and the eighth womb is the last womb, the womb of the golden egg (Hiranyagarbha). Sixteen petals are contained in the center of Shabda Brahman, the center of sound which is the ether element (Akash Tatwa), and the 5th chakra (Vishuddha).