Top Yoga Ashrams in Rishikesh

: A Spiritual Sojourn

Top Yoga Ashrams in Rishikesh– Rishikesh is probably the most popular destination for Yoga in India. There are numerous Yoga Ashram in Rishikesh and a multitude of styles to choose from. Thus, it's essential that you choose what best meets your needs. Find out about some of the top yoga ashrams in Rishikesh and their specialties in this article. Most of them offer other courses besides Yoga Teacher Training. Most of them offer a variety of offerings apart from Yoga Teacher Training, like Ayurveda for example!

Parmarth Niketan Ashram Swarg Ashram Ram Jhula Rishikesh
Here's a guide to some of the top yoga ashrams in Rishikesh, where seekers of all kinds can find their path to inner peace and transformation.
1. Parmarth Niketan Ashram: Where Holistic Transformation Flourishes
Situated on the serene banks of the Ganges, Parmarth Niketan Ashram is a sprawling sanctuary that provides a haven for those seeking holistic well-being. With a diverse range of accommodations, the ashram caters to various preferences. Engage in daily yoga classes and savor three nourishing meals a day during a 15-day stay. The ashram's extensive courses encompass yoga, Vedic heritage, spirituality, and teacher training. Embracing all, Parmarth Niketan welcomes outsiders to partake in its daily classes through donations, fostering a sense of unity and growth.
2. Sivananda Ashram: Harmony Amidst Lush Gardens
Nestled within a three-acre expanse in the heart of Rishikesh, Sivananda Ashram emanates tranquility. Founded by respected yogi Swami Sivananda, this oasis combines traditional practices with contemporary culture. Daily yoga and meditation classes, a rich library, and vibrant gardens set the stage for a transformative experience. As you immerse yourself in the teachings and savor delectable vegetarian meals, you'll find solace and rejuvenation in this harmonious abode.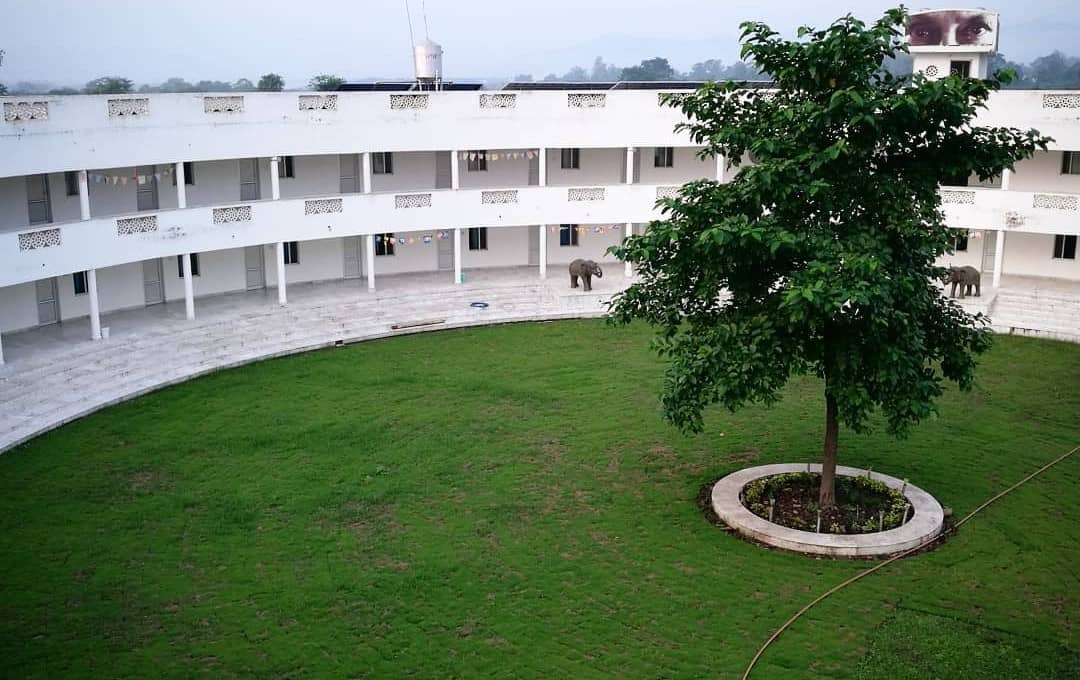 3. Aurovalley Ashram: Embracing Diversity and Conscious Growth
Aurovalley Ashram, situated along the banks of the Ganges, beckons as a welcoming haven where individuals can authentically express themselves. Founded on the Integral Yoga of Sri Aurobindo and The Mothers, this ashram fosters consciousness growth in a nonjudgmental environment. With a wide array of offerings including yoga, meditation, and quiz nights, Aurovalley invites all to bask in the tranquility of nature while embarking on a journey of self-discovery.
4. Phool Chatti Ashram: A Melting Pot of Spiritual Traditions
Immerse yourself in an interdisciplinary dialogue at Phool Chatti Ashram, where Yoga Dharma and Jainism intertwine. Amidst the Himalayan foothills, this ashram offers a diverse range of programs, from meditation and pranayama to chanting and asanas. Meditative walks amidst nature further enrich the experience, providing a holistic space for introspection and growth.
5. Swami Rama Sadhaka Grama: Tranquility on the Banks of the Ganges
Escape the hustle and bustle of Rishikesh at Swami Rama Sadhaka Grama. Founded by Swami Rama, a visionary humanitarian, this ashram offers a peaceful retreat along the Ganges. Through traditional teachings and meditation practices, visitors can find solace and guidance on their spiritual journey.
6. Omkarananda Ashram: A Gateway to Spiritual Understanding
Omkarananda Ashram opens its doors to travelers and nature enthusiasts seeking spiritual understanding. With Iyengar yoga classes, lectures on the Bhagavad Gita, and breathtaking views of the Ganges, this ashram provides a serene backdrop for inner exploration.

Yoga Niketan Ashram Rishikesh
7. Yoga Niketan: Embracing the Eight-Fold Path
Rooted in the teachings of Patanjali's Eight-Fold Path, Rishikesh Yoga Niketan offers a traditional approach to yoga and meditation. Students follow a structured daily schedule, immersing themselves in transformative practices within the serene surroundings of the Ganges.
8. Ved Niketan Dham: Nurturing Spiritual Growth
Founded by Vedic scholar H.H. Vishwaguruji Maharaj, Ved Niketan Dham is a peaceful haven for spiritual seekers. With a focus on chanting, yoga, and Bhagavad Gita, this ashram provides a nurturing space for both beginners and advanced practitioners.
9. Osho Ganga Dham Ashram: Delving into Meditation
For meditation enthusiasts, Osho Ganga Dham offers a secluded retreat away from distractions. Various meditation techniques are taught in this serene setting, making it an ideal destination for those seeking inner tranquility.
10. Kriya Yoga Ashram: Unveiling Inner Potential
The Kriya Yoga Ashram provides a unique opportunity to delve into meditation and yogic practices. Embrace the teachings of the Eight-Fold Path and discover your inner potential within the beautiful surroundings of Rishikesh.
Conclusion
In the heart of Rishikesh's spiritual landscape, these top yoga ashrams in Rishikesh stand as gateways to self-discovery, growth, and tranquility. Each ashram offers a distinctive approach to yoga, meditation, and holistic well-being. Whether you seek traditional teachings, diverse practices, or a serene escape, Rishikesh's yoga ashrams hold the keys to unlocking your inner journey. Embark on this spiritual sojourn and find solace amidst the Himalayan mystique.