Neer Garh Waterfall: Don't miss it
Neer Garh Waterfall, located near Rishikesh, is a breathtaking destination that offers a dynamic and refreshing experience for visitors. Although Rishikesh is widely known as a spiritual hub for Hindus and yoga enthusiasts, there are other beautiful places to explore in the area, including Neer Garh Waterfall.
A visit to this stunning waterfall promises a rejuvenating journey amidst the natural beauty of the region. Its cascading waters create a tranquil environment, making it an ideal spot for relaxation and unwinding. So if you're looking for a refreshing and picturesque getaway near Rishikesh, Neer Garh Waterfall is definitely worth a visit.
Neer Garh Waterfall Rishikesh
The phrase 'Go with the Flow' perfectly captures the essence of the moment at Neer Garh Waterfall. The water cascades down the high cliffs like a stream of white milk, inviting visitors to immerse themselves in the beauty and power of nature. The pool below the falls provides ample space for swimming and playing, while the pristine natural surroundings leave a lasting impression on the heart and mind.
It is a must-visit destination for anyone exploring Rishikesh and its surroundings. The waterfall is suspended at a great height, adding an element of thrill for those who dare to approach it. The trek to the waterfall is like a dream come true, allowing visitors to experience the beauty of living near a waterfall in Rishikesh.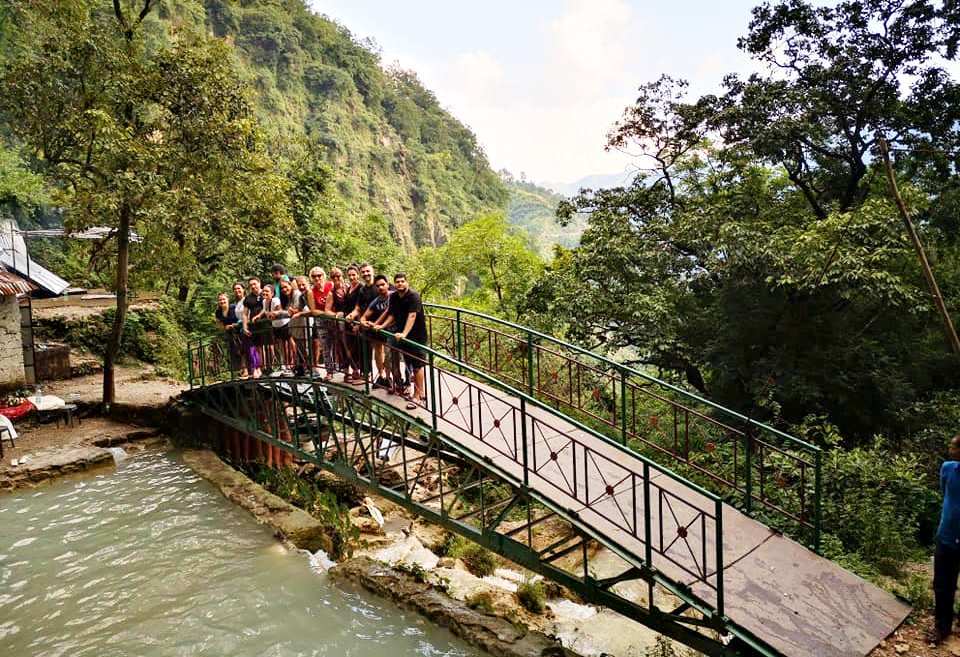 Distance from Rishikesh
The distance from Rishikesh to Neer Garh Waterfall is around 6.5 kilometers or 4 miles. It takes approximately 30 minutes to reach the waterfall by car or taxi. Visitors can also opt for a trek to the waterfall, which takes around 45 minutes to an hour, depending on the level of fitness and pace of the trekker.
 Ticket Price
There is a ticket counter by the roadside of the waterfall after the 5-minute drive from Badrinath Highway, where you need to stop for entry tickets that cost only INR  30 per person for Indian Nationals. And, INR 50 per person for Foreign Nationals.
Best time to visit
The best time to visit Neer Waterfall is after the monsoon season, as the waterfall is at its full flow and visitors can enjoy the water pool. While summers are also a good time to visit, the scarcity of water can make the experience less enjoyable.
Conclusion
It is a perfect place to escape the hustle and bustle of daily life and immerse yourself in the beauty and power of nature. A visit to this stunning destination promises a memorable experience that will stay with you for a lifetime.