Neer Garh Waterfall – A Dynamic Waterfall Nearby Rishikesh
Neer Garh Waterfall – A Dynamic Waterfall Nearby Rishikesh is a very nice place to relax. The Yoga town is indeed a spiritual hub for many religious followers, especially Hindus. But to tell you there are beautiful places to visit in Rishikesh. This is Neer waterfall. Let's take a look at the journey to these refreshing falls.
Neer Garh Waterfall Rishikesh
The moment goes completely with the phrase 'Go with the Flow'. The Neer Garh waterfall falling down from the high-stiff cliffs seems as if white milk is flowing from the top of the hills. The Neer waterfalls pool below the falls gives a large space to plunge and play. The pristine natural view of the location gets locked in the eyes and stills the heart.
Neer Garh Waterfall is an excellent place to visit in and around Rishikesh. It's not just that this waterfall is located in the midst of the natural beauty of the Himalayan hill range because the falls itself is suspended at quite a height, which makes for quite an adrenaline rush for those who dare to venture close enough to get wet!
The waterfall trek in Rishikesh is no less than a dream or it can be interpreted as living the dream nearby waterfalls in Rishikesh.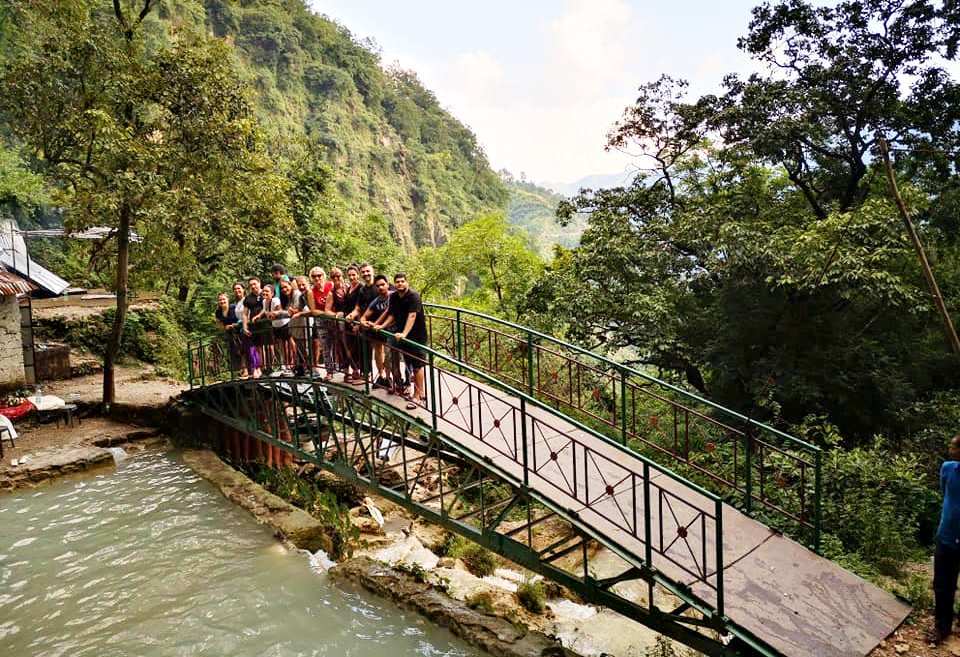 Rishikesh to Neer Garh Waterfall Distance
Rishikesh to Neergarh Waterfall Distance is 9 km but if You calculate the distance for Ram Jhula Bridge near Sivananda Ashram, the distance is only 5 km by road.
If you are staying at Lakshman Jhula at Lakshman Chaowk then Neer Garh Waterfall distance is 6 km by road 
Neer Garh Waterfall Rishikesh Ticket Price
There is a ticket counter by the roadside of the waterfall after the 5-minute drive from Badrinath Highway, where you need to stop for entry tickets that cost only INR  30 per person for Indian Nationals. And, INR 50 per person for Foreign Nationals.
Waterfalls in Rishikesh
The beautiful Neergarh Falls is divided into three segments. The first segment of the falls is a few steps away which is a small pool but not that attractive. However, there was still a crowd so we just decided to move up and view the second segment.
As we stepped upper we got to see the wondrous views of the natural beauty. The rocks, high cliffs, the sound of water falling, and the birds chirping all around, just made the perfect spot where we could spend our time relaxing.
After trekking for a while more we reached the most beautiful and amazing waterfalls, the main Neergarh falls. This second Neergarh fall was approx 25 feet high.
Best time to visit
The preferred time to visit Neer waterfall is post-monsoon. You will get to enjoy the water pool. Also, summers are good to visit but the scarcity of water makes it unworthy.