Mahavatar Babaji Cave

: Why & When to go there?

Mahavatar Babaji cave is a spiritual cave in the Kumaon region of the Himalayas. It is believed to be the origin of Kriya Yoga and where Guru Lahiri Mahasaya got its Kriya Yoga teachings directly from Mahavatar Babaji in the cave of Mahavatar Babaji in Uttarakhand India.
Babaji Cave
The Mahavatar Babaji cave is located in Pandukholi Mountain, Kukuchina village, which is 25 km from Dwarahat. While you're on your way there, you'll walk past waterfalls, rivers, and villages alongside the sacred Gogash River mentioned in Autobiography of a Yogi. The weather can get pretty cold in this region sometimes so make sure to wear your warmest winter clothes!
Kriya Yoga
Many pilgrims who are also kriya yogis visit the place regularly. To get an insight into how important this site is, one must read Chapter 34 "Materialising a Palace in the Himalayas" from the Autobiography of a Yogi, and Chapter 33 "A Blessing from Mahavatar Babaji" from Only Love by Sri Mata Amritanandamayi Devi.
Book your Mahavatar Baba Cave Tour today!

This is an all-inclusive spiritual tour to India that includes accommodation, transportation, meals, tours, and more. Affordable prices. Contact us for more information.
Babaji Cave Himalayas
Babaji Cave Himalayas offers an ambiance that is spiritually energizing. While the cave and the surrounding environment are very peaceful, sitting for extended periods of time can be extremely uncomfortable.  Additionally, there is no protection from precipitation or insects so it's best to either bring your own mat or use one of the few provided by YSS of India.
Is Mahavatar Babaji Walking Shiva?
I would say, " Yes" He is walking Shiva, and many devotees of Mahavatar Babaji have claimed to have seen him near the Badrinath Temple of Uttarakhand's Himalayas.
Many devotees love to have the Mahavatar Babaji cave photos,  Clicking on photos of the Mahavatar Babaji cave is allowed, or you can buy them from the cave site YSS hut.
Mahavatar Babaji cave in India
Mahavatar Babaji Cave Location
Mahavatar Babaji Cave  Address –  Kukuchina Village, Dunagiri Mountain, Dwarahat, Uttarakhand, 263656.  Mahavatar Babaji Cave Location is in the Dunagiri Mountains about 25 km far from Dwarahat Town  &  62 km from Ranikhet Hill station,  approx 60 km away from the Kausani Hill station, Uttarakhand Himalayas.
Mahavatar Babaji cave location has a rich history and beautiful surroundings, one can practice Kriya Yoga meditation while on retreat to feel refreshed and rejuvenated physically, in relationship with all, and spiritually.
Mahavatar Babaji is a mystic yogi in his own right and is revered for establishing the Kriya Yoga that both Paramahansa Yogananda and later Relato Gabriel brought to the west.  The Babaji cave is located in India, the cave of Mahavatar Babaji remains a sacred place for many yogis who come from all over the world to retreat there.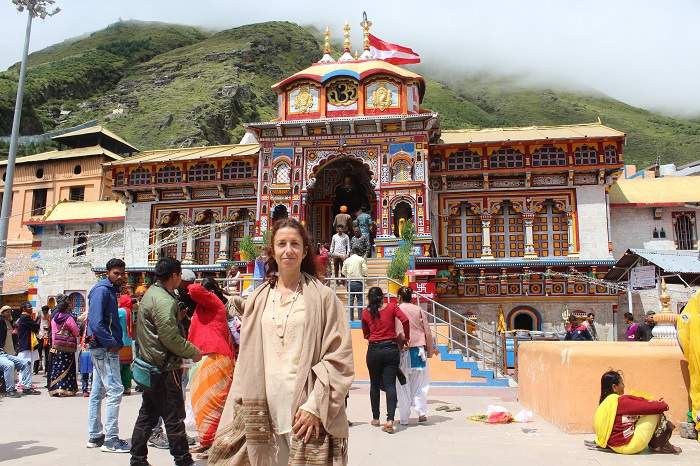 Badrinath Temple 
As per the narration of the book,  Babaji has lived in the physical form for millennia.  Sri Badrinath Ji ( a Hindu Temple ) is blessed by the Mahavatar Babaji.  The Temple was built by the Adi Guru Shankaracharya in the 10 century A.D.   
How to Reach Mahavatar Babaji Cave
Options 1
Delhi to Ranikhet – 400 km ( Motorable Road)
Ranikhet to Dwarhat – 35 Km ( Motorable Road)
Dwarahat to Kukuchina-   25 km ( Motorable Road)
Kukuchina to  Cave- 6 km (3 km  Offroad and 3 Moderate Trek )
Option 2
Delhi to Rishikesh – 250 km ( Motorable Road )
Rishikesh to Nandprayag- 200 km ( Motorable Road)
Nandprayag to Dawarhat – 120 km ( Motorable Road)
Dwarahat to Kukuchina- 25 km ( Motorable Road)
Kukuchina to  Cave- 6 km (3 km  Offroad and 3 Moderate Trek )
Sri Badrinath Temple
Who is Mahavatar Babaji?
Mahavatar Babaji is a bygone Yogi (Kriya Yoga ) who lives in the northern state of Uttarakhand in the Himalayas. We believe that Babaji is an immortal spiritual soul.
He comes to light in the world after the launch of the book "Autobiography of the Yogi" written by Paramhansa Yogananda. As cited clearly in that book, Babaji is a divine incarnation (avatar) who has profounded
What does Baba Ji mean?
Babaji is an immortal Yogi &  Guru of Kriya Yoga. It is believed that He lives in the Uttarakhand Himalayas & is roaming around the Neelkanth mountains at Badrinath temple.
He is  an avatar, a "deathless personification of Shiva in human form."  His given name is  Mahavatar Babaji & it was given to him by his disciple, Lahiri Mahasaya, who met Mahavatar Babaji first time in the cave of Dunagiri mountains of Uttarakhand Himalayas but there are several records of meetings of Babaji between 1861 and 1935.
Is Babaji a Shiva?
Yes, Babaji is the immortal embodiment of Shiva in human form who is still alive and living in the remote parts of the Himalayas near Badrinath, many Kriya Yogi devotees have reported having a meeting with him in the Himalayas.
In addition, the people of Varanasi are believed to be  Mahavatar Babaji as Walking Shiva, Varanasi is the home of  Lahiri Mahashaya who lived in this city.
The Legend of Kukuchina Village
The Pandukholi, where the Pandavas (legendary Kings of the Mahabharata Epic)  sheltered in their 14 years. Some folklores reveal that they found this place desolate and remote for their secret exile "Agyatvas".
The Pandavas (legendary kings) were struggling to maintain their secrecy of exile. The Kauravas (enemies) were searching for them to expose. The Kauravas anyhow managed to reach a point and lost their hope and went back. Now this place is famous as Kukuchina ( Kauravchina).
Conclusion
I hope you enjoyed reading about Mahavatar Babaji cave and how to travel to the most sacred place in the Himalayas of Uttarakhand. The cave is the birthplace of Kriya Yoga and is full of amazing energy.