Mahavatar Babaji Cave in Uttarakhand India
The cave of Mahavatar Babaji location in Uttarakhand  India gives a high spiritually evolved ambiance to sit down comfortably and allows you to practice the Kriya Yoga meditation inside the cave.
The cave of Mahavatar Babaji is well furnished &  has proper ventilation, and quite spacious to house about 8 people at a time. Mahavatar Babaji seeker can sit inside the cave comfortably and meditate as long as possible.
Is Mahavatar Babaji Walking Shiva?
I would say, " Yes" He is walking Shiva, many devotees of Mahavatar Babaji have claimed having seen him near Badrinath Temple of Uttarakhand's Himalayas.
He is a deathless and immortal Yoga and Guru who lives since the origin of the Univers but he lives in a different dimension and walks through in our dimension in which we are living.
Many devotees love to have the Mahavatar Babaji cave photos,  Clicking on photos of the Mahavatar Babaji cave is allowed, or can buy them from the cave site.
Mahavatar Babaji Cave Location
Mahavatar Babaji Cave  Address –  Kukuchina Village, Dunagiri Mountain, Dwarahat, Uttarakhand, 263656.  Mahavatar Babaji Cave Location is in the Dunagiri Mountains about 25 km far from Dwarahat Town  &  58 km from Ranikhet Hill station,  approx 60 km away from the Kausani Hill station, Uttarakhand Himalayas.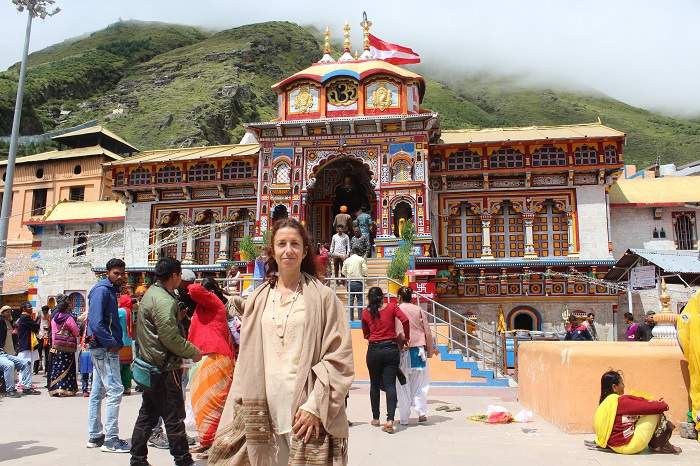 Badrinath Temple 
As per the narration of the book,  Babaji has been lived in the physical form for millennia.  Sri Badrinath Ji ( a Hindu Temple ) is blessed by the Mahavatar Babaji.  The Temple was built by the Adi Guru Shankaracharya in the 10 century A.D.   
How to Reach Mahavatar Babaji Cave
Options 1
Delhi to Ranikhet – 400 km ( Motorable Road)
Ranikhet to Dwarhat – 35 Km ( Motorable Road)
Dwarahat to Kukuchina-   25 km ( Motorable Road)
Kukuchina to Mahavatar Babaji Cave- 3 km (1 Moderate Trek / 2 km  Rugged Road)
Option 2
Delhi to Rishikesh – 250 km ( Motorable Road )
Rishikesh to Nandprayag- 200 km ( Motorable Road)
Nandprayag to Dawarhat – 120 km ( Motorable Road)
Dwarahat to Kukuchina- 25 km ( Motorable Road)
Kukuchina to Mahavatar Babaji Cave- 3 km (1 Moderate Trek / 2 km  Rugged Road)
Who is Mahavatar Babaji?
Mahavatar Babaji is a bygone Yogi (Kriya Yoga ) who lives in the northern state of Uttarakhand in the Himalayas. We believe that Babaji is an immortal spiritual soul.
He comes to light in the world after the launch of the book "Autobiography of the Yogi" written by Paramhansa Yogananda. As cited clearly in that book, Babaji is a divine incarnation (avatar) who have profounded
What does Baba Ji mean?
Babaji is an immortal Yogi &  Guru of Kriya Yoga. It is believed that He lives in the Uttarakhand Himalayas & is roaming around the Neelkanth mountains at Badrinath temple.
He is  an avatar, a "deathless personification of Shiva in human form."  His given name is  Mahavatar Babaji & it was given to him by his disciple, Lahiri Mahasaya, who met Mahavatar Babaji first time in the cave of Dunagiri mountains of Uttarakhand Himalayas but there are several records of meetings of Babaji between 1861 and 1935.
Is Babaji a Shiva?
Yes, Babaji is the immortal embodiment of Shiva in human form who is still alive and living in the remote parts of the Himalayas near Badrinath, many Kriya Yogi devotees have reported having a meeting with him in the Himalayas.
In addition, the people of Varanasi are believed to be  Mahavatar Babaji as Walking Shiva, Varanasi is the home of  Lahiri Mahashaya who lived in this city.
The Legend of Kukuchina Village
The Pandukholi, where the Pandavas (legendary Kings of Mahabharata Epic)  sheltered in their of 14 years. Some folklores reveal that they found this place desolate and remote for their secret exile "Agyatvas".
The Pandavas (legendary kings) were struggling to maintain their secrecy of exile. The Kauravas (enemies) were searching for them to expose. The Kauravas anyhow managed to reach a point and lost their hope and went back. Now this place is famous as Kukuchina ( Kauravchina).