Mahavatar Babaji Cave

: Birthplace of Kriya Yoga

In the Kumaon region of the Himalayas, the Mahavatar Babaji cave holds immense spiritual significance. It is the birthplace of Kriya Yoga and the place where Guru Lahiri Mahasaya received direct teachings of Kriya Yoga from Mahavatar Babaji. Located in Uttarakhand, India, this cave is revered as a sacred destination for spiritual seekers.
Mahavatar Babaji
Mahavatar Babaji, a revered mystic yogi, established Kriya Yoga, which was later introduced to the West by Paramahansa Yogananda. The cave of Mahavatar Babaji in India continues to be a revered place for numerous yogis worldwide, who seek retreat and engage in deepening their spiritual practice.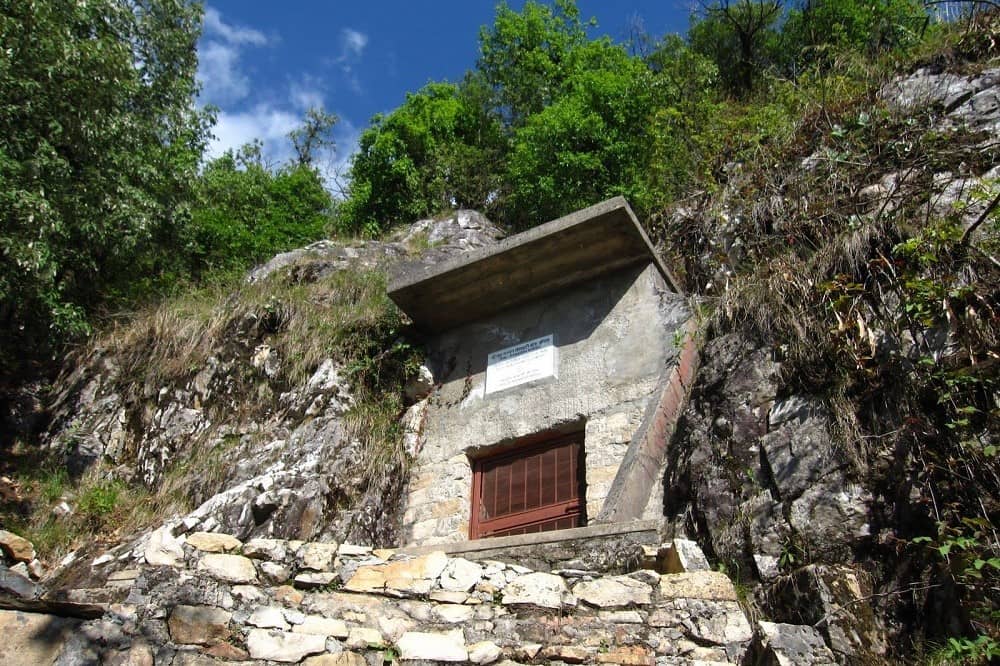 Babaji Cave
The Mahavatar Babaji Cave stands atop a hill, enveloped by lush forests and a picturesque landscape. With its small entrance, the cave can only accommodate a few individuals at once. As a gesture of respect, visitors are required to remove their shoes before entering.
Upon entering the cave, one encounters a modest shrine of Mahavatar Babaji. The shrine is adorned with flowers and various offerings. Inside, the atmosphere exudes a serene and peaceful ambiance, allowing visitors to engage in meditation and offer prayers to Babaji.
Kriya Yoga
Many Kriya yogi pilgrims visit the Mahavatar Babaji cave in the Himalayas regularly because of its significance. To grasp the importance of this site, one should read Chapter 34 "Materialising a Palace in the Himalayas" from the Autobiography of a Yogi, and Chapter 33 "A Blessing from Mahavatar Babaji" from Only Love by Sri Mata Amritanandamayi Devi.
Mahavatar Babaji Age?
Mahavatar Babaji transcends the boundaries of human understanding with his age, he is an eternal and immortal spiritual being. He exists beyond ages, unaffected by the passage of time. Babaji's divine nature surpasses the limitations of aging, as he continues to inspire and guide seekers on their spiritual path. His timeless presence imparts wisdom and enlightenment, which go beyond the constraints of time and age.
Mahavatar Babaji cave in India
Mahavatar Babaji Cave Location
Name: Mahavatar Babaji Cave
Location: Kukuchina Village, within the Dunagiri Mountain range
Distance from Dwarahat Town: Approximately 25 km
Distance from Ranikhet Hill Station: About 62 km
Distance from Kausani Hill Station: Around 60 km
.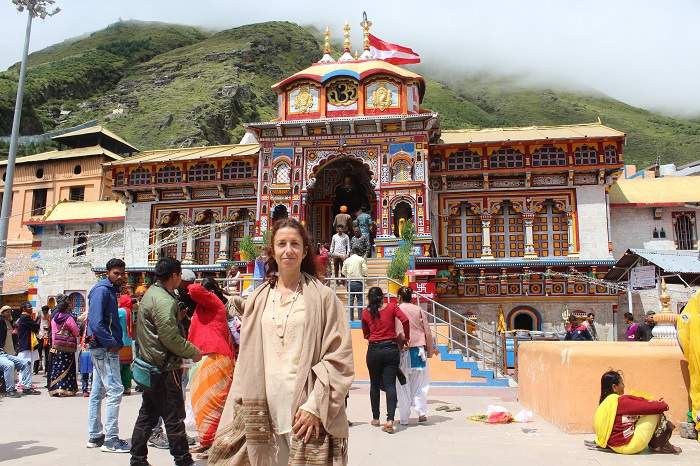 Badrinath Temple During Babaji Cave visit 
Badrinath Temple
Local legends and deeply held beliefs credit Mahavatar Babaji with gracing the region with his divine presence for countless millennia, where he has bestowed blessings upon numerous sacred sites in Uttarakhand. One such revered site is the Sri Badrinath Ji Temple, which the esteemed Adi Guru Shankaracharya constructed in the 10th century A.D.
There are two options to reach the Mahavatar Babaji Cave:
Option 1:
Start from Delhi and travel 400 km to Ranikhet via a motorable road.
From Ranikhet, continue for 35 km to Dwarahat on a motorable road.
Proceed from Dwarahat to Kukuchina, covering a distance of 25 km on a motorable road.
Finally, reach the cave by traveling 5 km, which includes 2 km of off-road driving and a moderate 3 km trek.
Option 2:
Depart from Delhi and travel 250 km to Rishikesh on a motorable road.
From Rishikesh, continue for 180 km to Karnprayag Prayag via a motorable road.
Proceed from Karnprayag Prayag to Dwarahat, covering a distance of 95 km on a motorable road.
From Dwarahat, travel 25 km to Kukuchina on a motorable road.
Finally, reach the cave by traveling 5 km, which includes 2 km of off-road driving and a moderate 3 km trek.
Sri Badrinath Temple
Mahavatar Babaji Miracles
Devotees attribute numerous miracles to Mahavatar Babaji, considering him a revered spiritual luminary. They believe that his extraordinary powers surpass the laws of nature and demonstrate his profound spiritual prowess. According to accounts, Babaji can manifest at will, appearing in multiple locations simultaneously and disappearing mysteriously. 
What does Baba Ji mean?
People believe that Babaji, a revered Yogi, and Guru of Kriya Yoga, resides as an immortal being in the Uttarakhand Himalayas. It is believed that he wanders around the Neelkanth mountains near the Badrinath temple. Babaji is  an avatar, a manifestation of Shiva in human form, and his disciple Lahiri Mahasaya gave him the name "Mahavatar Babaji."
Their first meeting reportedly took place in a cave in the Dunagiri mountains of Uttarakhand Himalayas. Although there are different accounts of meetings with Babaji between 1861 and 1935.
Is Babaji a Shiva?
According to many devotees of Kriya Yoga, Babaji, Babaji is an immortal manifestation of Shiva in human form and alive and living in the remote regions near Badrinath in the Himalayas. Numerous individuals have claimed to have encountered him in that area.
Kukuchina Village
According to folklore, the Pandavas sought refuge in Pandukholi during their 14-year exile, known as "Agyatvas," in the Mahabharata epic. They considered this place remote and desolate, making it an ideal location for their secret exile.
Around Mahavatar Babaji Cave, you can find several attractions to explore and enjoy. Here is a list of things to see in the vicinity:
Dunagiri Temple: A nearby temple dedicated to Goddess Durga, offering spiritual vibes and beautiful views.
Dwarahat Town: Visit this historical town with ancient temples, including the ancient Katyuri and Gupta temples.
Ranikhet Hill Station: Explore the serene beauty of Ranikhet, known for its lush greenery and panoramic views of the Himalayas.
Kausani Hill Station: Visit this picturesque hill station known for its stunning sunrise and sunset views over the Himalayas.
Baijnath Temple: A historical temple complex with ancient shrines dedicated to various deities, located near Kausani.
Bageshwar: A sacred town with the Bagnath Temple and the confluence of rivers Gomti and Saryu.
Almora: Discover the cultural heritage of Almora, with its traditional Kumaoni architecture and local markets & Kasar Devi Temple.
Jageshwar Temples: Ancient temples dedicated to Lord Shiva amidst a lush Deodar forest.
Khairna Village: A serene village with beautiful landscapes and peaceful surroundings.
Pandavkholi: Explore the mystical cave of Pandavkholi, believed to be the hiding spot of the Pandavas from the epic Mahabharata. It's an intriguing historical site with a fascinating backstory.
Conclusion
I hope you found the information on the Mahavatar Babaji cave interesting and informative. This highly revered and sacred place, located in the Himalayas of Uttarakhand, holds the distinction of being the birthplace of Kriya Yoga. The cave brims with powerful and positive energy, attracting spiritual seekers and yoga practitioners who consider it a must-visit destination.