Parmarth Niketan Rishikesh

: A recipe for a Spiritual Awakening

Parmarth Niketan Rishikesh– the Peace and Solitude on the mountainside is a recipe for a Spiritual Awakening. It is located on the banks of the sacred river Ganga. The rooms are clean and have modern amenities. The ashram has a religious atmosphere and the Ganga Arti is performed at the ghat by the Ashram's renowned priest. The ashram also has a cafeteria that offers a variety of dishes at a slightly higher price.
My Experience
I contacted over 10 ashrams before making my final decision to stay at the Himalayan yoga ashram for my week in Rishikesh. I chose the Himalayan yoga ashram because the yoga classes are longer than at other ashrams and I felt that I would be able to learn yoga more fully.
Additionally, ayurvedic treatments are available, which was another deciding factor. The staff at the Himalayan yoga ashram were so kind and responsive to my inquiries, and I am so glad I made the decision to stay there! The quality of the yoga classes, ayurvedic treatments, food, facilities, and hospitality is amazing. Each teacher and staff member is incredibly skilled and they take care of guests individually. They make you feel like family!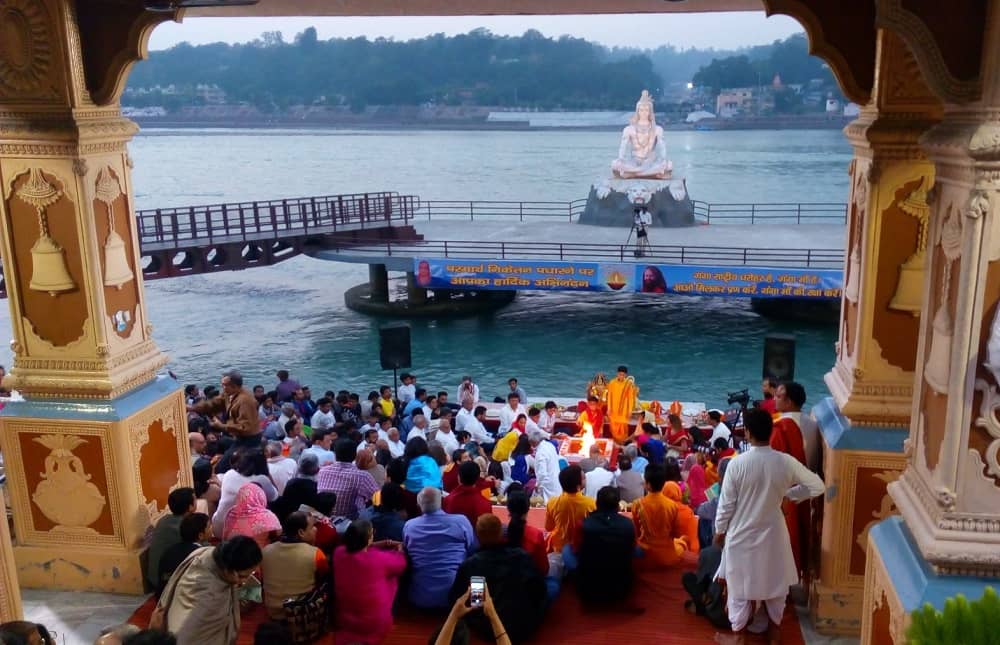 Parmarth Niketan Ganga Aarti
We went to Parmarth Niketan earlier than the 5:30 start time for the evening Aarti. It was a great spiritual experience, with lots of people in attendance. We really enjoyed the whole experience, and also took a stroll inside Parmarth Niketan afterward. It was enjoyable to see all of the beautiful statues and idols of gods and goddesses. I would recommend that everyone attend the Aarti at least once in their lives.
Suggestion
You must attend the Ganga Aarti at sunset for a lovely spiritual vibe. They also host various courses for yoga, the art of living, and Ayurveda. It's 5 minutes away from Ram Jhula's end. Do reach by 5 to reserve yourself a good spot as the place packs up by 5.30 for when the Aarti starts.
This place is an ideal spot for spiritual rejuvenation and is highly recommended. Interesting shopping is right out the front gate, where Indian street culture is on full display, complete with cows and marching bands. Yoga instruction and inexpensive massages are available onsite, and spiritual teaching is available free to the public most evenings at a temple onsite.
International Yoga Festival
I visit here every year for the International Yoga Festival – it's a great event that brings together some of the biggest names in the yoga and spiritual world. Each day there are yoga classes and lectures from successful people in the industry, as well as some great music performances in the evenings.
Accommodation
The accommodations were clean, comfortable, and had all the basics. The vegetarian kitchen served tasty wholesome meals. The grounds were beautiful, with multiple statues of Hindu gods and leaders.
Conclusion
After exploring the different meditation courses of Parmarth Niketan Rishikesh, we can conclude that the true essence of meditation is to find peace and tranquility. It is a place where you can come to find your inner self. We hope you enjoyed our post on Parmarth Niketan Rishikesh. If you would like more information on this topic, please contact us anytime at info@rishikeshdaytour.com