Vashistha Cave Rishikesh

– Tips on Self Realization

Located in Uttarakhand, India, the Vashistha Cave is a renowned spiritual destination in Rishikesh. It is said that the revered sage Vashistha practiced meditation in this very cave for several years. To reach this cave, one can hire a private vehicle or a taxi and travel around 25 kilometers from Rishikesh.

The great sage Vashistha, who resided in this cave, is known for authoring the "Vashistha Samhita," an important ancient scripture. The peaceful ambiance, surrounded by Gular trees, makes the Vashistha Cave a perfect location for relaxation, self-reflection, and connecting with the divine.
Vashistha cave
The Vashistha Cave is a well-maintained, long cave located near the Ganges riverbank that provides cushions for sitting on the floor. It is a perfect spot for meditation that leaves you with a sense of insight and mindfulness. However, it is advisable to carry a torch for illumination since the cave is not well-lit.
Perched on a mountain, the cave is illuminated only by a Diya light. At first, it will be dark, but as your eyes adjust, you will see a Shiva linga and many people meditating. The vibrations in this cave are incredibly calming.
The  Gufa, as the name suggests, is a spot for deep meditation inspired by the lifestyle of Tapasvi Saptrishi sages. It is one of the most serene and uplifting places in Rishikesh. If you're seeking a traditional temple with crowds and shops, this may not be the place for you. However, if you're looking for a peaceful spot to meditate, the Vashistha Gufa is ideal.
This cave is very peaceful and just sitting there quietly for 10-15 minutes rejuvenates your mind. There is also an ashram and sometimes rooms can be booked there as well.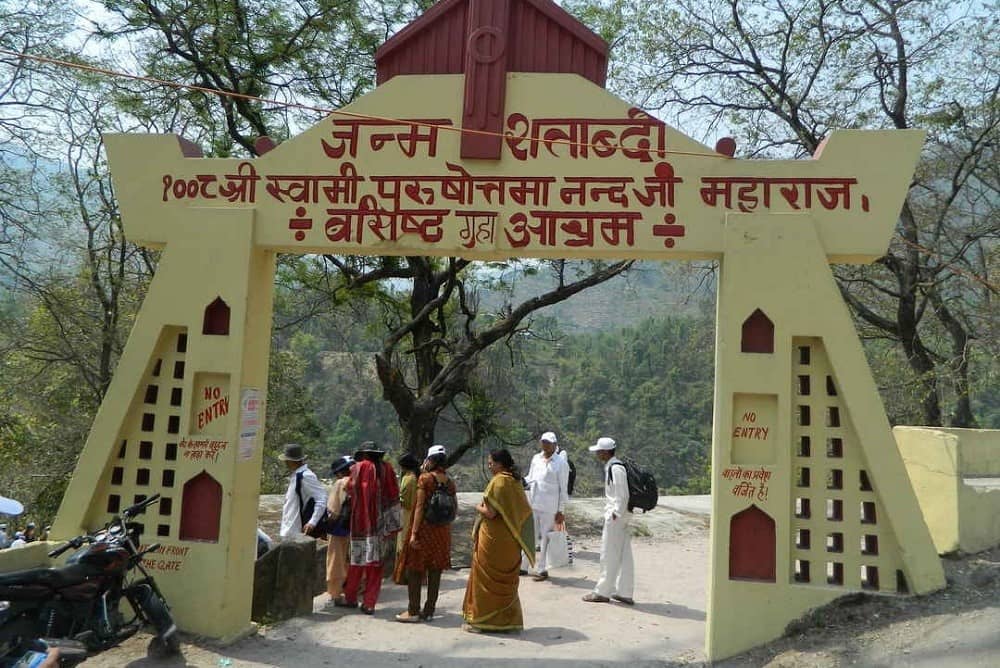 How To Reach Vashistha Cave Rishikesh
Vashistha Cave is situated at the foothills of the Himalayas, and it is an ancient cave that is popular among those who seek meditation and relaxation. To reach the cave, you need to cover a distance of 25 km from Ram Jhula, Rishikesh. It is located on the Rishikesh-Badrinath Highway, on the premises of Swami Purshottamanand Ashram, Gular near Sirasu Village.
If you are starting from Ram Jhula, Rishikesh, you can take the Rishikesh-Badrinath Highway, and drive on Badrinath Road via Tapovan, Osho Ganga Dham, Bramhapuri, Shivpuri. After covering approximately 25 km, you will arrive at Vashistha Cave.
Vashishta Gufa Timings
The Vashishta Gufa Rishikesh has two timing slots for opening – from 08:00 AM to 01:00 PM, and then it remains closed for two hours, from 01:00 PM to 03:00 PM. In the afternoon, it reopens from 03:00 PM up to 07:00 PM. However, it should be noted that some days the cave remains open all day long.
Suggested Read- Why Mahavatar Babaji Ca ve is unknown by many of us
Jesus Cave Rishikesh
Take a five-minute beach walk downriver from Vashistha Cave, and you will find another cave known as the "Jesus Cave." This cave is situated on the side of an almost vertical cliff overlooking the banks of the Ganges River. It offers a stunning view of the surrounding green hills of the Himalayas. The cave derives its name from the old tradition that Jesus spent time here with Mother Ganga.
The cave was visited by Sri Sathya Sai Baba in 1957, and his book makes reference to the cave. Sri Isha (Jesus) is said to have lived here during his visit to the Himalayas. In the last century, both Swami Rama Tirtha and Swami (Papa) Ramdas lived here (at different times), and both had visions of Isha meditating here.
According to the history of the Kashmiri tradition, the Rajatarangini, written in 1148 A.D., a great saint named Issana lived at Issabar on the bank of Dal Lake. Additionally, the book titled "Jesus Lived in India" provides further evidence.
Suggested Read- Tat Wale Baba Cave in Rishikesh 
Arundhati Cave Rishikesh
This cave is located near the Vashistha Cave and is relatively small in size. It is named after Arundhati, the wife of Maharshi Vashistha. In Hindu mythology, she is associated with the morning star as well as the Alcor star, which forms a double star with Mizar (identified as Maharshi Vashistha).
Vashistha Cave History
Vashishta Cave, also known as Vashishta Gufa, is an ancient cave where Vashishta Maharshi and his wife meditated for many years. According to legend, Vashishta Maharshi was a human son of Lord Brahma and one of the seven great Rishis, known as Saptarishis. The cave is located among Gullar trees on the bank of the Ganges and is an ideal place for meditation practice. Vashishta Maharshi was one of the ancient Vedic scholars and the chief contributor to Rigveda.
The Yoga Vasistha, also known as Maha Ramayana, is one of the longest texts after the Hindu epic Mahabharata, containing 32,000 shlokas. Swami Pursottamananda rediscovered the cave in 1960 and meditated inside. Later, his devotees constructed the ashram over the place where he left his body. When visiting Vashishta Gufa, it is recommended to visit the Samadhi Sthal of Sri Prusottamananda Swami.
Yoga Retreats at Vashishta Gufa Rishikesh
The location of Vashishta Cave or Gufa has recently gained popularity as a destination for half-day yoga retreats and meditation retreats in the vicinity of Rishikesh. The cave itself is approximately 20-25 feet deep, with enough space to comfortably accommodate 10-15 yoga enthusiasts. In addition, the river bank of the Ganges provides ample space for thousands of visitors. As a result, an ashram location is an excellent option for one-day yoga retreats in the Rishikesh area.
Conclusion
If you are looking for a peaceful, spiritual place to visit in Rishikesh, then Vashistha Cave is a perfect choice. Vashistha cave is a popular choice among the people of Rishikesh as they consider it to be the most peaceful place to meditate.