Vashistha Cave Rishikesh:

 Tips on Self Realization

Vashistha Cave Rishikesh is a famous place in the Himalayas, where a wise sage named Vashistha meditated for many years. To go there, you can take a private car or taxi and drive about 25 kilometers from Rishikesh.

The sage Vashistha was very special, and he wrote an important old book called the "Vashistha Samhita." The cave is super peaceful, with lovely Gular trees around, making it the best spot to relax, think about yourself, and feel connected to something divine. It's like a magical place!
Do not miss booking Your VIP Puja Ganga Arti Ceremony in advance, Rishikesh, WhatsApp – +91-707-820-3030
Vashistha cave
Vashistha Cave is a long cave near the Ganges riverbank, where you can meditate and feel calm. Bring a torch because it's not well-lit inside. The cave has a Diya light that helps you see a Shiva linga and people meditating.
It's like a peaceful hideout for meditation, inspired by wise sages. No crowds or shops, just tranquility. Sitting quietly for 10-15 minutes can make your mind feel refreshed. You can even stay in an ashram nearby if you want. It's a magical place to find inner peace!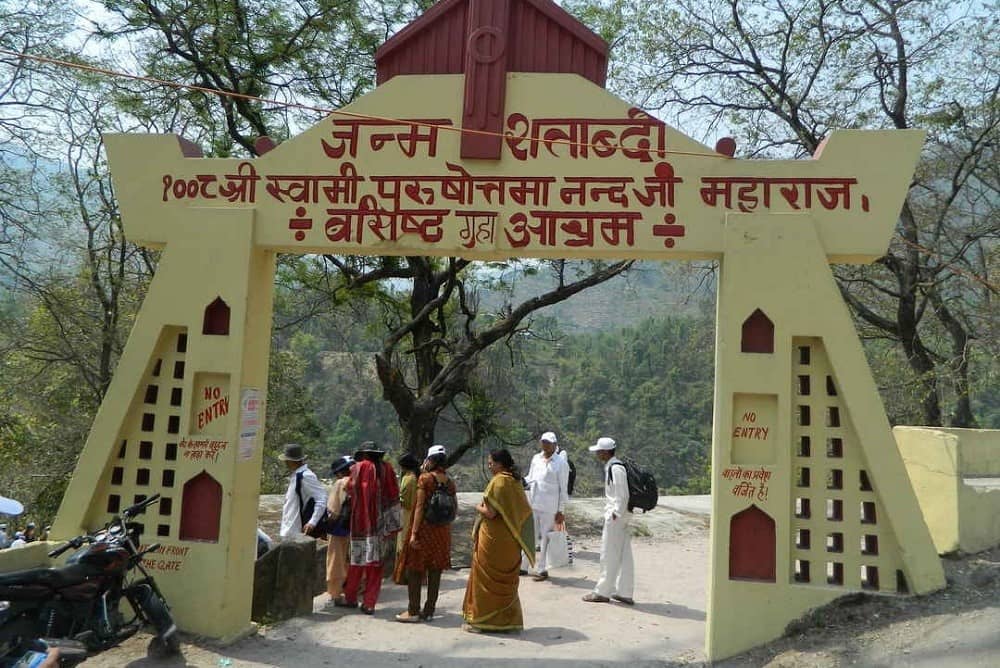 How To Reach Vashistha Cave Rishikesh
To reach Vashistha Cave in Rishikesh, you can follow these steps:
Start by getting to Rishikesh: If you are coming from outside Rishikesh, you can reach the city by train, bus, or flight. The nearest airport is the Jolly Grant Airport in Dehradun, which is about 22 kilometers from Rishikesh.
Travel to the Vashistha Cave: Once you are in Rishikesh, you can hire a private vehicle, taxi, or a local guide to take you to the Vashistha Cave. The cave is located around 25 kilometers from the city.
Enjoy the journey: As you travel towards the cave, you will get to experience the beautiful scenery and the spiritual vibes of the region.
Arrive at Vashistha Cave: The journey might take some time, but eventually, you will reach the cave. Be prepared to walk a short distance to reach the actual cave site.
Explore and meditate: Once you reach the Vashistha Cave, take your time to explore the surroundings and feel the peaceful ambiance. You can sit for meditation, self-reflection, and enjoy the tranquility of the place.
Remember to carry essential items like water, a torch for illumination, and comfortable shoes for walking. The journey to Vashistha Cave will be a rewarding experience, offering you a chance to connect with nature and find inner peace.
Vashishta Cave Timings
The Vashistha Cave Rishikesh Timing  has specific opening hours for visitors. It is open in two slots during the day:
Morning Slot: 8:00 AM to 1:00 PM: Visitors can enter and explore the cave during this time.
Afternoon Slot: 3:00 PM to 7:00 PM: The cave remains closed for two hours from 1:00 PM to 3:00 PM.
After 3:00 PM, it reopens for visitors to continue their exploration and meditation.
However, please note that on some days, the cave may remain open all day long, meaning there is no closure during the afternoon hours.
Here is a list of the top five things to do at Vashishta Cave:
Meditation: Vashishta Cave is renowned as a spot for meditation and spiritual reflection. Spend some time in the peaceful ambiance of the cave, connect with your inner self, and experience the calming vibrations.
Yoga Retreat: Many yoga retreats are organized near the cave. Participate in a half-day or one-day yoga retreat to rejuvenate your mind, body, and soul amidst the serene surroundings.
Explore the Cave: Take a walk inside the cave and explore its ancient beauty. The cave has historical significance, so immerse yourself in its unique atmosphere.
Enjoy the Scenery: The location of Vashishta Cave is surrounded by beautiful green hills of the Himalayas and the flowing Ganges River. Enjoy the scenic beauty and connect with nature.
Visit the Jesus Cave: Take a short beach walk downriver from Vashishta Cave to the nearby "Jesus Cave." Enjoy the stunning view from the almost vertical cliff and learn about its spiritual significance.
Suggested Read- Why Mahavatar Babaji Cave is unknown by many of us
Jesus Cave Rishikesh
Just a five-minute walk downriver from Vashistha Cave  Rishikesh, there is another fascinating cave known as the "Jesus Cave." It sits on the side of a steep cliff, overlooking the Ganges River and the beautiful green hills of the Himalayas. The cave got its name from the belief that Jesus once spent time here with Mother Ganga.
Back in 1957, Sri Sathya Sai Baba visited this cave, and he mentioned it in his book. According to the stories, both Swami Rama Tirtha and Swami (Papa) Ramdas lived in this cave at different times, and they had visions of Jesus meditating here.
Historically, the Kashmiri tradition's Rajatarangini, written in 1148 A.D., mentions a great saint named Issana living at Issabar on the bank of Dal Lake. Moreover, the book titled "Jesus Lived in India" provides additional evidence about Jesus' presence in this region.
The Jesus Cave is not only a beautiful place but also a spot rich with historical and spiritual significance. It's a wonderful place to visit and feel the connection with nature and history.
Arundhati Cave Rishikesh:
Arundhati Cave is a small cave near the Vashistha Cave. It is named after Arundhati, who was the wife of Maharshi Vashistha. In Hindu stories, she is connected to the morning star and the Alcor star, which is linked to Maharshi Vashistha.
Vashistha Cave History:
Vashishta Cave, also called Vashishta Gufa, is an ancient cave where Maharshi Vashishta and his wife meditated for a long time. Legend says that Vashishta Maharshi was a wise person and one of the seven great Rishis, known as Saptarishis. The cave is situated among Gullar trees by the Ganges River, making it a perfect place for meditation. Vashishta Maharshi was an important scholar in ancient Vedic times and contributed to Rigveda.
Yoga Vasistha
The Yoga Vasistha, also known as Maha Ramayana, is a long text with 32,000 verses, second only to the Hindu epic Mahabharata. In 1960, Swami Pursottamananda rediscovered the cave and meditated there. His followers later built an ashram at the spot where he left his body. When you visit Vashishta Gufa, it's nice to also see the Samadhi Sthal of Sri Prusottamananda Swami. It's a special place with a rich history!
Yoga Retreats:
Recently, the Vashishta Cave Rishikesh or Gufa has become famous for hosting half-day yoga retreats and meditation retreats near Rishikesh. The cave is about 20-25 feet deep and can comfortably hold 10-15 yoga enthusiasts. Additionally, the spacious Ganges riverbank allows hundreds of visitors to participate. This makes the cave's ashram a great location for one-day yoga retreats in the Rishikesh area.
Conclusion:
For a peaceful and spiritual experience in Rishikesh, Vashishta Cave  Rishikesh is the perfect choice. It's a well-known and preferred spot for meditation among the people of Rishikesh. So, if you're seeking a tranquil place to meditate, Vashishta Cave is the place to be!