Vashishta Gufa Rishikesh- A Hidden Place To Visit
Vashistha  Gufa Rishikesh is also known as  Vashishta cave, the Gufa is widely famous among the spiritual visitor to Rishikesh who comes for yoga retreats & meditation on the foothill of the Himalayas must-visit Vashishta Cave Rishikesh,  which is approx 25 feet deep cave that can house about10-15 people at a time.  In the premises of Ashram, there is also the Samadhi Sthal of Swami Pursottamannada Maharshi.
Rishikesh to Vashishta Gufa Distance
Rishikesh to Vashishta Gufa Distance is  25 km from Ram Jhula, Rishikesh, located by the roadside on Rishikesh-Badrinath Highway,  in the complex of Swami Purshottamanand Ashram, Gullar near Sirasu Village.
If you start from Ram Jhula, Rishikesh, take Rishikesh-Badrinath Highway, drive on Badrinath Rd via Tapovan, Osho Ganga Dham, Bramhapuri, Shivpuri & after approx 25 km road trip from Rishikesh you reach Vasishta Cave.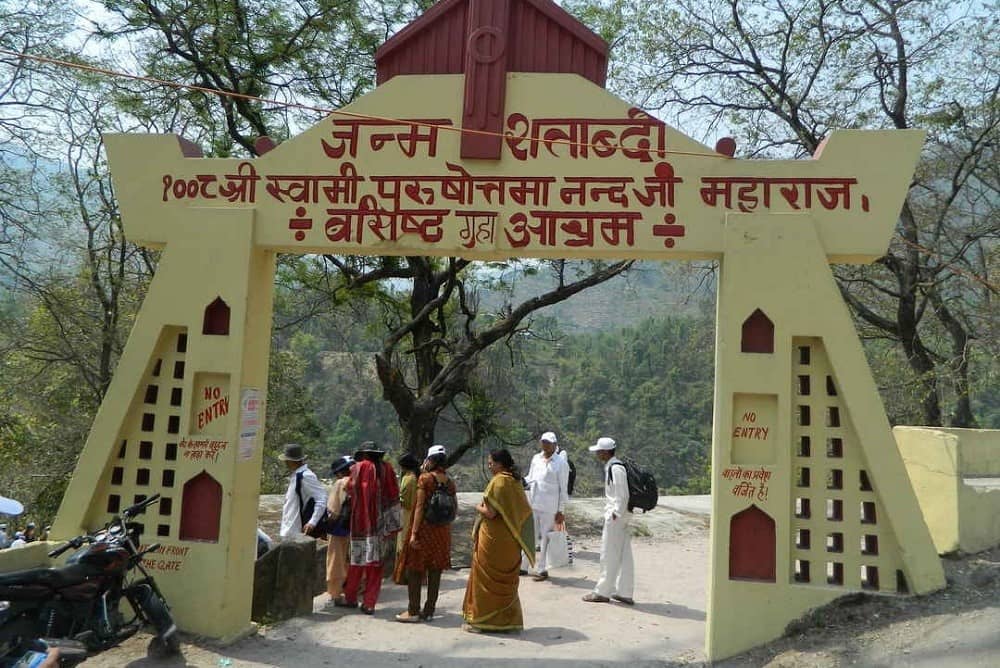 How To Reach Vashistha Cave Rishikesh
You reach Vashistha Cave Rishikesh by taking private transport or by public transport from the Rishikesh Bus stand. The Yoga Nagari Rishikesh is the nearest railway station to reach Vashistha Cave Rishikesh at a distance of 32 km by road,  and  From Jolly Grant, Airport,  Vasishta cave is at a distance of approx 50 km by road.
Rom Ram Jhula or Lakshman Jhula Rishikesh, Vashistha Cave Rishikesh is at a distance of 25 km by road on the Badrinath Road from Rishikesh
Vashishta Gufa Timings
There are 2 timing slots to open the Vashishta Gufa Rishikesh from 08:00 AM to 12:00 PM and The Cave is closed for 3 hours  From 12:00 Pm to 03:00 PM.
In the Afternoon It will reopen at 03:00 PM up to 07:00 PM.  But I have observed that some days the Vashistha Cave remains open all day long.
Jesus Cave Rishikesh
Take a five-minute beach walk downriver  from Vashistha Cave, there is another Gufa or Cave which is  known as the "Jesus cave."  Jesus cave sets on the side of an almost vertical cliff on the river banks of mother Ganga.
The cave has a river-facing view and the surrounding green hill of the Himalayas. The name is derived from the old tradition that Jesus spent time here along with mother Ganga.
Sri Isha(Jesus) lived for some time during his visit to the Himalayas. In the last century, both Swami Rama Tirtha and Swami (Papa) Ramdas lived here  (at different times space ), and both had visions of Isha meditation here.
 Aa per the history of  Kashmiri tradition, the Rajatarangini, written in the year 1148 A.D.,  explains that a great saint named Issana lived at Issabar on the bank of Dal Lake. Moreover, the Book, titled, "Jesus who lived in India" has provided much evidence to us.
Arundhati Cave Rishikesh
It is another cave in the neighborhood of Vashistha Cave, which is small in comparison to Vashistha Cave.
Arundhati is the spouse of Maharshi Vashistha,  She is glorified with the morning star and also with the  Alcor star which forms a double star with Mizar (identified as Maharshi Vashistha).
Vashistha Cave History
Vashishta Cave or Vashishta Gufa is an ancient  Gufa where  Vashishta Maharshi meditated with his wife for years. As legends say that Sage Vasishta Maharshi was a manas Putra (human son) of Lord Brahma and one of the seven great Rishis (Saptarishi)
The Vashishta Gufa is perched among  Gullar trees on the bank of  Ganga is an ideal place for meditation practice.
 Vasishtha Maharshi is one of the ancient Vedic scholars. He is also one of the Saptarishis. Vasishtha Maharshi was the chief contributor to Rigveda.
Yoga Vasistha is supposed to be the longest text after the Hindu epic Mahabharata, The Yoga Vasistha contains 32,000 shlokas. Yoga Vasishta is also known as Maha Ramayana is known as Vasistha Ramayana
in the year 1960 Swami Pursottamanada rediscovered the cave & meditated inside the cave. Later his devotees constructed the Ashram over the place where Swami Pursottamananda left his body.
If you are at the Vashishta Gufa, do not miss to visit the Samadhi Sthal of Sri Prusottamananda Swami.
Yoga Retreats at Vashishta Gufa Rishikesh
Now, the cave of Gufa location is gaining popularity for Half-Day Yoga retreats & meditation Retreats nearby Rishikesh.
The cave is about 20-25 feet deep long, so easily 10-15 Yoga aspirants can accommodate inside and, moreover the bank of the river Ganges here provides you enough space to accommodate thousands of visitors. Thus, the Ashram location is the best place for one-day Yoga Retreats near Rishikesh.