Mauni Baba Cave and Ashram Rishikesh
Mauni Baba Cave – A Living Gufa in Rishikesh has a very rich story, a culture that relates to Kriya Yoga, and disciples of Mahavatar Babaji. Mauni Baba Gufa ( Cave)  is situated in the area of Rajaji National park along the bank of Himalayan water streams. This place falls on the trail route to Neelkantha Mahadev Temple while chasing trails of the Park from Ramjhula Bridge, the cave comes across on your way at a distance of 5 km behind the Beatles Ashram.
Mouni Baba is the place where Sir M & his Guru Maheshwarnath Ji used to stay near Rishikesh in the Neelkanth Parvat. Sri Maheshwarnath Babaji was supposed to be a disciple of Mahavatar Babaji.  
Mauni Baba Ashram
The cave is a nature-formed cave surrounded by Himalayan trees and famous for bird-watching. During the winter seasons, more than 300 species of Himalayan birds migrate to the park around the cave neighborhood.
The cave is dedicated to a very awakened monk, locally known as Mauni Baba or Mouni Baba, who is no more. Mouni literally means "silence" and Baba stands for "Sadhu". These monks observe silence their whole life as a path to spiritual awakening.
A Living Cave
There are two Sadhus living in the cave's Ashram presently. The main Sadhu, known as Jatadhari Baba, is a kind of Himalayan ascetic who lives in severe austerity and is totally aloof from the mainstream. The word Jatadhari stands for the person who has long hair till the feet and follows a sect of Shiva, called Shaivism. Another one who lives with Babaji is a disciple of him who looks after Ashram.
Features of the Gufa
The cave is a dome-shaped structure made of big rocks, fixed on the bank of a water stream and surrounded by the Himalayan Mountains and tall trees. There is a small door to enter the cave, and one has to bend at 90 degrees to get into it. Inside, there is a small space with a fire altar for rituals and rites (Yajana). Only 7 to 8 people can fit inside.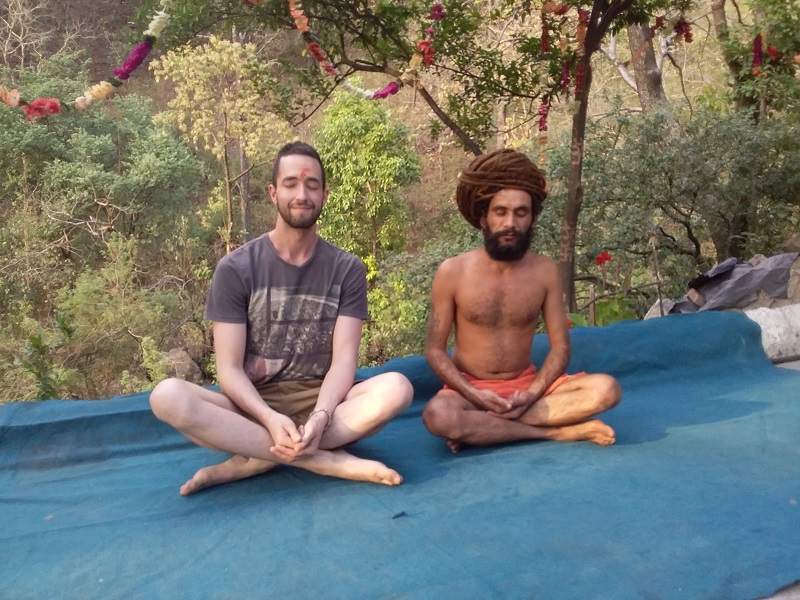 Birdwatching
The cave is located in a picturesque and pristine environment, making it an ideal destination for birdwatching. You might have the chance to see some exotic Himalayan birds that you wouldn't be able to see anywhere else. The cave attracts many people specifically for birdwatching, so it is a fantastic place for birdwatchers to go.
Trekking  
The 5 km hiking trail from Beatles Ashram is an easy grade and not moderate, making it an exciting & nature-filled experience for amateurs. Rishikesh hiking through the park roads in the midst of lofty tall trees gives a fresh & cool environment around. Mauni Baba has another route that leads to Neelkanth Mahadev & Bhootnath Gufa – both of which are highly recommended for those interested in an incredibly fulfilling hiking experience.
How To Reach  Mauni Baba Gufa
Ashram Place can be reached in two ways. The first is by crossing the Ram Jhula Bridge behind the Beatles Ashram. The second is by transport, but this journey is more than 3 km. After reaching the end of the road, continue walking uphill for about 2 km to reach Ashram Place.