Trekking in Rishikesh

: 6 Must-Do Trek Experiences

Trekking in Rishikesh is a must for any lover of the outdoors. The city is renowned for its beautiful views and great sanctuaries, and during your trek, you'll get to see some of the most breathtaking sights in the area. From the majestic mountains to the lush valleys & diverse flora and fauna. Rishikesh is sure to take your breath away.
Rishikesh Trekking
Rishikesh Trekking provides a much-needed change of pace for anyone looking for a new adventure. Rishikesh is known for its breathtaking views and temperate weather conditions all year-round – making it the perfect location to set out on a trek through the Himalayan terrain. 
Treks in Rishikesh
Kunjapuri Trek is the best for day trekking in Rishikesh  Patho Village Trek is the best for half-day trekking in Rishikesh. If you love fun-filled short trekking then go for waterfall trekking in Rishikesh.  Taking a trek to the Himalayas near the town of Rishikesh is an experience everyone should have at least once in their lifetime.
Here is the depiction of 6 Best  Short One-Day Trekking in Rishikesh that you must know about Rishikesh Trek Packages before you beat these treks near Rishikesh
Quick Look at
Short Treks in Rishikesh ( Small Treks in Rishikesh )
Neer Waterfall Trek

– It is an entry-level Half-Day

Waterfall Trekking in Rishikesh

– No Age Bar 
Neelkanth Mahadev Trek – Full-Day Trek 12 km – Trek  near Rishikesh 
Kunjapuri Sunrise Trek – A full-day  12 km Downhill  Trail – Trek  near Rishikesh 
Patna Waterfall Trek – A Half-Day  Trekking in Rishikesh / Trekking Rishikesh
Patho Village Trek – A  4-hour Trek in Rishikesh /  Trekking Rishikesh 
Kota  Village Trek – A full- Day Trek  Near Rishikesh / Trekking Rishikesh 
1- Neelkanth Mahadev Trek
The Neelkanth Mahadev Temple is located on the Neelkanth mountain in Rishikesh, a beautiful city in the state of Uttarakhand. This temple is dedicated to the Hindu deity Shiva. It is truly an impressive religious and spiritual location! You will be amazed by its beauty and by the strength of its faith.
Raja Neelkantha Karki originally constructed the Neelkanth Mahadev Temple as a place for people from all over the country to come together and perform different kinds of rituals and prayers in the mid-15th century AD. You can hike along a Rishikesh trekking route to reach it, but it's best to cycle or motorcycle there.
How to reach Neelkanth from Rishikesh
The distance from Rishikesh to Neelkanth is 25 kilometers. You can take a local Jeep from Tapovan Tiraha near Kriya Yoga Ashram or Lakshman Jhula near Terah Manzil to Shiva Temple.
Neelkanth Temple Rishikesh Timings – The temple is open all day from early morning to evening. Once you reach the temple, you will love Neelkanth's story of how Shiva becomes Neelkanth in Rishikesh.
If you're looking for a place to stay near Neelkanth Temple, there are plenty of hotels and guesthouses in the area. Dharamshala is a popular option for pilgrims and visitors, offering accommodation and other services.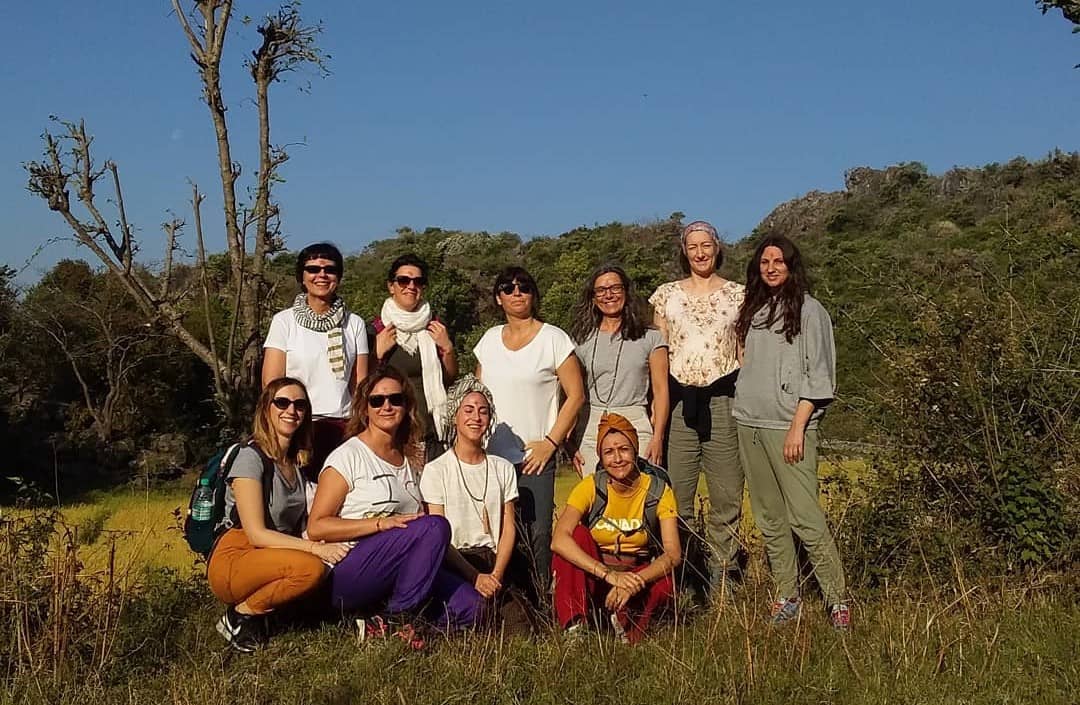 2- Kunjapuri Temple Trek
If you're looking to visit the Kunjapuri Temple, you should know that it's only 30 km from Rishikesh. The best way to get there is by renting a scooter or taking a taxi – the journey shouldn't take more than an hour. Although the road is winding, it's not too complex and the asphalt is in good condition.
Google Maps is great for getting around and it's almost impossible to get lost if you follow the directions! If you want to go to the top, you have to climb a staircase with more than 313 steps (we counted them but they seemed like more!) Once you reach the top, you can relax in the temple or even have lunch at the cafe inside the temple premises.
Kunjapuri Trek – The Kunjapuri Trek is a great option for those with good legs. You can take a taxi to the top and then trek down to Rishikesh, which is a 12 km trek. The trek passes by the Neer Garh Waterfalls and is mostly downhill, so it is not too difficult.
Kunjapuri Temple Trek
to Rishikesh, you will meet several interesting villages, where you can rest and chat with the local inhabitants (mostly by gestures).
Kunjapuri temple sunrise – Upstairs there is enough space to sit to watch the sunrise, there are small shops to have chai tea in the morning and then visit the temple calmly.
Recommended Time: 3 to 4 Hours (Transportation and visit).
Hours: 24 Hours.
Price: Free.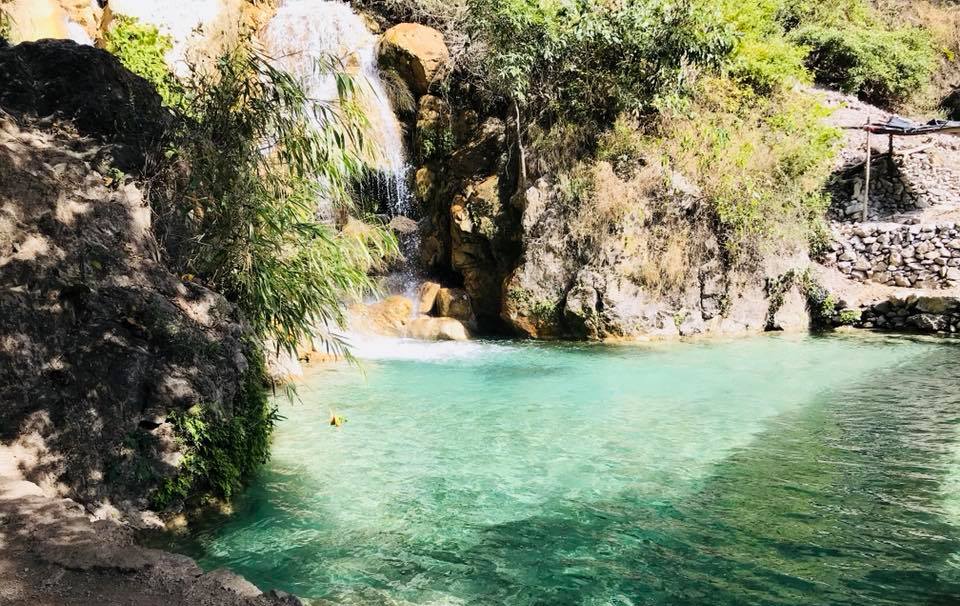 If you are looking for a nice walk to warm up your muscles. We recommend this short trek to the Neer Gaddu Waterfalls Or Neer Waterfall, multi-level waterfalls just a few kilometers from Rishikesh. 
This half-day trip is perfect for anyone who wants to explore a little bit outside of town without committing to a long journey. You can walk the entire 5 kilometers from Lakshman Jhula bridge to the official entry point of the waterfall, but if you're not feeling ambitious, you can always turn back at any point – you'll still get to see the last waterfall and pool even if you don't make it all the way to the top.
If you're up for a longer walk, you can continue along the path and arrive at the small village of Neer in about half an hour. You'll pass through terraced fields and large hollow trees on your way down, and the locals are always happy to stop and chat. Then it's on to the much faster descent!
However, for those who prefer a bit more tranquility. It is possible to carefully climb another small path to the top of the house to find a pleasant space where you can jump into the water and rest on the stones.
IMPORTANT: Save our own garbage.
Recommended Time: 30 Minutes onwards.
Hours: 8:00 a.m. – 6:00 pm.
Price:  50 Indian Rupees – $ 70 Cents (Foreign).
4- Patna Waterfall
An even more majestic waterfall and reachable with a nice walk of about 7 kilometers (plus another 5 km on the way back) from Lakshman Jhula Bridge.
Patna waterfall Rishikesh from the bridge, you follow the road that runs along the Ganges on the right bank, walking in the opposite direction to the current.
Continue on this scenic road for about 5 km; at a point, you will find on your left a group of shops selling snacks and drinks, across the road you will see a path that climbs steeply upwards.
You only have to walk 20 minutes from the main road to enjoy this wonderful scenery and where you can also find shops to buy water, snacks, and fruits.
Near this place, it is also possible to find the Garud Chatti waterfalls with small natural pools that are not very touristy and can be an excellent option to cool off.
IMPORTANT: Save our own garbage.
Recommended Time: 3 Hours onwards.
Hours: 24 Hours.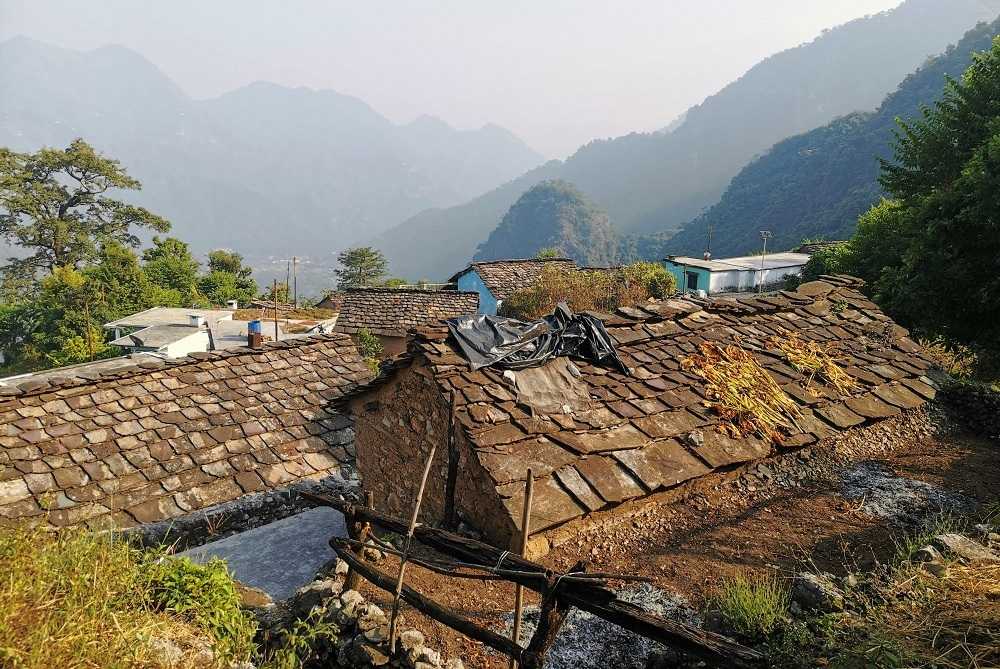 4- Kota Village Trek
The small village Kota of Rishikesh is famous as an eco-village that lies atop an elevation of almost close to 1200 m above sea level amidst the Rajaji National Park of Pauri district, Uttarakhand. 
The Sirasu To Kota trail is the perfect trekking route for those who want to experience natural beauty at its finest. The 4 km trail takes you across a hanging bridge over the Ganges, and the gurgling sound of the flowing water can be heard throughout the journey. The trail is also known for its stunning views, so make sure to bring your camera along!
The Phool Chatti To Kota trail is located in the Rajaji National Park and is a great option for birdwatchers who are looking for an unusual trekking experience. The dense forest along the trail makes it feel as if you're trekking in a remote area of the Himalayas, even though you're not too far from cities or towns. I take tourists on this trail often, and they always seem to enjoy the experience.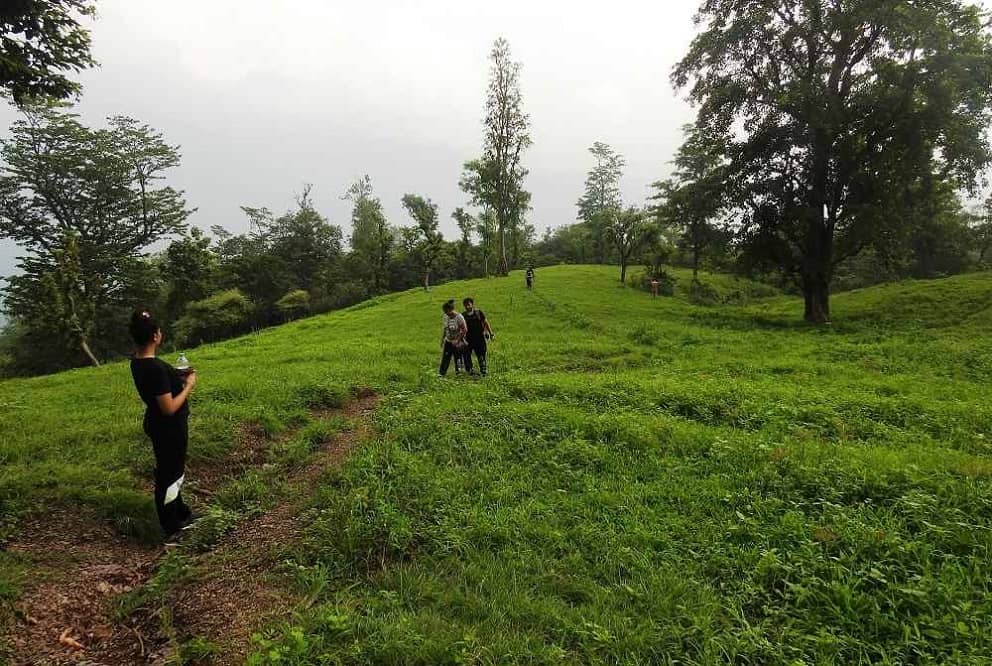 6- Patho Village Trek
The Patho Village lies at an elevation of 800 meters above sea level in Tapovan, Rishikesh. It is a very small settlement in the Himalayan Mountains that may not have the same elevation as other mountain villages in this Ganges Valley region, but there is much to be said of its quiet serenity and mountainous views that you'll never get anywhere else.
This tour is perfect for anyone who loves trekking, whether you're a seasoned hiker or just looking to explore something new. You'll start by making your way to the Tapovan area, where you'll have a short but steep climb. Then, you'll continue on through dense forest with beautiful scenery. The track is mostly even, so you can make good progress until you reach the village of Patho. There, you can rest and enjoy an authentic Himalayan meal before heading back by 3:30 PM.
Conclusions 
We hope you enjoyed this blog post about trekking in Rishikesh. With this information, we are confident that you will be able to choose the right trek for you and your family. If you have any other questions about trekking in Rishikesh, please contact us at info@rishikeshdaytour.com. Thank you for reading, we love being able to provide informative content like this for our fans!