Free Yoga Classes in Rishikesh

: Tips, Tricks, & Guide

Are you on a tight budget but still want to experience all that Rishikesh has to offer? Consider visiting the Sivananda Ashram! This ashram is designed with visitors in mind and is located in the holy city of Rishikesh on the banks of the Ganges River. Here, you can take Free Yoga Classes in Rishikesh and experience the ultimate freedom that comes with Yoga.
Free Yoga Classes Rishikesh
The Sivananda Ashram in Rishikesh offers free yoga classes every morning at 6 AM. The Indian yoga instructor will teach all levels of class, including poses and philosophies. All this is done absolutely free of charge. Don't forget to bring your mat!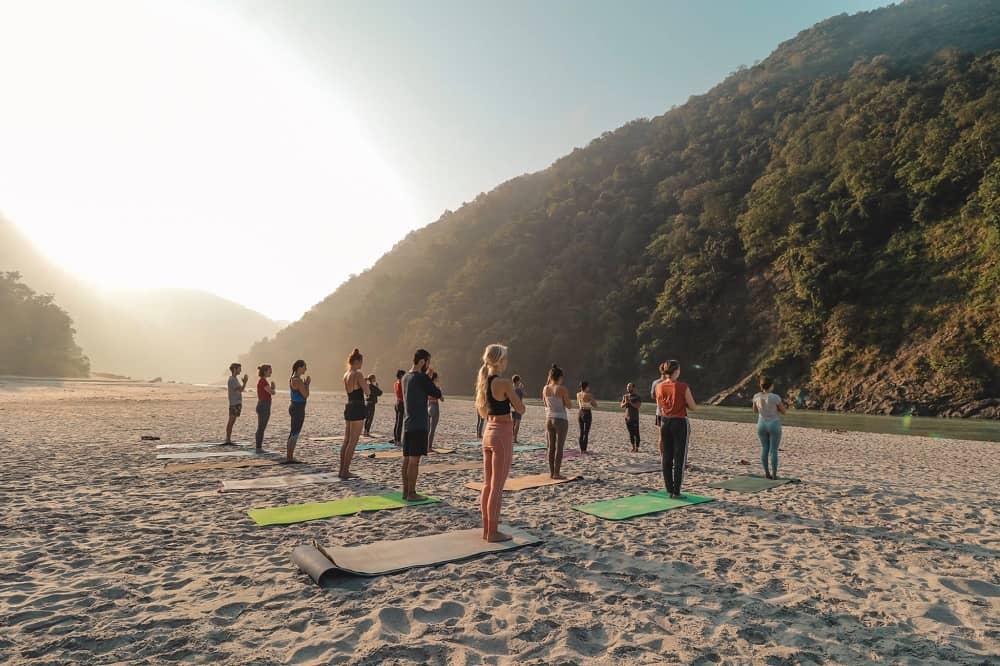 Free Yoga Teacher Training in Rishikesh
Sivananda Ashram offers free yoga classes on the banks of the Ganges in Rishikesh every day. These classes last for one hour and include Asana and philosophy.
The Sivananda Ashram Rishikesh offers yoga classes for all levels. The course is designed to give students a comprehensive introduction to yoga, from how to sit correctly and conserve energy to set up a home practice.
The Rules  for Free Yoga Classes Rishikesh
Male yoga aspirants are welcome to join free morning yoga classes at the Ashram. Unfortunately, due to Ashram's rules and discipline, female aspirants are not able to participate in these classes. If you have any questions, please feel free to contact Ashram directly. Sivananda Ashram Rishikesh.
Sivananda Ashram Rishikesh
Looking for a traditional yoga experience while in Rishikesh? Look no further than Sivananda Ashram – the perfect place to stay for those seeking spiritual and yoga enlightenment. Here you can learn from a real Yoga Guru and practice traditional yoga techniques. Sivananda Ashram is also famous for its Sanyas Ashram, where many come to take part in the Sanayas program. So if you're looking for an authentic yoga experience, be sure to check out Sivananda Ashram Rishikesh.
Ashrams are specialized retreat centers where people who study yoga and other metaphysical sciences can learn more about their practice. The Sivananda Ashram in Rishikesh, India is one such ashram that offers daily morning yoga classes by a practicing master on the bank of the Ganges. What makes this ashram unique is its traditional chanting service that includes singing devotional songs based on Indian classical music.
Swami Shivanand Ji was born on September 8, 1887, in the village of Pattamadai in Tamilnadu. Swami Ji's disciples are;
Swami Chinmayanand – Founder of Chinmaya Mission.
Swami Jyotirmyanand – President of Yoga Research Foundation.
Swami Satyananda Saraswati – Yoga International School – Munangaili – Founder of Rajnandgaon.
Swami Santananda – Fine Arts Founder Malaysia and Singapore.
Swami Shivanand Radha – Founder of Yashodhara Ashram (Canada),
Swami Venkateswaraananda – Devine Life Society of South Africa and Mauritius.
Owner Prnwanand – Malaysia Ashram.
Owner Chidananda and owner Krishnananda – Rishikesh ashram.
Conclusions
The Sivananda Ashram is a place of peace and tranquility where you can take your practice of yoga to the next level. Whether you are a beginner or a master, you will find the classes here to be exactly what you need to advance your practice. The staff is friendly and knowledgeable, and the facilities are well-maintained and clean. We hope you enjoyed our blog about Sivananda Ashram.