Shri Durga Aushadheey Vatika – Volunteer Stay in Rishikesh
Our Vision
Shri Durga Aushadheey Vatika loosely translates as a 'medicine garden'.  We are passionate about living on and consciously off the land as close to mother nature as possible.  We are here to create and share this beautiful land with like-minded people interested in experiencing and exploring a life based around Organic, Yogic and Ayurvedic principles. Understanding, mother nature provides all the nourishment and best medicine at our fingertips.  Our aim is to offer interested people a chance to live in accordance with the natural laws, a beautifully simple life, plenty of time for contemplation and meditation in the many inspiring natural meditation spots dotted throughout the property.  If you are keen as a beginner to immerse yourself in this yogic lifestyle. Or, are looking to go deeper into your sadhana practice, Shri Durga Vatika welcomes all levels of participants to share in the fresh mountain air and awe-inspiring views.
At Shri Durga Vatika we want to bring these ancient traditions of Ayurveda and traditional farming straight to your plate.  No pesticides are used.  Chemical-free produce is what we provide.  We also aim to keep the best practice of only eating seasonally and locally where possible.  This land is well known for producing many powerful healing medicinal plants that grow naturally in the wild of these mountains.
For instance, we have mango, guava, lemon, pomegranate, mulberry and sweet lime fruit trees to name a few.  Seasonal veggies like cucumber, capsicum, tomatoes bottle guard, okra, chilli trees, coriander, green salads, broccoli, basil and cauliflower.  Medicinal plants we are cultivating here, the like of curry leaves, fresh turmeric, ginger, peppermint, moringa, Shatavari, Brahmi, Justicia Adhatoda, nettle, tulsi, Himalayan basil, heart-leaved moonseed and wood apple. To add brightness and colour with plentiful of marigold, jasmine, and lots of natural flowers that add to the natural beauty of the landscape.
You can't help but feel rejuvenated and revitalized being surrounded by such natural beauty and bounty.  Enjoying the abundant wildlife, from the many colourful birds, butterflies, and dragonflies aplenty.  Monkeys are known to come and check out what is happening, they are scared of humans so do not pose a threat.
Our location
This land, which is set in the Himalayan Mountains also often, referred to as Shivalik Mountains, the kingdom of Shiva.  We are so blessed to be custodians of this sacred land in the state of North India known as Dev Bhoomi, Uttarakhand " which means "the land of the Gods".
We are situated approximately 30 minutes drive from Rishikesh, India. We are a beautiful jungle trek up the mountain through lush vegetation and freshwater springs which take about 15mins to arrive at our Medicine Garden.  We are also only a 15-minute walk to the sacred Ganges.  This village where we are located is called Mala which in local folklore is a symbol of the mala bead necklace as it brings all the different families and houses together at one point. Adding even more significance, it is one of the closest villages to the holy river Ganga in the whole of India, making it very unique indeed.
Your Hosts
Mohan Singh Rana was born in this area, which gives him exceptional local knowledge of Ayurvedic medicinal plants and properties.  He is a passionate foodie, and believes in the saying, "food is medicine".  Mohan has many years experience cooking in a variety of kitchens, restaurants and ashrams around India, mostly Rishikesh, Goa and Dharamsala. He loves to share his knowledge with anyone from beginners to more advanced seekers. Mohan is a Shadak (a person who lives the yogic principles).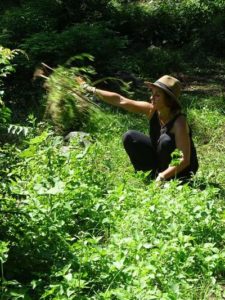 Louise Davey is from Australia she has been studying yoga for more than 20 years and is trained as a kundalini yoga teacher, energy and sound healing medicine practitioner.  Specializing in inner child practices, shadow mining techniques and shamanic breathwork activation sessions.  She has been coming to India for the last 10 years and has found a place that makes her heart sing being so close to mother nature in this jungle paradise of natural spring water and yogic life.
 What We Offer
Accommodation and Amenities
A chance to reset, get back to mother nature, we aim to live as close to mother earth as possible.  You will experience this by living in tent style accommodation, sleeping on the earth.   In yogic philosophy, this is so beneficial for our well being our spines are directly connecting to the earth element, not separated by unnatural mattresses and the like. For a hassle-free culinary experience, we also offer all guests staying with us x 3 home-cooked Ayurvedic style vegetarian meals to make your stay with us, something special and unique.
Eco-friendly, open style clean Asian style toilets and outdoor shower.  In alignment with the ayurvedic living style, this is recommended to benefit your connection with the natural surrounding elements and environment.   Giving you a firsthand experience of the healing properties of this fresh mountain spring water, that we drink, bathe and swim in.  Straight from source as mother nature intended.
Ayurvedic Homestyle Cooking
Come and enjoy the many delicious flavours and dishes of this mountain region.  Mohan loves to share his wealth of knowledge of Ayurveda and his passion and understanding of how food is medicine. He will be preparing breakfast, lunch and dinner for all guests at Sri Durga Vatika.
Destination Inspired Tours/Treks
You will have ample opportunity to explore the surrounding mountains and villages through the many destination-inspired tours and treks that we offer here at Shri Durga Vatika.  They are as follows:-
Rishikesh Spiritual Tours
Traditional Himalayan Mountain Village Tour.  We will be staying overnight in a traditional mountain village to experience traditional life with family.  This tour includes a jungle walk approx 21/2 hours to reach mountain village.  Where you will be welcomed by the traditional mountain family.  No longer feeling like a tourist as you will be warmly accommodated at their homestay overnight.  Traditional home-cooked, simple and delicious food is provided, breakfast, lunch and dinner cooked by the family. You can also learn and experience firsthand mountain cooking and life.  Optional activities for guests are the village temple or trekking to see awe-inspiring views of the magical Himalayan peaks.
Forest Bathing, Jungle Day Trek or Overnight Optional Camping.
For guests staying at Shri Durga Ashaudheey, we offer these great outdoor activities to really get a feel for your surroundings. The Jungle trek day tour takes you approx. 45 minutes to climb the mountain taking in the wonderful sounds and surrounds of nature. Mohan your guide will be sharing his knowledge of the local jungle. Reasonable fitness is required.
Ganga Marine Drive Walk
Morning breakfast walks for guests at Shri Durga.  We will be leaving early to make our way to the banks of the Ganga.  Where you will be able to enjoy simple and healthy breakfast on the beach of the Ganga.
Food as Medicine Experience
Come and explore the amazing world of Ayurveda, complete knowledge of living.  Learn about the many plants, herbs, roots that Mother Nature provides, which are all around us.  Growing naturally in this beautiful Himalayan region.  Food as Medicine Experience is approx. 1-hour walk and talk around Shri Durga Aushadheey medicinal garden. Heart exchange by donation.
One on One Ayurvedic inspired knowledge and cooking experience
For those of you interested in getting physically into Ayurvedic and mountain style cooking.  Then this experience is for you.  Mohan will share his wealth of knowledge in a more in-depth way on how food has been used as medicine and can be used again through these ancient practices and wisdom.
Yoga and Meditation
If you are interested in deepening your spiritual practice then Shri Durga Vatika is a great place to immerse yourself.  There are so many natural meditation spots that dot the landscape.  Be at one with nature, let your troubles of yesterday not be your tomorrow, let go relax and rejuvenate.  Yoga and meditation classes, as well as crystal bowl sound healing sessions,  are offered on request.
Cooking Classes
Have a keen interest in cooking and would like a one on one experience of these ancient traditions.  Mohan will happily share his wealth of knowledge and passion with those of your keen to learn more.