Online Pooja Booking

– Haridwar-Rishikesh-Badrinath in Uttarakhand

Online Pooja Booking– Book your next pooja or Vedic rituals service in temples or religious places of Uttarakhand through our website. We are the best portal to book online pooja and Vedic rituals services at religious places and temples of Uttarakhand such as Haridwar – Rishikesh – Dev Prayag – Badrinath Temple ( Brahma Kapal  )

We ensure that you get the best of Online Pooja Booking in places like Haridwar, Rishikesh, Dev Prayag, and Badrinath. Our team of priests also performs Vedic rituals and pilgrimage services like Yagya and Havan, Pind Daan, Asthi Visarjan, Narayan Bali Shradh, Nag Bali Shradh, Tripandi Shradha, Navagraha Shanti Pooja, Tripindi Shradha, etc.
Online Pooja Items
Pooja Items are a very essential part of any ritual. We are very highly experienced in organizing and arranging online pooja booking for our clients and we take care of all at utmost attention during performing rituals for our online clients, All Online Pooja  Samagri is locally sourced ensuring the best quality during Online Pooja.
Types of Online Pooja Booking
1-
Asthi Visarjan or Ashes Immersion
In all cultures, death is a very sensitive topic. Although, Hindu and Indian cultures take the topic even further by honoring the dead with cremation rituals. To begin with, the burial Asthi-Visarjan starts on the seventh day after death. Asthi is a Hindi word that means funeral ashes that are collected after performing the last rites.
These ashes may include bones, flowers, or anything else that was used during a service to pay homage to the departed soul. This ritual is done in memory of one's loved ones as it lets them know you still remember them and love them dearly.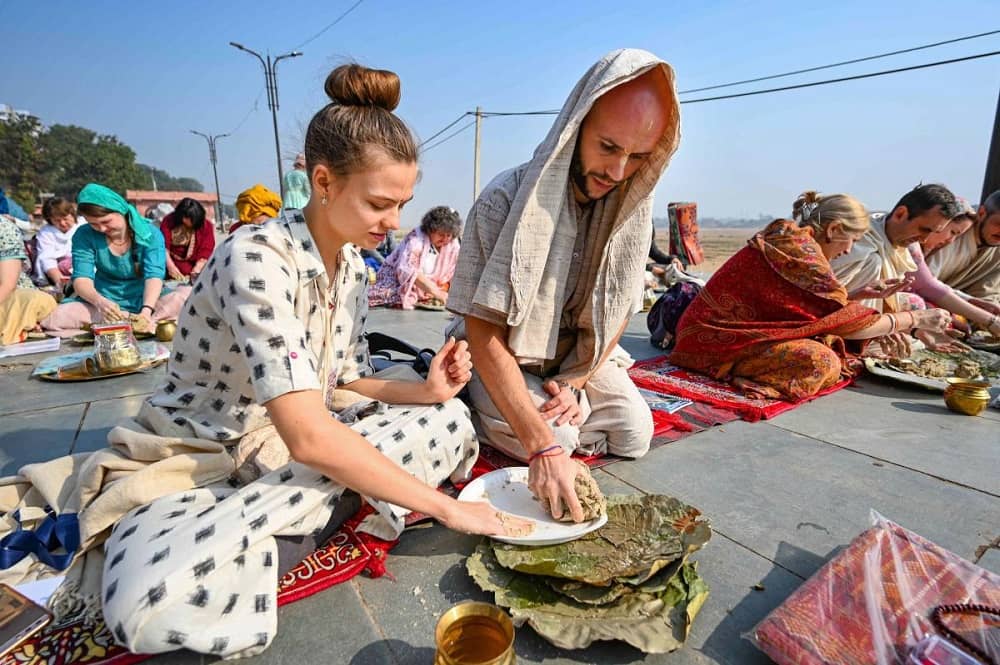 2-
Pind Daan or Post Death  Ritual
Pind Daan is the Hindu belief that after death, the soul of a human being still remains in this materialistic world. Just because of the loss of body (due to death), someone cannot detach themselves from this world. The pull of Love, kindness, affection for his / her family, friends, relatives, etc., and the affinity for the materialistic world prevent him/her from going for final departure.
3-
Tripindi Shradh-Death Anniversary Ritual
If three consecutive years have gone by since the death of a member of your family and no offerings have been made to them, you must not make this mistake. Tripindi is considered an offering to please them by doing this we are trying to lower their anger through these actions. This is practiced if a person dies in an unnatural death like due to an accident and so on.
Every year in India, the Hindu community gathers together to celebrate this auspicious day as a way of honoring their ancestors either by feeding their spirits with copious amounts of food or making various offerings like milk, cucumbers, and flatbreads. The family members cook large quantities of food to honor the ancestors that lived before
Best Time – Tripindi  Ritual: This rite must be performed on the 5th, 8th, 9th, 11th, and 12th of any month in the Hindu calendar. As well as Tuesday of the dark half of the lunar month is considered to contain a strong influence. To ward off fierce-day agony one will have to perform this rite immediately if necessary. This measure is mentioned in "Godayatra Viveka-Darsha".
4-
Nag Bali Shradh
Families have many spiritual elements woven into their many traditions and one of the more striking examples of this is the moment when they perform Naag Bali Shradh. This ceremony results in the family paying respect to their beloved member who has passed away by biting snakes and ensuring that their departed spirit finds solace in a happier place
5-
Kaal Sharp Dosh
Also known as the Kal Sarp Dosha, Ketu and Rahu are the planets that represent a retrograde movement in astrology. They come together at a far more rare occurrence than a typical alignment of planets but it pulls an individual into this state of being that is considered to be quite unfavorable and damaging.
Fortunately, there is a way to fix this sort of problem so we want to give you tips that you can use moving forward when your horoscope indicates that you may be magically condemned by any number of celestial circumstances!
6-
Narayan Bali Shradh
Narayan Bali is commonly known as dying unnaturally. More specifically, the term describes unnatural deaths that actually occur. For example, Narayan Bali can cover victims of accidents, suicides, natural calamities such as floods and earthquakes or death by fasting (religious reasons), struck by lightning, murder, or any other unusual disease such as cholera.
How is it done? A dummy body is used in the process. The mantras are first chanted by a priest so as to invoke and invite the soul, who can then possess the dummy body. The person's spirit will then be set free from their physicality due to the power of fire. Fire removes any forms of impurity from its surroundings