My Experience at the Babaji Cave: How It is Connected to Us
We recently went on a pilgrimage to Babaji's cave. and I have visited this sacred spot before and others seeing it for the first time. It was here, in this little secluded cave in the middle of nowhere and of everywhere that we were introduced to Kriya Yoga's lineage. Ever Since Kriya Yoga has spread around the globe in large part thanks to Babaji's teachings.
Just by sitting there, the serenity and silence of the cave got to me. The climb up there left me breathless and I could barely breathe. The desolate beauty of that place was indescribable. A stillness filled the air around me and I began taking in everything around me with my eyes open.
Everything eventually lost its shape. I felt like everything had become sound – even my own body seemed to be just a blur of motion with nothing to define it as it was earlier on. There was only one thing: a song within me that grew from deep within as if it had been lying dormant for many years perhaps waiting for this moment to express itself through me until reaching all-encompassing, sublime heights of ecstasy.
It was here that Lahiri Mahasaya received not only his Kriya initiation but also the charge to bring the experience of this spiritual path to others.
Though he had many duties and responsibilities at home as a married man. "Autobiography of a Yogi" relates to how Babaji told him, "A deep purpose underlay the fact that you did not meet me this time until you were already a married man, with modest business responsibilities.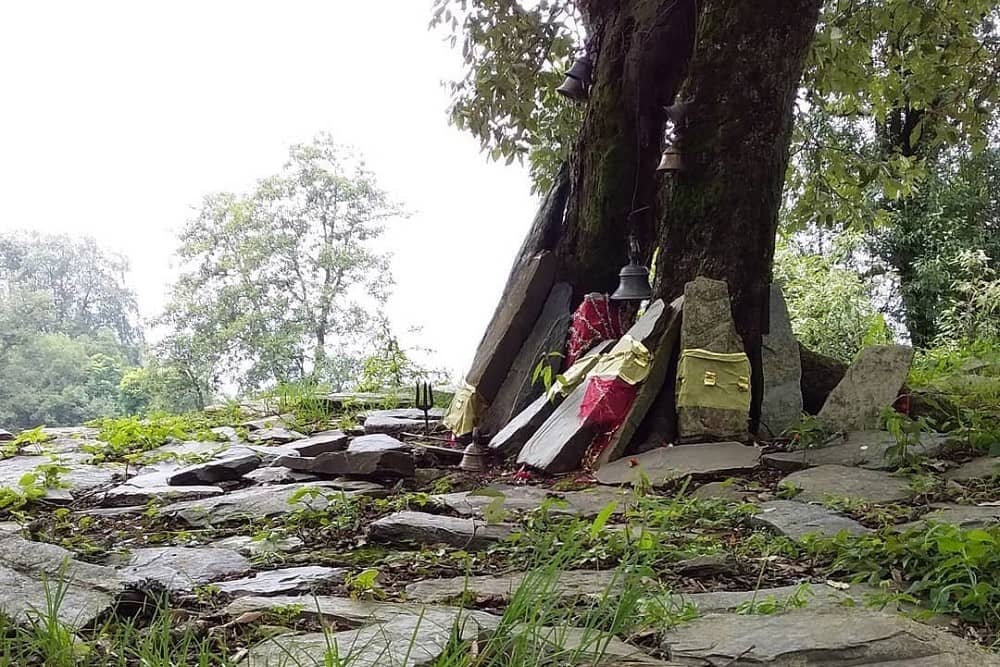 My Experience at the Babaji cave reveals that you must put aside your thoughts of joining our secret band in the Himalayas; your life lies in the crowded marts where you can serve as an example to the ideal yogi and yogini-householder."
This was my second trip up to the Himalayas, though they have long been in my dreams and meditations. I feel a certain spiritual presence here that reminds me of stories from the Mahabharata in particular – a story centered around five heroic warriors known as the Pandavas.
It was these five warriors who were said to have lived long ago, with two living within this very region of Ranikhet & Drongiri Mountain. It is little wonder then that Babaji/Krishna would choose to reside here himself during his lifetime also! In past lives I feel as if I too was associated with both this lineage and this area – but who knows?
Aside from the history and holy vibrations of this area, one also feels that the mountains themselves are alive and conscious. There is a palpable blessing that calms and relaxes the mind as one gazes at them. We stayed here for two days, day by day our troubles seeped into their surroundings, and deep peace and happiness consumed us, leaving our minds soaring like eagles.
I know I'm not the only one who has been captivated by these majestic mountains. And I know that this is not the last time these green fields will see my slow, deliberate walk toward them. It was as though a magnet had captured my heart.