Top 5 Birding Lakes in Uttarakhand's Himalayas
Uttarakhand is home to more than  100 lakes but there are 5 lakes that are famous as Top 5 Birding Lakes among birdwatching enthusiasts.  These 5 lakes give you an unlimited opportunity to spot the unlimited birds in Uttarakhand's Himalayas. The lakes offer also stunning sunrise vistas, heritage walks, and natural landscapes along with snow-covered mountain peaks. These lakes are; 1- Dhalipur Lake  2- Jhilmil Lake 3– Sattal Lake 4-Nanak Sagar 5- Bhimtal Lake.
1- Dhalipur Lake – Dehradun
The lake is widely famous as Dhalipur Lake and it attracts a wide number of birds. Some of the birds recorded as threatened birds in IUCN (International Union for the Conservation of Nature and Natural Resources) . Hence,  the lake is not very large that makes it a paradise for birdwatching with plenty of  Birds.
The lake is also known as Asan Barrage, which was developed in 1967 at the meeting point of two rivers, Asan and Yamuna. It is a mini-scale wetland lake covering an area of  4 sq. km with a 403.3 m maximum water level.
Bird Sanctuary
It is a manmade bird sanctuary & wetland where rivers Yamuna and Asan.  This bird sanctuary hosts trans-Himalayan migratory birds.  So far, about 53 species of water birds recorded along with with19 European and Asian migratory birds.
Water Sports – such as skiing, boating, rowing, kayaking, and canoeing.
Best time –  October – December and from Mid-March to the End of April.
Local Birds – May – September such as Painted Stork, Open Billed Stork, Night Heron.
Time to visit – Timings: 9 AM to 5 PM
2- Jhilmil Lake – Haridwar
A swampy ( waterlogged ) pasture and forest just close to the Rajaji National Park, under the Forest Division of Haridwar. This is a  distinctive lake in Uttarakhand covering an area of  3783.5 hectares (9349.23 acres). The lake is used as a corridor to move animals from Jhilmil Jheel to Rajaji Nationa park.
The Jhilmil lake is the low-lying wetland near Haridwar that has eye-sweeping vistas and the watchtower is a great point to sight birds here.  Uttarakhand is the only state in India that conserves the herd of Swamp Deer or Barasingha.
Tourist Activities
Jungle Jeep Safari
Bird Watching
Butterfly Walk (Inside safe zone or near Tantwala village)
Enjoy jungle movie at Interpretation Center (For Children, Students, Families)
Overnight in the Forest Premises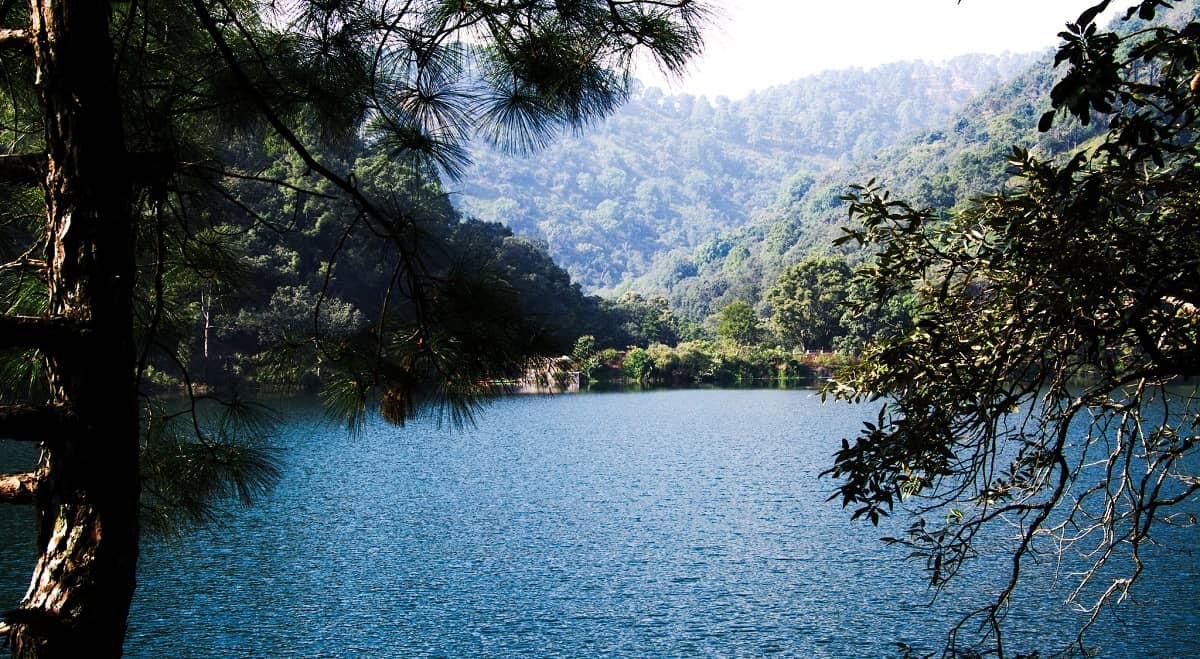 3- Sattal Lake – Nainital
Sattal lake is the best location in Uttarakhand for birding.  If we combine the  Bhimtal and Sattal regions together then there will be more than 400 residential and migratory birds, more than 20 kinds of mammals (excluding rodents), above 525 varieties of butterflies, & 11,00 + types of moths, beetles, bugs, and other insects.
Sattal has 230 types of birds that are only in the Sattal area.  There are often seen birds are babblers, tits, bulbuls, warblers, minivets, woodpeckers, pigeons, myna, barbets, sunbird, the red-billed magpie, the jungle myna, the long-tailed minivet, Himalayan Bulbul, and many more.
4- Nanak Sagar ( Lake) – Udham Singh Nagar
Nanak Sagar is a manmade lake on the Deoha river in Nanakmatta of Udham Singh Nagar.  It is the most famous lake for hundreds of Avifauna  & also famous for Nanakmatta Gurudwara. The Nanakmatta is a sacred shrine of Sri Nanakmatta Sahib.
The lake is home to thousands of local and migratory birds.  If you are looking for an offbeat place for birding then Nanak Sagar Lake is the best for you.  You will have an excellent time here in the holy city.
5- Bhimtal  Lake – Nainital
Bhimtal lake lies in the Kumaon region of Uttarakhand state. It is approx  300 km far from Delhi  & about  25 km far from Kathgodam  Railway Station.  The lake is famous for birdwatching and natural sceneries.
 Butterfly Museum – Butterfly Research Centre, Bhimtal
Aquarium – in the middle of Bimtal Island
Garud Tal – Boating  Fishing and angling.
Village Pangot – A Birding Paradise
This village is a great destination for birdwatching.  You can reach there by a 2 hours road trip from Bhimtal lake. There is a 15 km long birding trail that starts from Vinayak to Kunjkharak (2323 meters) in Pangot village. there are as many as 580 species of birds that have been recorded in this area.
The Birds – Khalij Pheasant, Hill Partridge, Oriental Turtle, and Spotted Doves, Himalayan Griffons, Black Eagle, Oriental Honey Buzzard, Black Headed Jays, Grey Bush Chats, Russet Sparrows, Blue Winged Siva (blue-winged Minla), Bar Throated Siva (Chestnut Tailed Minla), Green Backed Tits, Black-Throated Tits, Black Lored Tits, Yellow Breasted Green Finches, Common Rosefinches, Streaked Laughing Thrush, White-throated Laughing Thrush, Blue Whistling Thrush, Rusty Cheeked Scimitar Babbler, Black-Chinned Babbler, Grey Headed Woodpecker, Brown Fronted Woodpecker, Lesser Yellow Nape, Large Billed Crow, Himalayan Bulbuls, Black Bulbuls, Verditer Flycatcher, Grey Headed Canary Flycatcher, Grey Hooded Warbler, Grey Headed Canary Flycatcher, Rufous Sibia, Whiskered Yuhina, etc.
Suggested Read –