Top 5 Birding Lakes in Uttarakhand, Himalayas
Birding Lakes in Uttarakhand- It is home to more than  100 lakes but there are 5 Birding Lakes in Uttarakhand  that are famous as Top 5 Birding Lakes among birdwatching enthusiasts.  These 5 lakes give you an unlimited opportunity to spot the unlimited birds in Uttarakhand's Himalayas.
These Birding Lakes in Uttarakhand offer also stunning sunrise vistas, heritage walks, and natural landscapes along with snow-covered mountain peaks. These Birding Lakes in Uttarakhand ; 1- Dhalipur Lake  2- Jhilmil Lake 3– Sattal Lake 4-Nanak Sagar 5- Bhimtal Lake.
1- Dhalipur Lake – Dehradun
Dhalipur Lake – Dehradun: A Hidden Gem As we begin our birding escapade, our first stop takes us to Dhalipur Lake, also known as Asan Barrage. Nestled in Dehradun, this charming lake's modest size is its strength, creating an intimate environment that beckons an array of bird species.
Notably, it is a sanctuary for threatened birds listed by the IUCN. Developed at the confluence of the Asan and Yamuna rivers, Dhalipur Lake spans 4 square kilometers and reaches a maximum water level of 403.3 meters.
Bird Sanctuary and Beyond: This man-made bird sanctuary is a wetland paradise where the Yamuna and Asan rivers converge. The area hosts an impressive array of trans-Himalayan migratory birds, with 53 water bird species documented, including 19 European and Asian migratory birds. Beyond birdwatching, visitors can enjoy various water sports such as skiing, boating, kayaking, and canoeing.
Best Time to Visit: The prime birdwatching seasons are from October to December and from mid-March to the end of April. Local birds, such as the Painted Stork and Night Heron, grace the area from May to September. The sanctuary is open from 9 AM to 5 PM.
2- Jhilmil Lake – Haridwar
Our next destination, Jhilmil Lake, is a fascinating wetland adjacent to the renowned Rajaji National Park. Encompassing an expansive 3783.5 hectares, this lake's unique setting creates a corridor for animals to migrate between Jhilmil Jheel and Rajaji National Park.
Wild Encounters: The wetland offers captivating vistas, and a watchtower provides a bird's-eye view of the avian inhabitants. An exciting jungle jeep safari and bird watching activities await, allowing you to immerse yourself in the area's rich biodiversity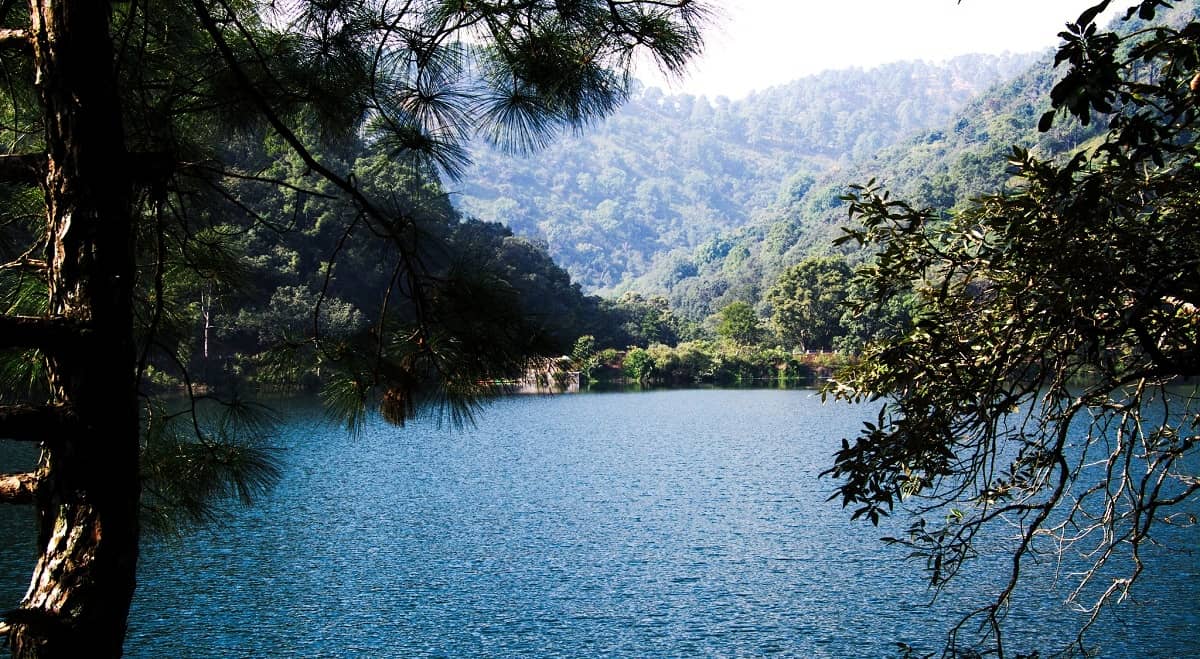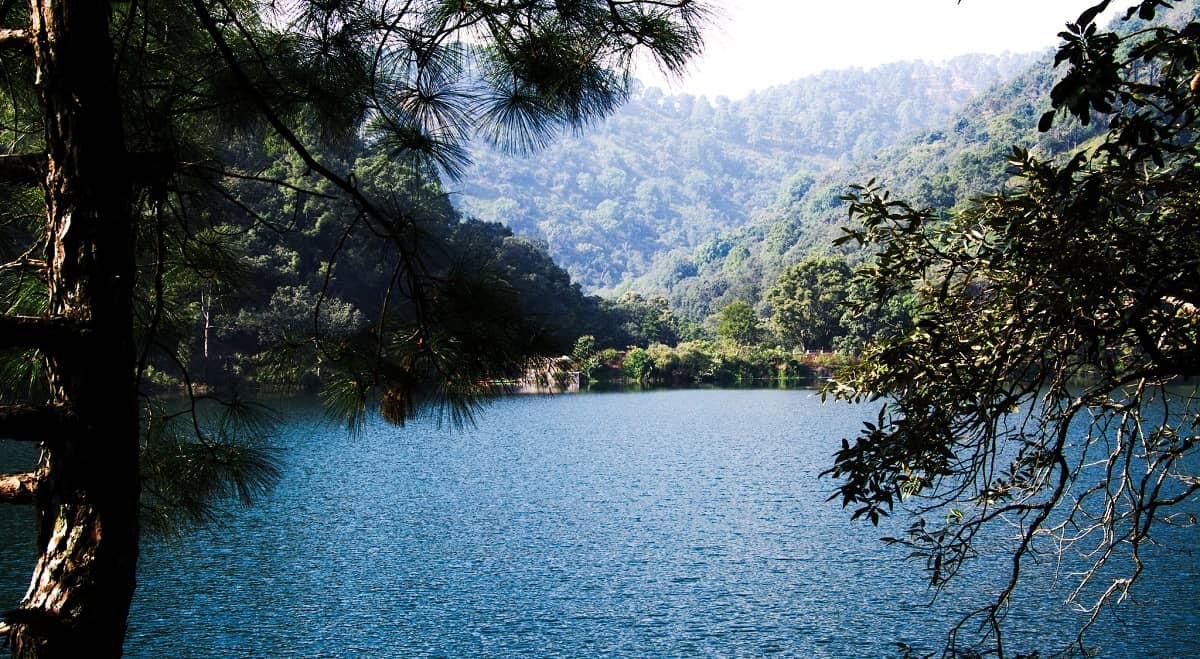 Sattal Lake – Nainital: Where Birds Thrive
For an extraordinary birding experience, we set our sights on Sattal Lake in Nainital. The lake's surroundings, along with the neighboring Bhimtal region, boast over 400 residential and migratory bird species, making it a birdwatcher's paradise.
Avian Abundance:
Sattal Lake boasts an impressive roster of 230 bird species unique to the area. Among these are babblers, woodpeckers, bulbuls, and sunbirds. The location's diverse wildlife also includes more than 20 types of mammals and over 525 varieties of butterflies.
Nanak Sagar Lake – Udham Singh Nagar: A Serene Oasis
Venturing to Udham Singh Nagar, we uncover the serene Nanak Sagar Lake. This man-made lake, nestled along the Deoha River, is famed for its vibrant avifauna and its spiritual significance due to the nearby Nanakmatta Gurudwara.
Tranquil Retreat:
Nanak Sagar Lake offers a tranquil escape and is a haven for both local and migratory bird species. This offbeat destination promises an exceptional birding experience amid the spiritual ambiance of the holy city.
Bhimtal Lake – Nainital: Nature's Marvel
Our final birding haven is Bhimtal Lake, located in the scenic Kumaon region of Uttarakhand. Known for its birdwatching opportunities and natural beauty, Bhimtal Lake is a must-visit destination.
Beyond Birding:
In addition to birdwatching, visitors can explore the Butterfly Museum, enjoy aquatic wonders at the Aquarium on Bimtal Island, and indulge in boating and angling activities at Garud Tal.
Village Pangot – A Birding Paradise
For those seeking an even more immersive birding experience, the Pangot Village Birding Trail offers a 15 km journey from Vinayak to Kunjkharak. This village, just a short road trip from Bhimtal Lake, hosts an astounding 580 bird species.
A Symphony of Feathers:
The trail offers sightings of Khalij Pheasants, Himalayan Bulbuls, and many more iconic avian species. From majestic raptors to charming songbirds, Pangot Village promises an unforgettable birding adventure.
Conclusion:
Birding Lakes in Uttarakhand- From the intimate setting of Dhalipur Lake to the wilderness corridor of Jhilmil Lake, the thriving biodiversity of Sattal Lake, the serene oasis of Nanak Sagar Lake, and the natural marvel of Bhimtal Lake, each destination offers a unique and unforgettable birding experience. For those seeking a deeper connection with nature's winged wonders, the Pangot Village Birding Trail promises an enriching and immersive encounter with Uttarakhand's avian residents.