Jhilmil Park

: A Lake Dance Of The Birds

Jhilmil Park: The wonderful Jhilmil Jheel ( lake) lies right at the border of the famous Rajaji Tiger Reserve, yet it is often missed by visitors. This is off a radar marshy grassland in Uttarakhand that is still untouched by the greasy hands of commercialization. So, it is famous as Jhilmil Jheel: A blog post where we review Jhilmil Park Haridwar Rajaji National Park and list tips that will help you enjoy your experience there.
Some Facts
The place is still how it used to be thousands of years back. The serene atmosphere and the purity of Jhilmil Jheel ( lake) and park are radiated the moment you walk in.
There is an archaic watchtower from where you can also view this lovely marshland. 
Jhilmil Jheel, as it is often called because of the lake amid the park is a lovely unexplored park that is bursting with surprises. It is both relaxing and fun to walk through this magical park and try spotting different colored birds.
While many visitors skip or don't even know about this place, it is surely one of the best places you can visit to spend some idle time while gazing at the birds that keep you company.
Jhilmil Jheel

 
While Jhilmil Jheel lake is most famous for its variety of birds that fly at their hearts' desires, there is no dearth of animals as well. In 2005 Dr. Abdul Kalam decanted Jhilmil Jheel & Park to be Conservation Reserve. This led to amazing growth and protection of the flora and fauna that inhabited this area. But, what catapults Jhilmil Lake & its marshy land into a surreal park is the opportunity that it provides for Bird Watching.
An abode of the Himalayan Birds
If you come to Jhilmil Reserve would be the pure joy of spotting different colored birds, then you will not be disappointed. As a bird-watching haunt, this place is heaven. It is believed that there are about 120 bird species in Jhilmil Lake surroundings and the number just keeps growing.
Aura of the Sunset at l Lake
If you wait till sunset then you will be enthralled by little birds all flocking together and flying above your heads as they return to their nests before the darkness engulfs the forest. The entire forest starts vibrating with the calls of the birds as they usher in the nightfall. You will also find endangered species of birds like bristled grassbirds right here at the Jhilmil park.
Variety of the Birds in the conservation Reserve
 If you are into exotic and rare birds, then this place has a plethora of those as well. Just be patient and walk around and you will surprise at the number of birds that are here. Some of the rare species of birds are making Jhilmil their home, such as flycatcher, oriole, scarlet minivet, sunbird, crimson sunbird, leaf bird, plum-headed and rose-ringed parakeet, oriental magpie robin, emerald dove, green pigeon, spot-billed duck, Asian open-bill, woolly-necked stork, four species of kingfisher. All these birds are beautiful in their way, and spotting even one of them is like living a dream.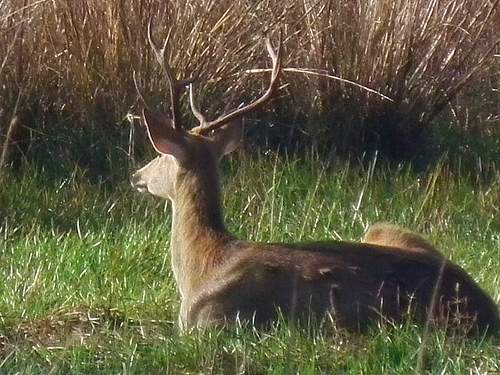 If you are extremely lucky then you might even catch a male peafowl dancing their heart out to attract the female peafowl.
There are birds hidden everywhere in this park, it is like a treasure hunt. Just roam around and keep your eyes peeled. You might just find a woodpecker pecking on the large trees, or a nightingale singing one of its melodious songs, or just maybe you can find a stork just needling the water- the possibilities are endless.
Entrance Fee in the Park & Jeep Safari Price 
Foreign Nation Tourist Entrance Fee – INR 600 per person
Indian Nation Tourist Entrance Fee – INR 150 per person 
Jeep Safari Permit Fee in the Park – INR 500 per Jeep 
Jeep Safari Price ( 5-6 Person ) INR 3500 per Jeep 
What should do?  When you are unable to spot some birds
You should then head to some of the hotspots that always attract birds. For Example One just track goes past a Gujjar graveyard towards a huge Banyan tree. This tree is known to attract birds like Barbets, Grey Hornbill and Oriental Pied Hornbill Below.
Continue onto this trail and you will find a little viewing platform. If you walk a little more you can see a Barasingha just taking in all the sun.
Wait for the water levels to be higher during the afternoon, around that time you will spot some Black Ibis and Glossy Ibis.
The little crystal clear lake right amid the park just makes everything even more soothing. It just adds another layer to this park.
If you are staying near about, then at night you will also hear the Wood Owls hooting from the park. Their sounds fill the nights with a familiar yet haunting sound.
Tips for the Birding in the Park Conservation Reserve
If you are going for a bird-watching tour then carry your binoculars. They will come in extremely handy when you try to spot different kinds of birds. It is best that you take permission from the forest guard before entering the park.
You should also request the company of an armed forest guard since the area is known to be prone to elephant attacks. The armed guards can also double up as a guide and take you around the more unexplored parts of the forest area. They can also help you identify and spot birds.
If this is the first time you are bird watching then head over to the Watch Tower, it not only gives an amazing view of the forest but also you will be able to spot the birds much easier.
Some of the birds will slyly sit on trees that have the Haldi and Kaim flowers- from this tower you will be able to spot those sneaky birds as well.
 How to Reach Jhilmil Jheel
Jhilmil Jheel Conservation Reserve park is not very far from Haridwar city. The Holy city Haridwar has a very fine network of railroad and National highways and the nearest airport is Dehradun Airport.
The distance between Haridwar & Jhilmil Jheel Conservation Reserve Park is  20 km (30 minutes motor drive but depends upon traffic) and  between Jolly Grant Airport, Dehradun & Jhilmil Jheel Conservation, the distance is  60 km (2-hour motor drive)