Rishikesh Tourism

: Capital of Yoga, Mediation & Adventure

Rishikesh Tourism– Rishikesh is a beautiful town located in the Himalayas, with the Ganga flowing through it. It is a popular tourist and pilgrimage destination for people seeking peace. Rishikesh is often referred to as the 'yoga capital of the world because of the many ashrams here that offer yoga and meditation classes. Some of these ashrams are internationally recognized centers for philosophical studies, yoga, and other ancient Indian traditions of wellness.

The city is surrounded by the Shivalik ranges, which give the city a secluded and peaceful appeal. Hence, it is popular among tourists from other parts of India and abroad. The city is a treasure trove of religious diversity and is an ideal place for tourists to explore their ancestral roots.

Many tourists flock to Rishikesh, as it is home to a vast number of temples, ashrams, and yoga and meditation forums. Many of them are located near the banks of the River Ganga. Furthermore, there are many breathtaking monuments in the city that are worth visiting.

Rishikesh is special because of its energetic atmosphere, supportive community, and beautiful location. These factors create a powerful space for personal growth and transformation.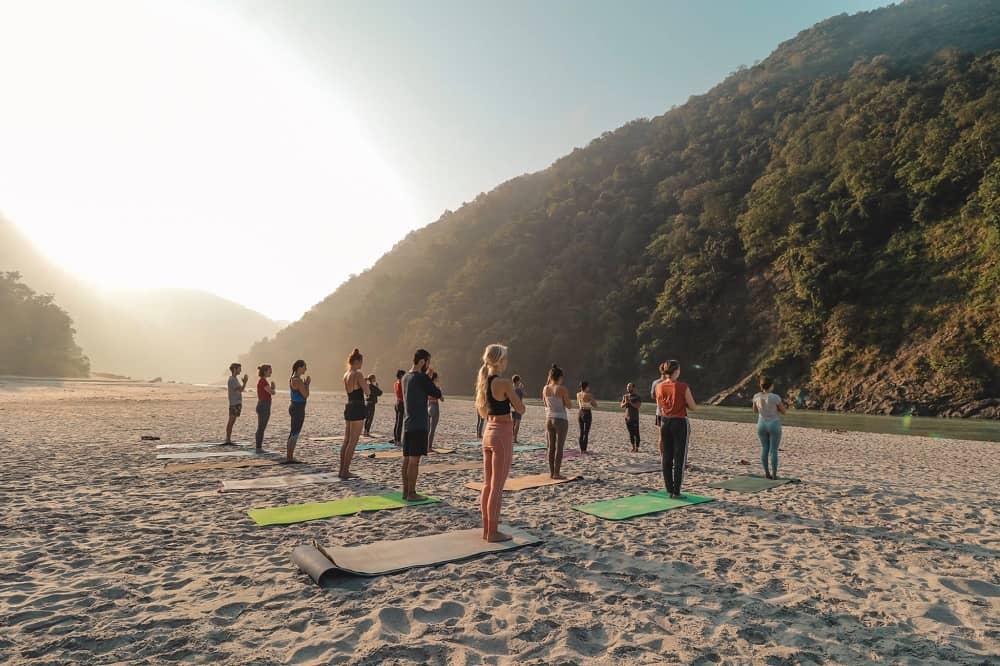 International Yog Festival in Rishikesh
The Uttarakhand Tourism Development Board holds an annual International Yog Festival in Rishikesh, which draws yoga enthusiasts from all over the world. There are a number of legends associated with Rishikesh – it is said to be mentioned in the ancient text Skanda Purana, and in the epic Ramayana. According to legend, Lord Rama came to Rishikesh with his brothers to do penance after killing Ravana.
The Beatles In Rishikesh
Rishikesh is best known for its connection to the Beatles. In February 1968, the English rock band visited Maharishi Mahesh Yogi's ashram to learn transcendental meditation. The band composed nearly 48 songs during their time at the Maharishi's ashram, many of which appear on the White Album (and a few from Abbey Road). John Lennon recorded a song titled, 'The Happy Rishikesh Song' after his visit. Many other international artists have also visited the site to contemplate and meditate, including Mike Love of the Beach Boys and Paul Horn.
Adventures in Rishikesh
Rishikesh is an adventure destination in India that offers a variety of activities for thrill seekers, from white-water river rafting to bungee jumping. Just the thought of rafting through the powerful Ganges River is enough to give anyone an adrenaline rush, even those with previous rafting experience.
In addition to rafting, other adventure activities available in Rishikesh include rappelling, kayaking, hiking, zip-lining, mountain biking, and rock climbing. With so many options available, there is something for everyone in Rishikesh and travelers are sure to be impressed with all that this destination has to offer.
Rishikesh
Rishikesh is a city located in two main areas – the downtown area known as Rishikesh town and the other side of Rishikesh which is located 2 km upstream from the popular Ram Jhula and Lakshman Jhula. Haridwar and Rishikesh are the first Indian cities to be given the title of "twin national heritage cities".
Conclusion
Most tourists visit Rishikesh during the fall and winter seasons. The reason is that the weather is ideal during this time of the year. The average temperature during this time of the year is between 30 degrees Celsius to 13 degrees Celsius. The best time to visit Rishikesh is from October to March. The reason is that it has the best climate during this time of the year.