8 Places That You Should Visit After Your Trek is Over in Rishikesh
A blog about the 8 places you need to see after your trek is over in Rishikesh. Rishikesh is known as the gateway to trekking in Uttarakhand and it's certainly an ideal place to start off your hiking adventures.
Many of our treks begin right here from Rishikesh – places like Brahmatal, Ali Bugyal, and Tungnath- Chandrashila Trek are just a few of many popular treks that offer great opportunities for people who love getting into the wilderness.  8 Places That You Should Visit After Your Trek is Over in Rishikesh.
"One valuable tip I'll give is to plan your Rishikesh journey after your trek is over in Rishikesh, and not before. Before a trek, it's best to come directly from home at your fittest, freshest best without any tiredness from traveling. Consider a visit to Rishikesh as a post-trek experience," urges Sanjay Singh Payal, a senior trek leader at Rishikesh Day Tour.
Let's jump right into our checklist of 8 Places That You Should Visit After Your Trek is Over in Rishikesh!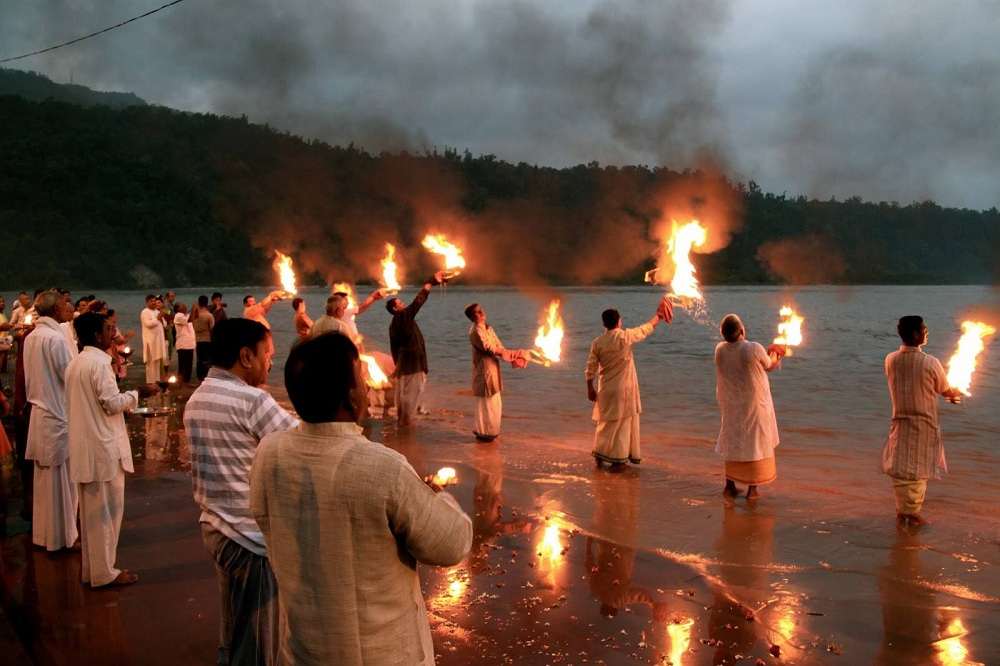 1- Take an Evening Walk
At about 4 PM in the evening, start your walk from Lakshman Jhula from the other side of the main road. The crisp evening air, the canopy of trees, and the tinkling Ganga cruising along with you keep you company. The beauty of Rishikesh, pregnant with silence and peacefulness will sing to you beautifully. By the time you reach Ram Jhula, you'll be right on time to witness a captivating glimmering Ganga Aarti by dusk.
2- Witness Ganga Aarti
One of Rishikesh's greatest attractions is the Ganga Aarti, where devotees perform songs and rituals by the banks of Mother Ganga. The festival is held at Triveni Ghat, which is right next to Ram Jhula bridge and a great spot to watch the sunset – although it may be hard to find a quiet spot in peak season during this time of day! Concerts are given here by singers who specialize in bhajans, but you can also still find a quiet moment during this busy time of day to reflect quietly while you light lamps and send them floating on the waters on the other side of the ghat.
During your time here in Rishikesh you may have heard that there is a large variety of mouthwatering delicious snacks that are sold on the streets nearby Triveni Ghat. Although, do keep in mind to try out local cuisine while you're here, to get the most authentic street food experience possible. Street stalls offer an array of options but some tend to be unhygienic so please make sure you always use your own cutlery and avoid these disposable plates!
3- Food Points in Rishikesh
Many of the hiking trails in Rishikesh can have you exploring some unique local cafés! Our trek leaders absolutely love The Beatles Cafe which offers a number of vegan and gluten-free options for all you trailblazers out there.
For those who are craving something more organic, Tattv is a great option too! This cafe serves vegan dishes like spaghetti and cake – we've rarely seen anything like that in other places! German Bakery is a place owned by Germans and serves amazing bread, pastries, and pizzas. Begin your hike on the famous Lakshman Jhula bridge with fresh baked Paninis or an artisanal pizza from here!!
4- Take a Break
Taking a break while visiting Rishikesh can be tricky as there are plenty of things to do and places to see. One thing you might not have heard about is the refreshing summertime favorite called a Pappu Lassi. This is creamy treat will leave you refreshed and your taste buds dancing so go out and try one today!
5- Rafting in Rishikesh
Rishikesh is best known for rafting on the Ganga River. But most people start at Byasi or Kaudiyala, which can be crowded. My suggestion is to start at Shivpuri (16 km above Rishikesh). Follow the river downstream to Lakshman Jhula. (You could even dive off a cliff into the river on this route.)
If there's one thing that Rishikesh is famous for outside of the Ganga Aarti, it is rafting. It's said that whoever takes a dip here, comes out purified of his sins and endowed with spiritual peace. Most trekkers start their rafting experience at Byasi or Kaudiyala.
6- Haridwar Eateries & Aarti
If you're exploring the region, you can visit Haridwar while in Rishikesh. This northern region is just a stone's throw away. There are so many things to do and see here! A great thing to do is watch the fire Aarti where millions of lights are sent up into the sky with prayer.
Also, try some sweet Indian food like Rabri and Tandai (if for no other reason than that it's just about impossible to travel all this way and not try some new things!)
7- Hostel Culture in Rishikesh
For the spiritually inclined, the best place to be is this incredible city that is rich with adventure and culture. There are not just a number of temples or places to explore, but Rishikesh has hostels that are very welcoming and you can make a lot of friends as well. "I haven't seen such thriving hostel activities in most places in our country, not even the tourist-friendly Manali," says Our Expert Miss Anju.
It's safe for women travelers as well. I met people from all walks of life – backpackers from around the world and those who have traveled further than I have – and learned so much from their experiences. The best part is that many hostels organize events themselves like walking tours here, so keep an eye out for that as well! Hope this helps anyone looking for somewhere fun to go over this upcoming weekend!
8- Bungee Jumping
Located off the side of a cliff near Rishikesh, you'll find one of North India's highest bungee jumping points. Before it was demolished to make way for more exciting jumps over the river below, Mohan Chatti was built as a testing point for bungee technology.
Bungee and other extreme sports were only recently made popular by movies like "Fearless Fernando and "Dheere Dheere Se Kabootar" which featured cool stunts performed by men in their twenties and thirties. While the negatives outweigh the positives when it comes to these stunts, we still feel if you have nerves of steel, why not?