Places To Eat In Rishikesh

: What & Where To Eat?

Places To Eat In Rishikesh– Are you searching for the perfect getaway with an abundance of vegetarian dining options? Look no further than Rishikesh, an Indian city situated along the banks of the revered Ganga River. Amidst its tranquil surroundings, visitors can revel in the numerous cafes, restaurants, and rooftop bars that have emerged in recent years.

From their vantage points, they can take in picturesque vistas of forested hills and scenic wetlands. Additionally, Rishikesh boasts a thriving yoga community with a wealth of exceptional studios and retreats.
Do not miss booking Your VIP Puja Ganga Arti Ceremony in advance, Rishikesh, WhatsApp – +91-707-820-3030
Where to eat in Rishikesh
If you're visiting a new city and seeking the best cuisine but don't know where to start, consider asking a local guide like "Rishikesh Day Tour" for recommendations. They can provide insight into where to eat in Rishikesh, including the top vegetarian restaurants and must-try dishes.
South Indian Restaurants in Rishikesh
1- Uttar Dakshin by Madras Cafe
South Indian Restaurants in Rishikesh:  established in 1967, Madras Cafe, named after its origins in the city of Madras, has become an iconic eatery in Rishikesh, offering delectable North and South Indian cuisine. The menu features must-try dishes such as Rava Dosa, mushroom curry, whole-wheat pancakes, and Himalayan Pulau rice, which is a beloved breakfast option among locals. And of course, visitors must sample their famous filter coffee, which is simply divine
Address: Tapovan Near State Bank of India Tapovan, Rishikesh
2- Anna Mess
Anna Mess is a popular South Indian Restaurants in Rishikesh, located in the heart of Rishikesh. It is a haven for food lovers seeking the authentic flavors of the southern region of India. With its warm and welcoming ambiance, Anna Mess offers a diverse menu featuring an array of traditional South Indian dishes. From crispy dosas and fluffy idlis to aromatic sambhar and flavorful chutneys, the restaurant serves up a delightful feast.
Whether you're looking for Places To Eat In Rishikesh or  a quick bite or a fine dining experience, a local guide can steer you in the right direction for a satisfying culinary journey in Rishikesh:

Garhwali Thali
Chotiwala Restaurant
Chotiwala Restaurant, established in 1958 by siblings Chotibhai and his brother, is a family-owned enterprise that specializes in serving Thali meals. Their menu features Garhwali delicacies, such as Kafuli, a delectable spinach and fenugreek leaf dish prepared in an iron Kadai (a pot indigenous to the Garhwal region), Aloo Ke Gutke (a potato curry flavored with roasted red chilies and jambu leaves), and Mandua, a locally grown cereal. Visitors can indulge in the traditional sweet dish, Singodi, made with condensed milk, for a delightful dessert experience.
Address: Swarg Ashram, Rishikesh, Uttarakhand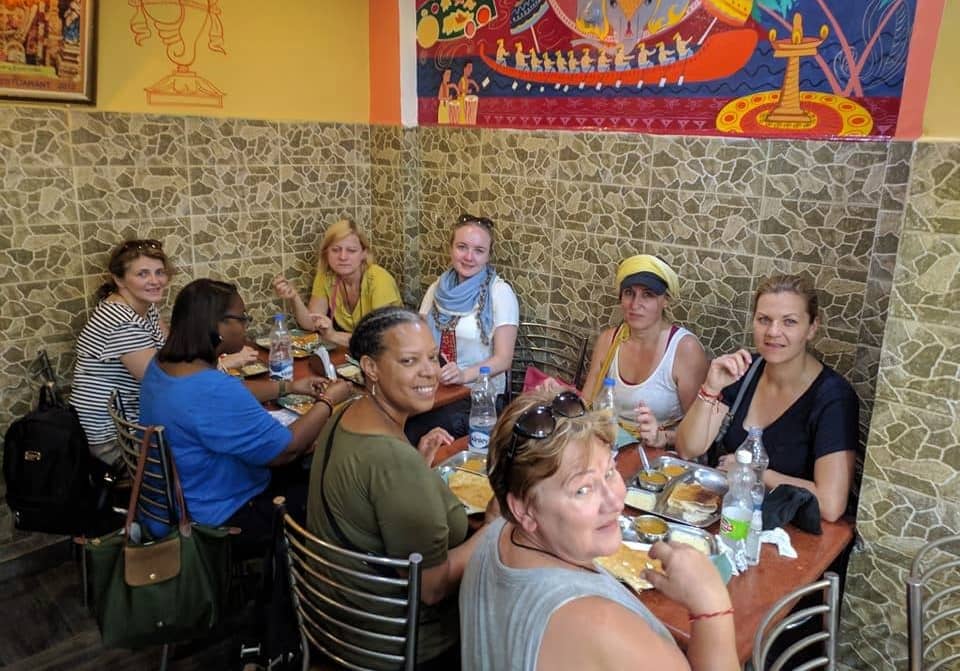 Shri Balaji Restaurant
While it may come as a surprise, one of the best food experiences in a hill station can be found at Shri Balaji Restaurant, a renowned South Indian eatery popular among locals. Even expert chefs have praised the restaurant, ranking it as one of their top favorites.
With expert chefs hailing from Chennai, the menu boasts a range of affordable dishes that offer an authentic taste of South India. Don't miss out on their Butter Paneer Dosa, Onion Uttapam, and Special Masala Dosa for a truly delicious experience.
Address: 17 Ghat Road, Near Triveni(Gangaji) Ghat, Ghat Road, Rishikesh, Uttarakhand
Freedom Cafe
The Freedom Cafe is renowned for its unparalleled panoramic views of the Ganga River, providing a tranquil atmosphere perfect for meditation. Their menu offers a wide range of options, from homemade sandwiches to thick shakes, allowing visitors to choose whatever tickles their fancy.
For a delicious treat, indulge in their freshly-baked pancakes, particularly the mouthwatering banana Nutella pancakes that require no additional syrup. Additionally, coffee lovers will appreciate the freshly-brewed cold coffee, a must-try beverage while visiting The Freedom Cafe.
Address: Laxman Jhula, Rishikesh, Uttarakhand
Pappu Lassi
If you're looking for the best street food in Rishikesh after a morning of rafting in the Ganga, quench your thirst with a refreshing lassi. We suggest making a quick stop at Pappu Lassi, a Punjabi fast food joint that serves a unique type of lassi only available during the winter season. What sets their lassi apart is the addition of chunks of dry fruits, creating a delicious and healthy drink. And for colder days, warm lassis are also available, making for an equally delightful treat.
Address: Main Bazar Rd, Mayakund, Rishikesh, Uttarakhand
Little Buddha Cafe
Little Buddha Café: Perched on the banks of the Ganges, Little Buddha Café is a popular haunt for travelers seeking a tranquil setting and scrumptious food. The menu offers a wide range of options, including Indian, Tibetan, and continental dishes. Savor their momos (Tibetan dumplings), Thukpa (noodle soup), wood-fired pizzas, and mouthwatering desserts while enjoying the serene view of the river and the surrounding mountains.
Address:  Laxman Jhula Road, Rishikesh, Uttarakhand
German Bakery:
For a taste of international flavors, head to the famous German Bakery in Rishikesh. This charming café nestled amidst the bustling streets offers a cozy ambiance and an extensive menu of European and Israeli delights. Indulge in freshly baked bread, savory pastries, homemade cakes, and refreshing beverages. The rooftop seating provides a picturesque view of the city, making it a perfect spot for a relaxed meal.
Pure Soul Café:
Located in the heart of Rishikesh, Pure Soul Café is a hidden gem that offers a unique dining experience. This vegetarian and vegan-friendly café not only serves delicious food but also promotes holistic living and mindfulness. The menu features a fusion of Indian and international cuisine, with an emphasis on organic and locally sourced ingredients. Treat yourself to their heavenly smoothie bowls, fresh salads, and soul-nourishing smoothies.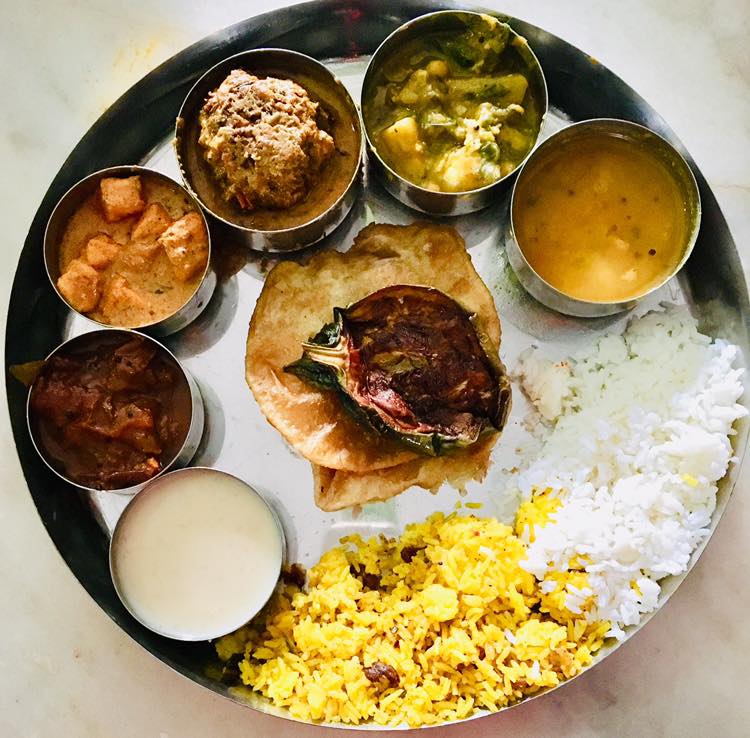 Govinda's Prasadam by ISKCON
For those seeking the best vegetarian restaurants in Rishikesh that serve food without onion and garlic, this one is a must-visit. The dishes here are less spicy than in many other places, making them a great option for those who prefer milder flavors. As there is no onion or garlic used in any of the dishes, it is an ideal choice for anyone who avoids these ingredients.
Be sure to try the tandoori items or the thali set lunch, which are both highly recommended. This restaurant is situated on the temple grounds and is also known as ISKCON or Hari Krishna Temple, named after the temple of Lord Krishna located on the same compound. It is open seven days a week, from 7:30 am to 10 pm.
The 60's Café:
Step back in time and experience the hippie era at The 60's Café, a vibrant and nostalgic eatery in Rishikesh. Adorned with colorful artwork and retro decor, this café exudes a bohemian charm. Relish their freshly brewed coffee, sandwiches, pancakes, and smoothies while listening to soulful music. The laid-back atmosphere and friendly staff make it a perfect spot to unwind and soak in the hippie vibes of Rishikesh.
Conclusion
We hope you enjoyed our phrasebook of some of the best Places To Eat In Rishikesh in Rishikesh India. From the best street food to fine dining, Rishikesh is one of the most exciting places to visit for food in the world! If you want to stay in touch and see more of the world. Thank you for reading!