5 Best Off-Grid Places in Uttarakhand – For Female  Solo Traveler
These days, the Coronavirus pandemic does not allow us to travel in a group. And, many female solo travelers & adventure enthusiasts, nowadays are looking for off-grid places in the mountains to unplug from the mainstream back to the old-time to recharge. So, I have selected 5 Best Off-Grid Places in Uttarakhand – For a Female  Solo Traveler who loves the serenity and solitary travel in the mountains of Uttarakhand. Here is a list of some less-beaten places in Uttrakhand that every female traveler should visit;
Why Uttarakhand?
Uttarakhand offers lots of varieties for female and women solo travelers. It has almost everything for female solo travelers such as temples, book reading homestays, adventures, water sports, yoga/meditation, pilgrimage sites, caves for meditation, village life experience, birding,  Babaji cave  & many more,
1-Khirsu
Khirsu sits at an elevation of 1700 meters in the state of Uttarakhand. It is an enchanting and serene place filled with  Deodar, Apple, and Oak trees. It takes you back to the colonial time and very very safe for female solo travelers. The Khirsu offers you majestic views of the great Himalayan peaks.
Why Khirsu? – It is a remote and lesser-known destination & off-grid hill station. It is famous for the eye-sweeping views  Himalayan mountain range from Kherson.
How to Reach? – Khirsu now is reachable by roads from  Rishikesh or from Lansdowne. You can take shared taxis or buses, which are available from Rishikesh.
2-Tons Valley
Many city dwellers of the world prefer to visit off-grid small hamlet in the mountains. Tons Valley in Uttarakhand is now popular as an offbeat workation destination among female solo travelers.  The Tons valley sits on the bank of the Kali river which is the largest tributary river of the holy Yamuna river. It is famous for its pagoda-style temples and wooden houses.
Why Tons Valley? – If you like adventures such as camping, rafting, trekking/hiking as a lesser-known place in the middle of nowhere and want to live real Himalayan village life. Tons valley is a perfect solo destination for you.
How to Reach? – You will simply get public transport like shared -bus & taxis from Dehradun district of Uttarakhand.
3- Gwaldham
Gwaldam lies at an elevation of 2000 meters in the Garhwal Himalayas. It is about 50 km far from the famous hill station Kausani, which was once the capital of the Katyuri dynasty. Gwaldam sits at the borderline of the Garhwal and Kumaon region of Uttarakhand. Hikers who come from excursions close to Kathgodam are also targeting Gwaldam. The flight path leads to Kuari Pass, Roop Kund, and Nanda Devi Raj Jat.
What Gwaldham? – It is a gateway to some famous treks and pilgrimage such as Kuari Pass, Roopkund Trek & Nanda Devi Raj Jat yatra. There are some temples offering you majestic views- Badhangari, Temple. Angyari Mahadev Temple &  Buddhist Temple for Meditation.
How to Reach? – There are many direct public and private buses and taxi runs to reach Gwaldam from Nainital, Haridwar, Dehradun & Rishikesh, and others towns of Uttarakhand too.
4- Harsil
Harsil Village sits along the Bhagirathi river and is almost untouched by the regular pack of tourists. Harsil is an enchanting destination for offbeat solo female travelers who loves to unplug from city life and recharge. The Harsil is also famous for the winter seat of goddess Gangotri.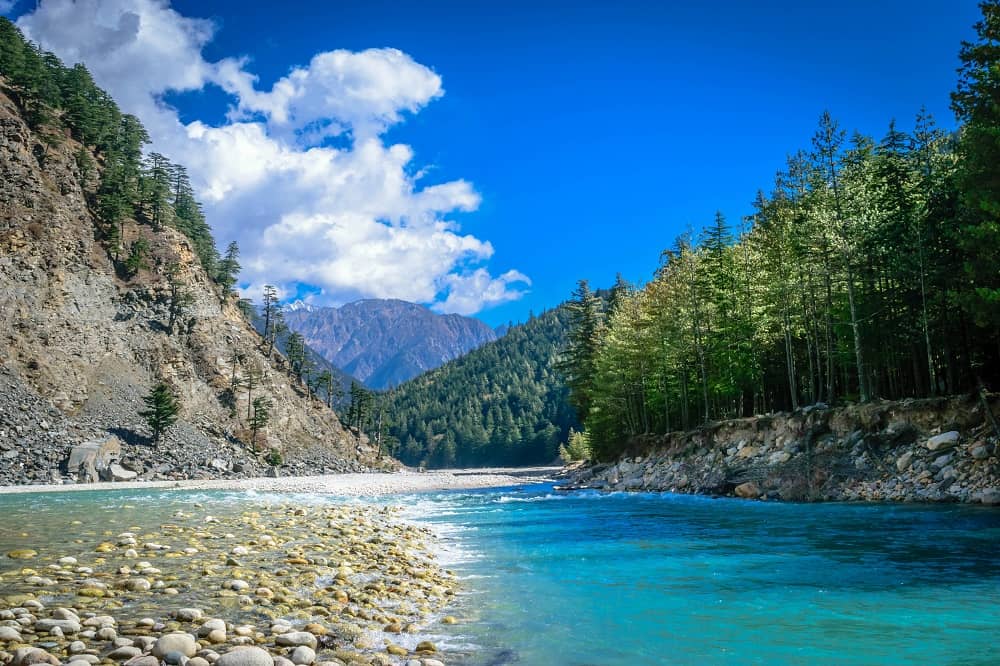 Why Harsil? – It has very scenic natural beauty with bountiful fairs and festivals. Diwali is the most famous festival of Harisl, Mukhba village is the winter seat of Goddess Gantori, and plucking apples from the orchards all these together make it an amazing place for the female solo traveler.
How to reach?- You can reach Harisil directly by shared public transports or private transport from Dehradun/ Rishikesh/ Haridwar via Uttarakashi.
5- Dahrchula
Dharchula town is a delightful destination for female solo travelers and solo adventure enthusiasts. It is a blissful stopover for Mount Kailash pilgrimage and an ancient gateway to the Kailash Mansarovar Yatra.
This serene town is skirted by the high sky soaring peaks and it sits in a valley along the Kali River. If you are here, on the westside, you see the great Panchachuli peak. It is an ancient trade- route between the India-Tibet
Why Dharchula? – It borders Nepal- India & you can go in 5 minutes walks in Nepal. It is an ancient trade center between India Tibet, so you can learn here handicrafts. You go on an 80-km road trip, you jump up from 6,000 feet to 17,060 feet above sea level, Dharchula Lipulekh Pass is the gateway to Kailash Mansarovar Yatra.
How to reach there? 
By Road– Delhi  – Muradabad – Rudrapur – Tankapur – Dharchula, 600 km
By Train-  Nearest railhead is Tanakpur / Delhi – Tanakpur Express-145569  (300km) then by road 237 km from Tanakpur to Dharchula.
By Air – Nearest Airpor – Pantnagar – From Pantnagar to Dharchula  300 km Road Trip