Westin Rishikesh

: 5-star hotel in Rishikesh

The Westin Rishikesh Resort and Spa is situated in the picturesque state of Uttarakhand, India. It provides guests with a variety of accommodation choices, from balcony rooms to garden suites and private villas. The resort is equipped with several top-notch amenities, such as a spa, fitness center, swimming pool, and restaurants.

The Westin Rishikesh Resort & Spa is situated in the sacred town of Rishikesh, on the banks of the Ganga River. The town has a distinct way of life, with locals waking up early to make the most of each day. As the sun rises, its rays illuminate the tree canopies, creating a colorful and vibrant atmosphere. Visitors to Rishikesh, including temple visitors, white water rafters, and yoga enthusiasts, all rise early and are energized by the power and beauty of the river.
Westin Hotel Rishikesh
The resort boasts 12 acres of exquisitely designed gardens, featuring concentric circles inspired by drops of water and tree bark. Guests have the option of selecting from various types of accommodations, including balcony rooms, garden suites, and private villas.
The rooms are adorned with a contemporary, refined, yet organic design that incorporates natural materials. Each room comes with Westin's renowned Heavenly Bed™ and Heavenly Bath™ programs, in addition to a private balcony that offers breathtaking views of Rishikesh and the valley beneath.
Suggested Read – Beatles Ashram- A historical guided tour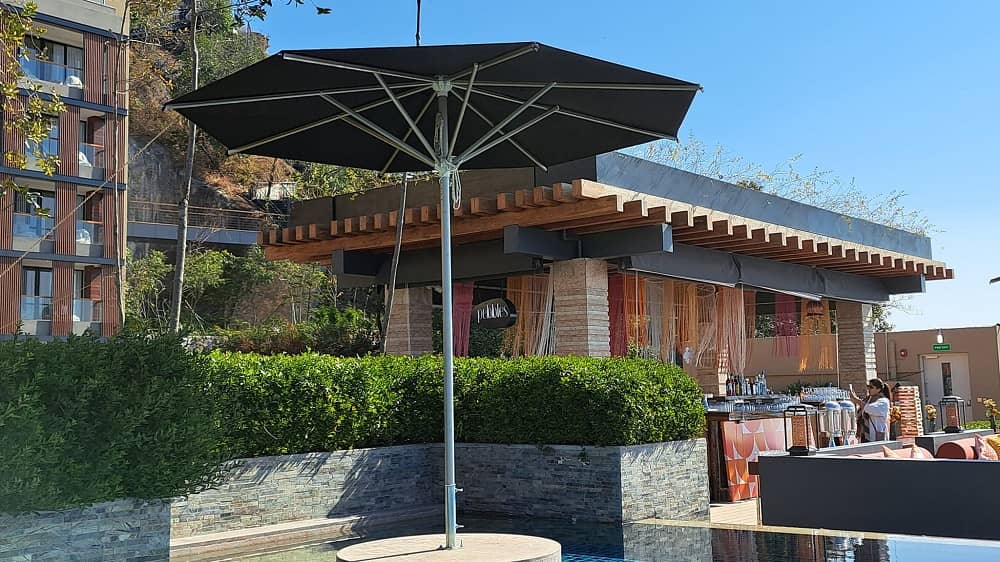 Heavenly Spa™ by Westin,
At Heavenly Spa™ by Westin, you can drift into a quiet state of calm under the able hands of our masseuses. Westin Rishikesh offers a whole suite of relaxation and pampering solutions from ayurvedic massages and Balinese treatments to luxury facials using products by the local Himalayan brand Jivisa, our spa team kneads out knots in tired bodies and minds, leaving guests with feeling of true rejuvenation.
Tours Around
The hotel team can put together an unbeatable list of local experiences for you, so even though there are plenty of reasons to stay at the hotel, make sure to get out and explore! From the spiritual Ganga aarti at Triveni Ghat (without the hassle)., to heart-stopping rafting experiences in ice-cold water, yoga on the river banks with the hotel's in-house yogini, guided treks with jaw-dropping views and peaceful jungle safaris at Rajaji National Park – the options are as varied as your interests. All you have to do is ask, and we will make it happen. Just like the river.
Suggested Read –  Triveni Ghat VIP Ganga Aarti Guided Tour 
Westin Resort Rishikesh
The Westin Resort & Spa, Himalayas goes above and beyond to make sure their guests are comfortable from the moment they arrive. Not only do they offer an airport pick-up service, but they also provide a music selection menu with a range of popular songs to choose from. And for those who are hoping to catch a bit of the creative spirit that The Beatles had during their time spent at a Rishikesh ashram in 1968, the resort offers cheese platters and rhododendron tea from local fromageries.
How to reach
The resort, conveniently located just 45 minutes away from Jolly Grant Airport Dehradun and 40 minutes from Rishikesh Downtown, offers ample opportunities for recreation. Guests can visit the nearby town of Narendra Nagar and explore its rich cultural heritage, or simply take a stroll through the beautifully landscaped gardens surrounding the property.
Conclusion
And I end this post with the hope that you enjoyed reading this article about the 5-star hotel in Rishikesh and I hope that it has been informative and helpful to you.