Rajaji National Park
This park is situated in Dehradun, Haridwar and Pauri Garhwal districts of Uttarakhand State of India.this park overall has a total area of 820 square km. The Rajaji National Park is also a home to more than 400 bird species and its range includes Scaly Thrush, crimson sunbird, crested kingfisher Snowy-browed Flycatcher, Rusty-flanked Treecreeper, Pale-footed Bush Warbler, Tyler's Leaf Warbler, Green Avadavat, and Reed Bunting, Northern Goshawk, Black-necked Stork, Yellow-billed Blue Magpie Greater Scup and White-napped Woodpecker. These are namely some of the few. This national park also preserves many carnivores and tigers like the hyena, royal Bengal tiger, jungle cat, jackal, sloth bears, and leopard act. This national park is engaged in many projects to preserve animals like project tiger and project elephant.

River Ganga flows in the park making it an important part of the river. This park serves as the first base and platform for the migratory birds when they cross the Himalayas to enter India.
History of Rajaji National Park
Rajaji National Park was established in 1983 which is formed by merging three sanctuaries that are  Rajaji sanctuary, Chilla sanctuary, and Motichur sanctuary. Each of these sanctuaries was established during a different time. The  Rajaji sanctuary was established in 1948 and the  Motichur sanctuary was established in 1964 and finally, the  Chill sanctuary was established in 1977. In 1983 government after merging theses sanctuaries named the new sanctuary after the well-known freedom fighter and first Governor General of Independent India Raj Gopalacharya who was also popularly known as Rajaji.
Weather in Rajaji National Park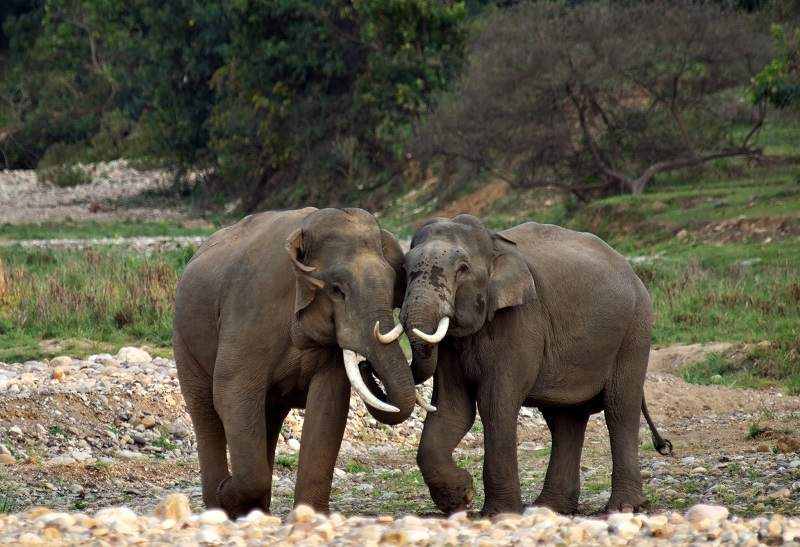 March to April month is the best month to visit this sanctuary. Climate is amazing with good chances to view wild animals because they have to come to the river for water much time. October month to February is winter season at Rajaji National park. No matter the season visitors always have a great opportunity to see new birds and animals. During the cold winters, you will get the opportunity to see birds like White Capped, Plumbeous Redstarts, and Himalayan and Pied Kingfisher. 
However, during the monsoon period, the park remains closed. This is because the forest gets a sloppy and better view is restricted due to heavy rains, however, the landscape looks green and surrounded by the beauty of nature.
Entrance Fees at Rajaji National Park
Entry fees vary from person to person like it is Rs. 150.00 per person for 03-hour Jungle Safari at Chilla Range whereas for the foreign visitor it is Rs. 600.00 per person for 03-hour Jungle Safari at Chilla Range.
Apart from the ticket, visitors need to book the Jeep Safari in the park that cost INR 1800 per Jeep safari for Indian residents and INR 2000 for the Non- Indian residents and in one Jeep 5 persons can accommodate easily. Additional charges have to be paid for filming or carrying a camera.E
Jungle Safari Rajaji National Park
The Jeep safari at Rajaji National Park is the best opportunity to see the entire park as it is large and can be tiring. It provides an opportunity to see peacocks, groups of spotted deer or cheetah, monkeys, Sambhar, Elephant, and many other animals and birds while moving around comfortably in a safari. Jungle Safari or Jeep Safari is open in two ranges that is Chilla Range and Motichur Range which finally leads to the park.
Jungle Safari Rules
There are certain rules which have to be strictly followed like avoiding bright color clothes as different animals and birds may react differently to bright colors. Silence has to be maintained to maintain a calm environment. Shouting, teasing and chasing animals is also prohibited to ensure the safety of the animals as well. Plastic is prohibited in the park as they support greenery in nature.
How to reach the Rajaji national park?
A flight from Delhi to Dehradun is available always. From there, the car or bus service may lead you to the destination. Delhi is 230 km away while Haridwar station is only 20 km away. Reaching the Motichur range and Chilla range provides the best opportunity to finally reach the park.
Road: Rishikesh & Haridwar are well connected to the major cities of North India through better road network. The Rajaji National Park is situated 220 kilometers from the capital city of Delhi, and several buses are operated by the state government from Delhi, Haridwar, and Rishikesh to National Park.
Railways: You can easily reach Rajaji National Park via Haridwar Railway station. You will get regular trains from Delhi, Haridwar Dehradun too. You can take the support of Local Link Express, Haridwar Rishikesh.
Air: Rajaji National Park, the nearest airport is Jolly Grant located in Dehradun and Delhi International Airport