Kausani Uttarakhand – A Hiker's  Paradise in the Himalayas
There are very few places in the Himalayas that can compare to the beauty of Kausani. Like all the hills of Kumaon is famous for their idyllic beauty with huge mountains silhouetted against the sky, Kausani Uttarakhand offers the magic of deep pine forests and majestic mountains.
Kausani Uttarakhand is located between mountains and trees, the Trishul and Nanda Devi peaks are clearly visible from here.  Kausani Distance From Delhi is only 421 km by road via Nainital  & Almora.
Kausani is A Trekker's Paradise
For those who like to walk in nature, Kausani is a real gem to discover. You can choose from lighter routes such as Rudradhari Falls & Caves treks for slightly more demanding ones such as trekking to Pindari. On high-altitude hikes, there is a good chance of spotting animals like Snow Leopard, Musk Deer, and Blue Sheep.
Kausani Visiting Places
Pindari Glacier
Trekking to the Pindari Glacier is the right choice for adventure enthusiasts and is the most easily accessible glacier in the Himalayan region. The trek takes 6 to 10 days with accommodation in a tent 25 km from Bageshwar via Thapkot, the 35 km trek to the famous Pindari glacier starts.
Sundardunga and Kafni Glaciers
For the more adventurous trekkers, these two glaciers are ideal. They are located in the area of ​​the Pindari glacier. It is a must-visit to these places with an expert guide and suitable equipment.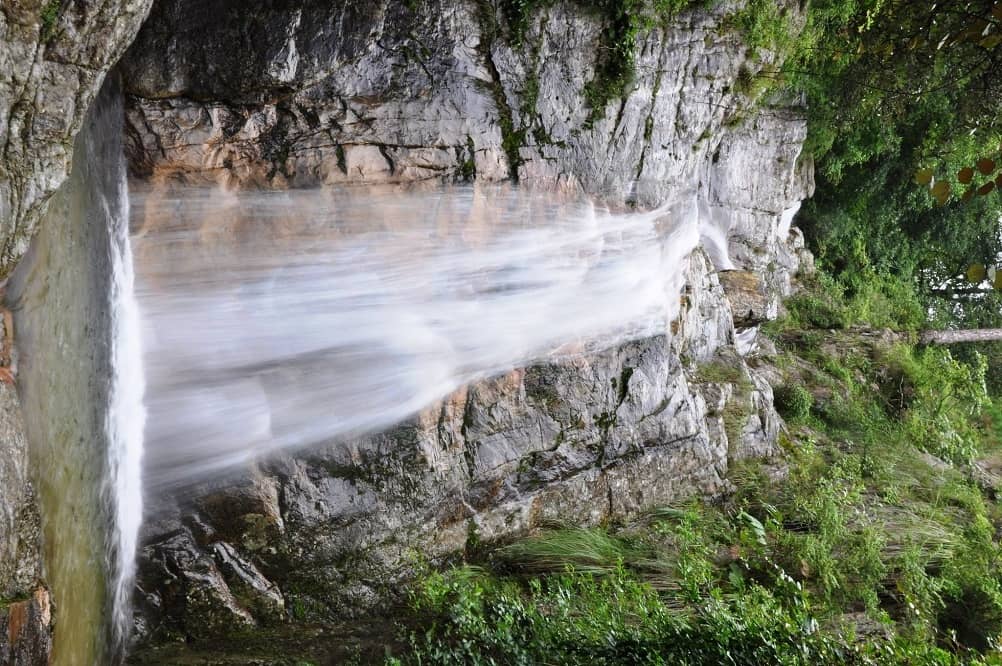 Rudradhari Falls
Among rice paddies, terraced farms, and pine-covered woodlands, Rudradhari Falls & Caves come together to form one of the most beautiful places to visit in Kausani. It is located just 12 km from Kausani, in the Adi Kailash region, and can be reached with an easy trek. According to the legends, this place is associated with Lord Shiva and Lord Vishnu.
Tea Plantations
Kausani tea plantations, a major tourist attraction, are spread over 208 acres and can be considered the perfect tea lover's paradise. Staff members of the estate guide visitors and tell them about the tea-making processes. Additionally, tourists can taste and purchase Darjeeling-style tea at affordable prices.
Pant Museum – A museum named after the Hindi poet Sumitranandan Pant.
Pinakeshwar Mahadev Temple -9050 feet above sea level, this hill station is 20km from Kausani. Here is a Shiva temple from where you can enjoy the view of the valleys below. Around Pinakeshwar there are other places to visit like ancient Pinakeshwar, Gopalkot, Huria, etc.
Someshwar Temple is 15 km from Kaushani, this famous Shiva temple was built by King Somchand of the Chand dynasty.
Anashakti Ashram – This Ashram is dedicated to Mahatma Gandhi Ji