Home Stay in Uttarakhand

– If You Love Books & Birds-These are Perfect for You

Do you love reading books and watching birds? These Home Stay in Uttarakhand –are perfect for you to explore the weekend birding, doing yoga,  gazing blue-sky,  go out on hikes,  rolling up with books in the mountains, or simply learning the art of doing nothing.  Some Home Stay in Uttarakhand  –  are perfect for your vacation in the mountains of Uttarakhand.
1- Tapovan UttarakhandOm Home Stay in Rishikesh
A 250 km road trip from Delhi.  Om Homestay sits on the highlands of Tapovan village in Rishikesh, Garhwal region of Uttarakhand. The owner of this homestay has built this property with love and full attention to cater to its clients & guests, and it shows. It has a high-speed WiFi network too.
The homestay is named after the sound of OM used in yoga & meditation.   it's the first thing you hear in the early morning when you stay here. The building opens up to views of the Shivalik Range of the Himalayas and more precisely to Neelkanth Parvat, where the most famous temple of Shiva sits on the mountaintop. It has cozy access by road and has enchanting vistas & birdsongs to soak the beauty of nature.  You can go on jungle treks, waterfalls trek, birdwatching,  and sit back and gaze at the mountains. Contact- Miss Anju Maurya – 941-545-5152
Back to Nature –The walls of the building are painted in blue and white, echoing this natural theme. Om Homestay has 3 rooms with old-style doors, wooded beddings, bamboo-built tables, and chairs.
The food- The "back to roots" Food is exceptional and 50% organic, because the owner collects most of the vegetables from remote villages and used wheat flour from the watermill. In the winter season,  food is cooked on the earthen hearth.
Sunset Point –  There is a 4 km long trek to Patho village is famous for its sunset.
Nettle Leaf Tutorial: A 10-minutes demo session on the healing properties & how to use them in the kitchen.
Rudra Waterfall–  Assisted hike to Rudra waterfalls along the natural water streams.
Birdwatching- You get  Binaculoras here for birdwatching at least you can see 20 species of the birds around.
Food- Cooking Demo Session-  You also learn here "how to cook traditional Himalayan food" like Moong Fad, Aloo Thejwadi, etc.
Tariff –Doubles from Rs1,500, inclusive of breakfast
2- Tapovan UttarakhandThe Retreat – Home Stay in Bhimtal
The retreat house is about a 150-year-old British-Era bungalow. The Retreat estate lies in the forest of Bhimtal and. it was opened as a Dak Bungalow house by Fredrick Smetacek Sr in 1953  for diplomats. Fredrick was a German and escaped from Germany after an unsuccessful attempt to assassinate Hitler.  the story goes.  He came to India and built this home.
His wife Shaheda was running this house as a homestay and after her death, her daughter-in-law Padmini (Paddy) and her family run this homestay. This house is the best place for book reading, learning about Himalayan herbs, birdwatching hikes.  But before you book this homestay you must prepare to adore resident dogs.
Tariff –Doubles from Rs4,000, inclusive of breakfast
3- Tapovan UttarakhandDak Bungalow in Peoria
This Dak bungalow belongs to the British Period when it was used by British officials as an inspection bungalow along the silk route. This house lies in Peoria hamlet in the Kumaon region of Uttarakhand. This homestay is run by the Shbha and Pradeep Gupta.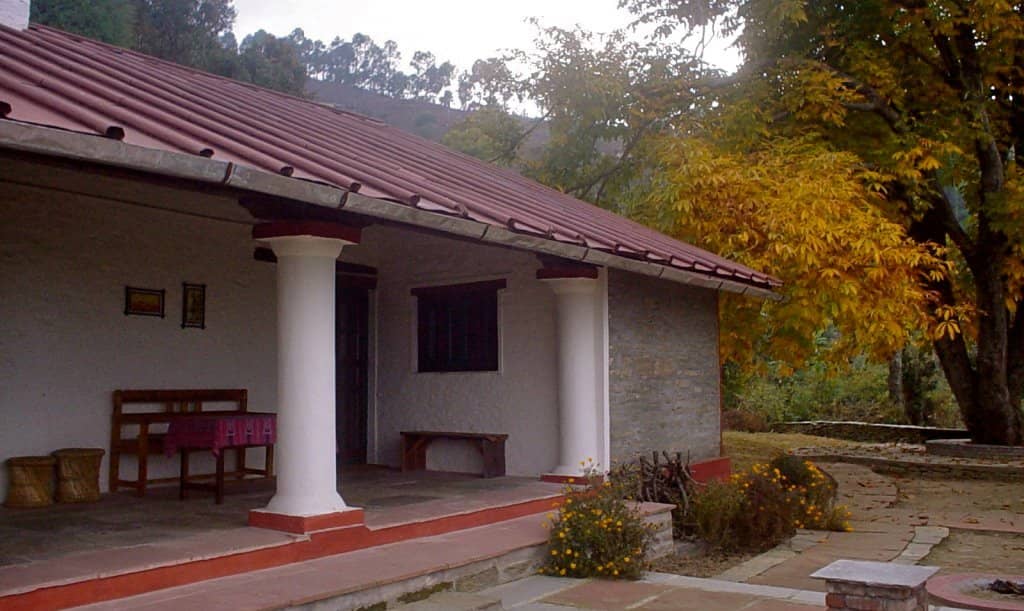 The house was built in 1905 featuring a wooden ceiling and fireplace, making you feel the old colonial era. It has three well-furnished rooms, a small kitchenette, and a verandah with enchanting vistas of the views of the mountains. If you look for a perfect spot for reading books and birding? This will be the best option for you.
Geeting There-The nearest town is Almora, 28 kilometers away. The closest railway station is Kathgodam and the closest bus stop is at Haldwani. Peoria village is about a three-hour road drive from these two points.
Tariff- Doubles from Rs3,000;   Phone Number ; +91-9719816154
4- Tapovan UttarakhandSemal House -A community Home Stay in Lansdowne
The Semal House lies under the shadow of pine forest trees with eye-sweeping vistas of Garhwal Himalayas. The house her name from Semal trees which are abundantly sprawl in this area. This is a community homestay in Uttarakhand, dating back to 1935.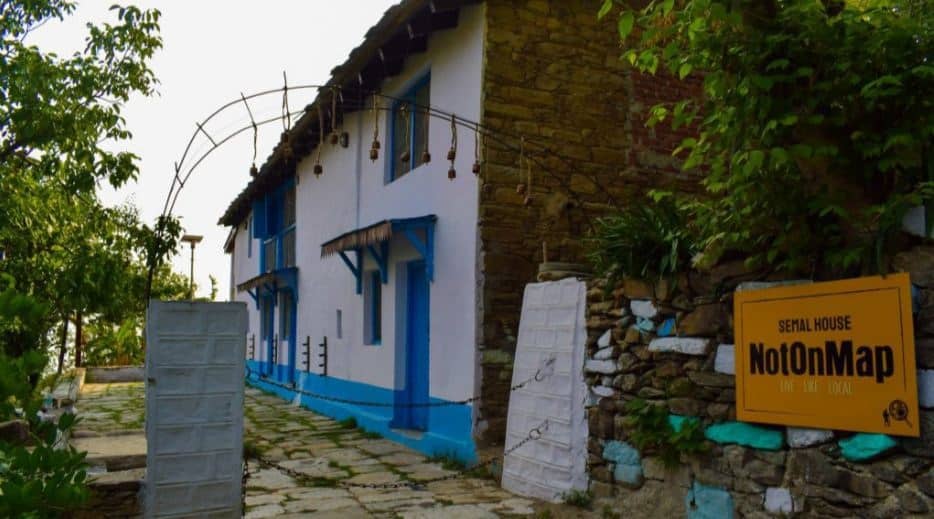 Once it was used as a guest house for traders, business person and for British officials too. The house is in typical Himalayan architecture. Now, this house is open to guests who love solitary and book reading and bird watching and mastering the mind thinking nothing.
Getting There – From Dehradun Airport will take a 4-hour road trip by bus or private taxi.
The closest railway station is Kotdwar which is 40 km away from Kotdwar Railway station. 
From the Lansdowne square center, Dhura village is at a 3 km distance.