Dodital to Hanuman Chatti – 06 Days-5 Nights – Trek in Uttarakhand
This is a super classy adventure Dodital to Hanuman  Chatti is a moderate trek for the first time trekkers to explore the off-grid experience in the vast Himalayas of Uttarakhand.
Across the valley of the Bhagirathi River, is the remote and peaceful Dodital Lake. Beyond the settlement of the Darwa Pass (4150 mt), between the holiest river of the Ganga and the Yamuna valley.
A bit ahead, up from the Pass, there is Darwa Top (4450 mt), the highest viewpoint in this region,  from the top, you see Bander punch, Swargarohini, and other peaks are nearer enough to be felt by an outreached hand.
The trekking to the pass and beyond the pass is a very traditional route used by the Gujjars ( nomadic herdsmen), who gaze their cattle up to the grassy land and also by the Sadhus ( holy men) traversing between two holy temples of Gangotri and Yamunotri.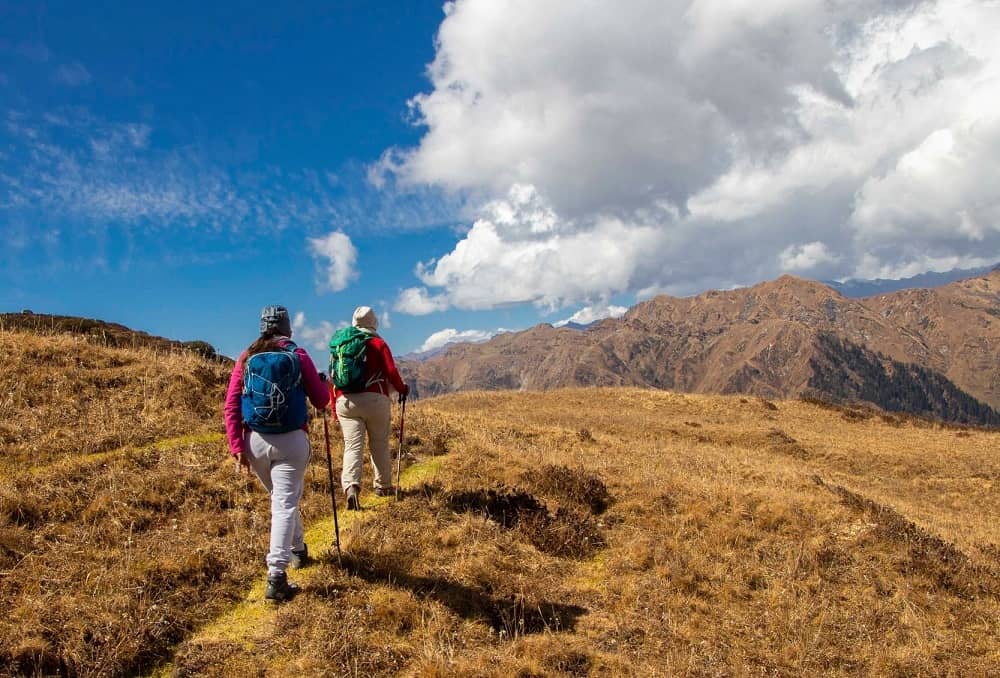 Trek Facts:-
Area:– Garhwal Himalayas
Trek Duration:- 5 nights / 6 days
Trek Grade:– Moderate
Highest Point:– 4450 mt ( Darwa Top)
Highest Camping Point:– 3310 mt
Best Time To Trek:- Mid April to June – September to November
Detailed Itinerary:-
Day 01:- Rishikesh to Uttarkashi ( surface drive) ( 1150 mt)
Breakfast at Hotel in Rishikesh, then you take a drive for Uttarkashi city,  approximately a motor drive takes 5-6 hours.
En-route stop for lunch somewhere as per convenient. Upon arrival,  check-in at the hotel.  Later in the evening time to explore the Uttarakashi town. Overnight in Uttarkashi.
Day 02:- Trek Uttarkashi to Bevra ( 2400 mts, 4/5 hrs)
After Breakfast at Hotel or Guest House, check out and begin to trek in the mountains in order to reach  Bevra, a 2 km upstream stretched walk on the road along the banks of the Assi Ganga up to the  Sangam Chatti point.
From Sangamchatti, there is steady steep trekking for the next 4 to 5 km, as you know this trail travels deciduous woods to Agoda Village. Bevra is only 1.5 km from Agoda. Overnight in the camp at  Bevra.
Day 03:- Trekking from Bevra to Dodital ( 3310 mts, 6/7 hrs)
The well-shaded by the Himalayans trees trail leads us always upwards through amazing oaks & Rhododendron. There is no permanent settlement after Bevra village, only a few Himalayan shepherd's cottages at the Majhi area, which are frequently used by Sadhus and Sanayasi trekking between Gangotri and Yamunotri temples.
On the trail, there are scenic views with snow-covered mountains leaning out. Another one and half hours walk take you to the crystal clear fresh waters of Dodital Lake. Overnight camp at Dodital.
Day 04:- Trekking  Dodital to Darwa Pass ( 4150 mt) to Darwa Top ( 4450 mt) to Kanasar ( 3,900 mt) 5/6 hours.
The trek route becomes continuously uphill, crossing various tiny water streams that feeding  Dodital lake for ages, and becomes almost steep as you touch the open alpine meadow just down to the Darwa Pass.
From the Darwa pass, you will go ascending further for 300 mt to Darwa Top, after 1 hour, the top gives you a super stunning 360 degrees view of the snow-laden  Himalayan ranges. Overnight camp at Kanasar.
Day 05:- Trekking  Kanasar to Kandoli ( 2800 mt, 6/7 hours)
The trek route to Hanumaan Chatti is totally downhill. Fortunately, there are no uphills and the descending takes you to go across lush green alpine meadows, with close-up scenic views of the Banderpunch range of mountains and it will remain with you all day long.
After Seema's point, you rush to the final descent to your campsite at Kandoli through the lush green Himalayan forests of Oak and Rhododendron. Overnight camp Kandoli.
Day 06:- Trek Kandoli to Hanumaan Chatti and Drive to Rishikesh.
Breakfast and leave Kandoli, you descend along a dense forest path for about 2 hours before you come to see the human settlement, and finally, arrive at the road head at Hanumaan Chatti.
You,  then, get 6  hours long drive to touch Rishikesh with the beautiful memories of the trekking trip. Upon arrival in Rishikesh Trip ends.