Dayananda Ashram Rishikesh

: A Complete Guide

Dayananda Ashram Rishikesh is situated in attractive surroundings and just a 10-minute walk from the Ram Jhula area, the ashram was established during the 1960s by Swami Dayananda Saraswati. Vedic chanting is taught during the yoga and meditation courses, and there are more than 150 rooms with attached bathrooms.
Rishikesh Dayananda Ashram
Arsha Vidya Pitham is a unique center dedicated to the study of Vedanta and Sanskrit in English. It is based on the ancient tradition of teaching (Sampradaya). Arsha Vidya Pitham is known as a center of learning based on the teaching of the ancient rishis. The select texts on Vedanta and ancillary texts are taught here along with Sanskrit grammar in the Paninian style and Vedic chantings taught during courses.
Throughout the year, regular retreats and workshops on Vedanta, Yoga, and other subjects are conducted by Arsha Vidya Teachers who bring their students for specified periods. These classes aim to provide students with comprehensive knowledge and understanding of the respective subject matter.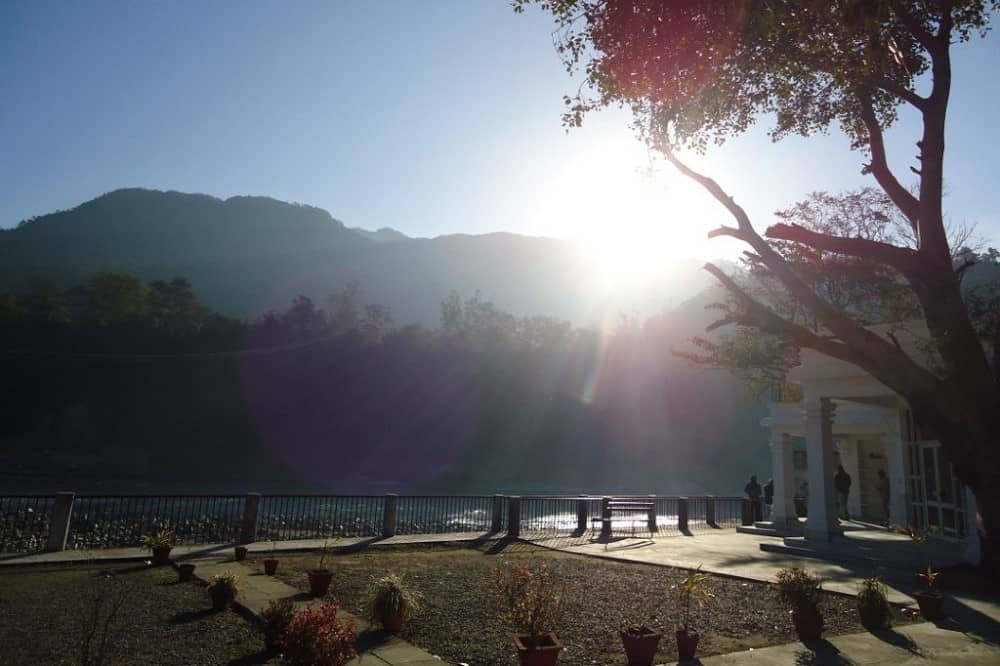 Room Service and Facilities
The ashram offers many types of rooms for those who stay on the premises. The rooms are comfortable and practical. There is also a bookstore with plenty of books, as well as a small internet room with two computers that have an internet connection.
Lecture Hall & Yoga Studio
The main lecture hall at the ashram is air-conditioned and can accommodate up to 250 people. It has a great view of the Ganga river. The ashram also has a full-fledged yoga studio where regular Iyengar Yoga camps are conducted. There is also a classroom for conducting classes for long-term course students that can accommodate up to 50 students.
Ashram Library
There is a vast library with more than 5000 titles on various subjects, including Vedanta, Sanskrit Grammar, Indian and western philosophies, Religion, and Yoga. These collections include the precious personal collections of Pujya Sri Swamiji.
Dining Complex
The modern dining complex has two halls – one that is closed and another that is open. The open hall is for residents and guests and is equipped with dining tables and chairs. The other Hall is for conducting sadhu-feeding for more than 200 people.
Activities
There is a beautiful small temple where you can do morning and evening puja. On the second floor, there is a large yoga hall where yoga classes are held daily. Yoga retreats are also available for those who wish to explore the spiritual side of yoga.
How To Reach
The Swami Dayananda Ashram is located in Rishikesh, Uttarakhand, India. The best way to reach Ashram is by air, and the nearest airport is Jolly Grant Airport in Dehradun, which is about 22 kilometers away. You can also reach the Ashram by train, and the nearest railway station is Yog Nagari Rishikesh Junction, which is about 5 kilometers away.
Dayananda Ashram Rishikesh Booking – the website is https://dayananda.org/
Dayananda Ashram Rishikesh contact number – Phone: 0135-2430769 / 2438769 (from abroad dial +91-135 instead of 0135) Fax: 0135-2430769
E-mail: dayas1088[at]gmail.com