Bali Pass Trek -A Raw Adventure Experience in Garhwal Himalayas
Bali Pass Trek is not a very popular trail among mountain lovers.  The trail happens along with some famous destinations such as  Yamunotri, accompanied by Har ki Doon valley, Osla village & Ruinsara Valley Lake. The Bali Pass Trek is famous for its eye-sweeping view of the Swargrohini and Bandarpoonch peaks in the Garhwal Himalayas of Uttarakhand.
A High Altitude Trek
There are few trekkers who know that the Bali Pass trek creates a bridge between  Har ki Doon and Ruinsara valley. It is a high-altitude trek- 16,207 &  it gives you a raw adventure experience.
The trek route does not allow more than 20-35 trekkers at a time. The  Bali Pass offers you a 360-degree

eye-sweeping view of

Swargarohini, Banderpooch,

and many other peaks of the

Garhwal Himalayas.
Outlook
This Trek brings you the most religious part of the Garhwal Himalayas, the Yamunotri valley. The Bali Pass Trek goes through villages that give you the experience of raw life.
The authenticity of Osla and Ghangad villages allows you to peep into ancient culture & traditions.
Debshu Bugyal is an extension of the raw beauty of the Bali pass trek. The Ruinsara Tal ( Lake )  reflects the picture of what is around. The climax of the trek is a snow-packed descending walk that blows out the mind and nerve too.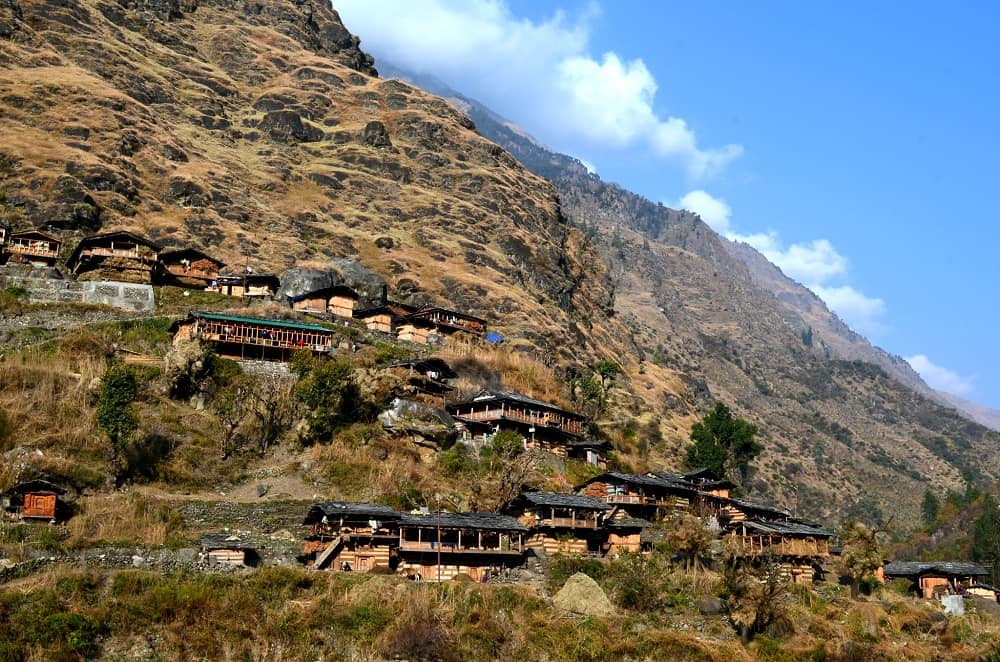 It is a raw adventure activity for those who love to explore offbeat trails. In Spite of hardship & difficulties,  it is worth doing.  The Bali Pass trek challenges all the way & in every sense, dramatically changing continuously terrains, narrow trails, adrenaline descending.  The  Bali pass trek is not like other Himalayan treks. You trek into the absolutely uncharted terrain of the Himalayas.
How to Reach
By Air:- Jolly Grant Airport- 25 km away from the city Dehradun.
By Train:- Take an overnight journey from Delhi to Dehradun and then you have to make a trip by road
By Bus:-

There is a frequent bus service from Delhi to Dehradun, after that you have to make it all the way by road.
Overview
Region:- Garhwal Himalayas
Duration:– 8 Days/ 7 Nights
Trek Grade:- Strenuous
Maximum Altitude :- 16,200 Ft.
Trekking distance:- 60 Kms.
Short Itinerary
Day 01: Dehradun to Sankri
The base point will be village Sankri which lies in Govind Wildlife Sanctuary.  You take a road trip via  Kempty waterfalls, Nainbagh, Mussoorie, Overnights stay in hotels or homestay.
Day 02: Sankri to Seema via Taluka
After early breakfast, you proceed to Taluka by road to starting point trek. The road trip through crossing enchanting streams, bamboo, and deodar trees.  You go crossing 2-3 bridges to reach  Ghangad village. Another 20 minutes walk to reach the Dhaba and watermill. You continue hiking through the dense forest along with the Supin river for 60 minutes to touch Seema. Overnight in a tent.
Day 03: Seema to Rainbasera
After breakfast, you go along with the Supin river to reach  Ruinsara Valley where you find a view of  Oslo village. After, 30 minutes long walk, you reach  Debshu Bugyal, which is pastureland. The Rainbasera is a small hut where you pitch a tent overnight.
Day 04: Rainbasera to Ruinsara lake 
Today, you walk up to  Ruinsara Lake for 3 -4 hours and the lakeside will be your campsite. It lies in the midst of the Supin river and Ruinsara lake.  The lake location is tunning and in the background, you have views of Bandarpoonch, Kala Nag, and Dhumdhar Khai. You have also a stunning view of the  Yamunotri temple.
Day 05: Ruinsara Tal to Odari
Today will be only 4 km treks, trekking down towards the Supin river. The trails run through forested land and river crossing.  When you reach Odar near the campsite, you see here a cave. Odari stands for the means cave. It is said that Bali (brother of Lord Krishna)  stayed for a night in this cave before stepping into Swargrohini.
Day 06: Odari to Bali Col Camp
Today will be a strenuous trek on 60 degrees inclining trail. The trail will be full of stones & boulders that make it challenging. The temperatures might touch minus degrees. You are suggested to be ready for freezing cold.
Day 07: Bali Col Camp to Lower Dhamni via Bali Pass
Today is the summit day and you cross the Bali Pass for the Lower Dhamni. The trail is steep with lots of snow. You take very steep trails for 2 -3 hours to reach the Bali Pass where you enjoy the feeling of nowhere with vistas of Swargarohini, Banderpooch & Yamnotri valley too.
The real adrenaline bone-chilling thrill show going to start with descending down almost at 90 degrees with a narrow path until upper Dhamni. And, then lowering through the forest. Overnight in the tents.
Day 08: Lower Dhamni to Jaan ki Chatti and Drive to Dehradun
The final day is easy with somewhat ascend but mostly descends. The trail is concrete-filled and a little ascend to the Yamunotri 1-2 hours.  Drive back to Dehradun.