Bali Pass Trek -A Raw Adventure in Garhwal Himalayas
Embark on an exhilarating journey through the mystical Himalayas with the Bali Pass Trek. This challenging trek, situated in the Garhwal region of Uttarakhand, India, offers a perfect blend of natural beauty, high-altitude landscapes, and a thrilling adventure for trekking enthusiasts.
Overview:
The Bali Pass Trek is a high-altitude trek that connects the Tons Valley in Uttarakhand with the Yamunotri Valley. It involves traversing through remote and pristine alpine meadows, crossing high mountain passes, and offering breathtaking views of snow-capped peaks. The trek is known for its challenging terrain, including steep ascents, rocky trails, and occasional snowfields, making it a thrilling adventure for experienced trekkers.
Trek Route:
The Bali Pass Trek is typically completed in 7 to 8 days, covering a distance of approximately 70 kilometers. The journey begins from Sankri, a scenic village in the Tons Valley. From there, trekkers ascend through dense forests, picturesque meadows, and remote villages, reaching high-altitude campsites such as Seema, Ruinsara Tal, and Upper Dhamni.
The highlight of the trek is crossing the Bali Pass, situated at an elevation of around 4,950 meters, which requires technical expertise and offers breathtaking panoramic views. The trek concludes in the Yamunotri Valley, from where trekkers can return to Sankri or continue their exploration of Uttarakhand.
Highlights and Scenic Delights:
The Bali Pass Trek is a visual treat, offering trekkers a glimpse of the unspoiled beauty of the Himalayas. Along the way, you will encounter stunning landscapes, including lush green meadows, sparkling rivers, dense forests, and majestic glaciers.
The trail is adorned with vibrant alpine flowers during the summer months, creating a picturesque setting. Notable highlights of the trek include the mesmerizing Ruinsara Tal, a serene high-altitude lake, and the breathtaking views of peaks like Swargarohini, Bandarpoonch, and Kalanag.
Best Time to Visit:
It is best undertaken during the summer months, from May to June, and the post-monsoon season, from September to October. During these periods, the weather is relatively stable, with clear skies and pleasant temperatures. The winter months are harsh and receive heavy snowfall, making the trail inaccessible and suitable only for experienced winter trekkers.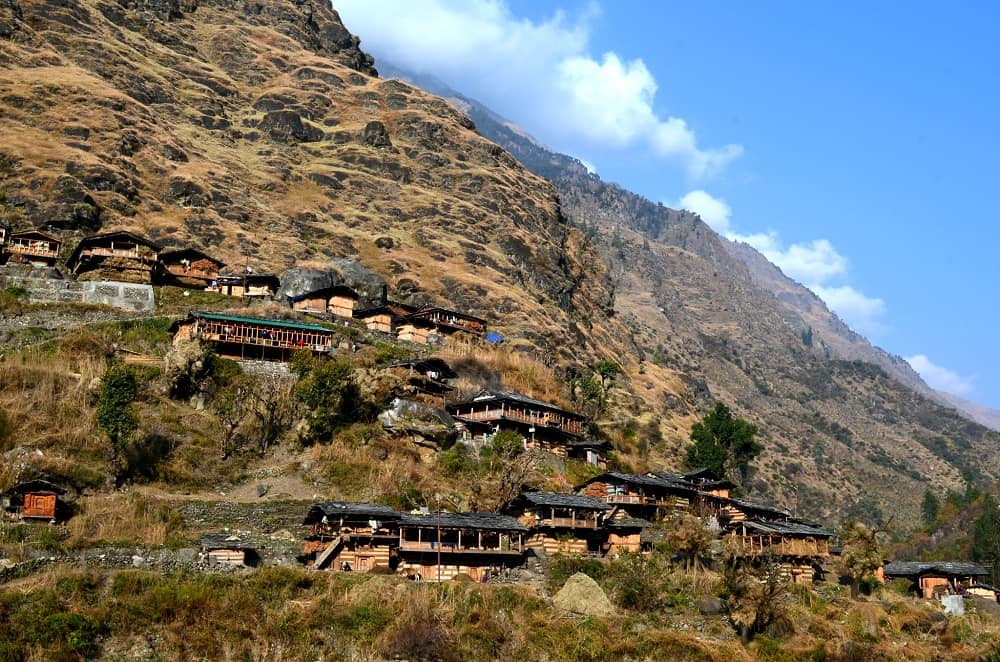 Essential Tips for a Successful Trek:
a. Physical Fitness: It is a demanding trek that requires good physical fitness. Prior training and regular exercise, including cardio and strength training, are recommended to prepare for the challenges of the trek.
b. Acclimatization: Proper acclimatization is crucial when trekking at high altitudes. It is advisable to spend a day or two in Sankri or nearby areas to acclimatize before starting the trek.
c. Packing Essentials: Carry essential trekking gear, including sturdy trekking shoes, warm clothing, a waterproof jacket, a backpack, a sleeping bag, and a first-aid kit. It is also important to pack sufficient food supplies, as the trek involves camping in remote areas.
d. Hiring a Guide: Due to the technical aspects of the trek and the remoteness of the route, it is highly recommended to hire an experienced local guide or join a reputable trekking agency for a safe and enjoyable expedition.
Conclusion:
Bali Pass Trek is considered a moderate to difficult trek, suitable for experienced trekkers with good physical fitness. It involves crossing high-altitude mountain passes, navigating through diverse landscapes, and camping in remote areas. The Bali Pass Trek is an adventure of