Rishikesh Visiting Places

: Top 51 Things To Do in Rishikesh

Rishikesh, there are plenty of Rishikesh Visiting Places and Things to do in Rishikesh with  European weather & ideal temperature for free yoga & meditation, Trekking in Rishikesh, Ashram stays permanently,  camping, rafting, Bungee jumping, Yoga teacher training course, temples, sunrise trek, Gufa for meditation, birding, hiking, jeep safari, ashram India, and online Rishikesh temple photo. 
Rishikesh as Tourist Place
Rishikesh is a city, in the foothills of the Himalayas beside the Ganges river. The river is considered holy and the city is renowned as a center for studying yoga and meditation. Rishikesh Visiting Places– Temples and ashrams (centers for spiritual studies) line the eastern bank around Swarg Ashram, a traffic-free and alcohol-free place on top of Rishikesh town where people go to perform Yoga or to have time with nature.
Rishikesh has 5-star to-budget hotels, and, Rishikesh is very close to the  Jolly Grant Dehradun Airport and  Yoga Nagari Rishikesh railway station,  Rishikesh Dehradun distance is 40 km. and Rishikesh Haridwar distance is 25km.
Rishikesh Visiting Places;
Rishikesh Visiting Places will make you forget about the hustle and bustle of your everyday life. A nice change of scenery is always a welcome retreat from all stress.
1-Lakshman Jhula
 Places to Visit Rishikesh– Lakshman Jhula is an iron-wired bridge over the river Ganga at Rishikesh.  It is a  famous landmark place to visit Neelkanth Temple, Trayamkeshwar Temple, Satya Sai Ghat, Lakshman temple, and for speed boating in the river, Rishikesh.
If you approach the bridge via Tapovan then you must take look at Laksham Temple and Lakshman Chowk's Statue of the god Lakshman.
2-Ganga Aarti Rishikesh
 Places to Visit Rishikesh– The Evening ceremony of the Ganges takes place at various ghats in Rishikesh such as Satya Sain Ghat Ganga Arti, Terah Manzil Ganga Aarti, Shatrughan Ghat Ganga Aarti among them the Parmarth Niketan Ganga Aarti and Triveni Ghat Ganga Aarti is distinctively famous.
3-Bungee Jumping Rishikesh
Bungee jumping is the most thrilling adventure at  Mohan Chatti near Rishikesh at a distance of 25 km from Rishikesh City.
Bungee Jumping Rishikesh price is Bungy Jump  ₹ 3550 – Giant Swing ₹ 3550 – Flying Fox Tandem or Triple ₹ 1800/person – Flying Fox ₹ 3000/person.
4-Neelkanth Mahadev Temple
 Places to Visit Rishikesh– Neelkanth Mahadev Shiva Temple is the holiest temple in Rishikesh, is located 32 km from Rishikesh town and 25 km from Lakshman Jhula Bridge. Scenically perched on a hill at a height of 1330 meters, nearby Jhilmil Gufa, Parvati Temple & Bhuvaneshwari temple.
If you choose to take the trek route then you need to have the good physical strength to beat the 12 km long trail via Beatles Ashram & Mauni Baba Gufa through Rajaji National park but after the dark trek is not allowed.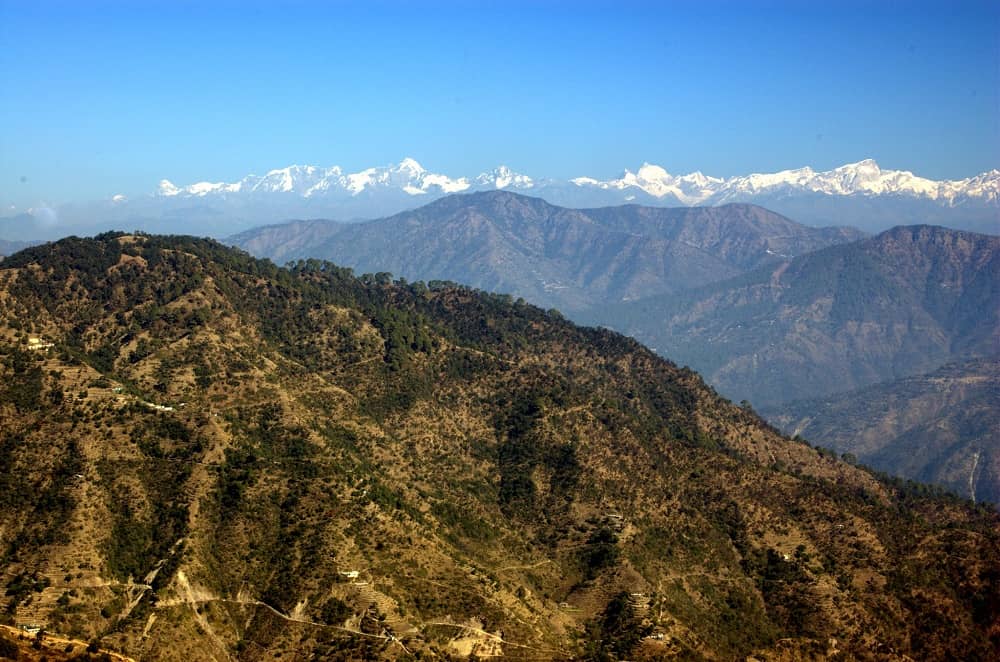 5-Kunjapuri Devi Temple
Kunjapuri Devi Mata Temple is a Shaktipeeth temple nearby Rishikesh at a height of 1676 meters on the top of the hill, Kunjapuri Devi Temple is popular for the sunrise trek and snow-laden Himalayan peaks gazing.
 Places to Visit Rishikesh – Rishikesh to Kunjapuri temple distance is a 30.5 km / 1 hr road drive via Narendra Nagar & Ananda in the Himalayas and a 9 km downhill trek via Barkot village & Rudra waterfall. If you choose to trek down via Neer Waterfall then the distance will be 12 km up to Tapovan, Rishikesh.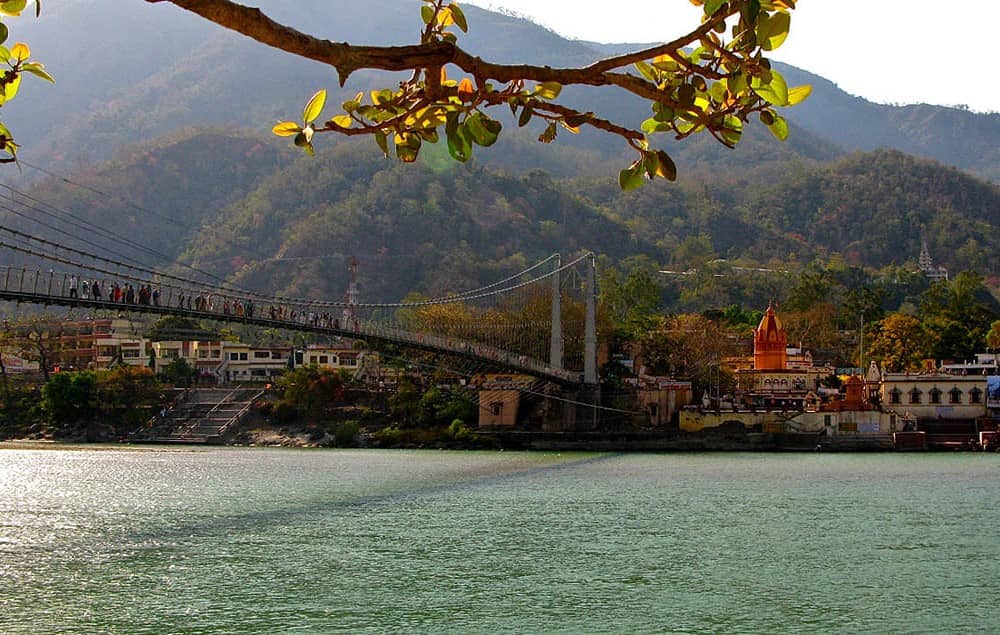 6-Ram Jhula
 Places to Visit Rishikesh- Ram Jhula is a very prominent landmark place in Rishikesh city. It is a hanging bridge over the holy river Ganga. Ram Jhula bridge has a length of 450 feet nearby Sivananda Ashram  & ram Temple at Ram Jhula  Parking, Rishikesh.
7-Triveni Ghat
 Places to Visit Rishikesh – Triveni Ghat in Rishikesh is famous for the Ganga Aarti & Rishikund Raghunath temple. Triveni Ghat Aarti time is around sunset time between 5 AM to 6 PM depending on the sunlight. Rishikesh to Triveni ghat distance is not long just only 2 km from Ram Jhula Parking.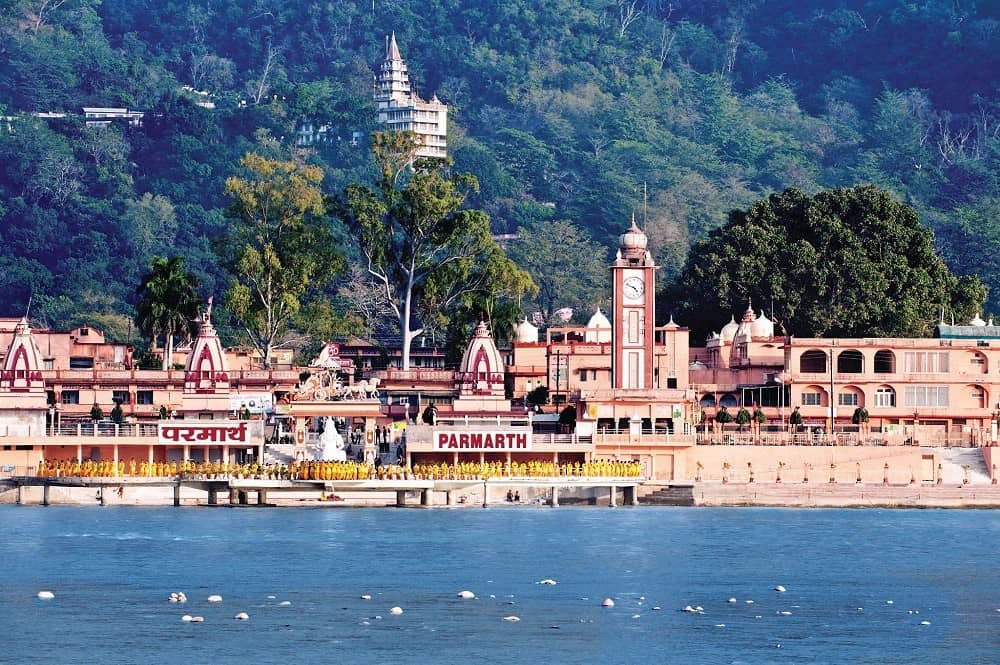 8-Parmarth Niketan
Parmarth Niketan is the host Ashram of the International Yoga Festival on the bank of the Ganges just 500 m away from the Beatles Ashram, very famous for the Ganga Aarti.
You can stay in the Ashram by booking a room online and you can check the room price online& availability too. You must check the Ganga Aarti time which takes place around 5 PM – 5:30 PM.
9-Geeta Bhawan
Geeta Bhawan ashram is the most authentic and beautiful Ashram in Rishikesh and other Ashrams in Rishikesh. The ashram walls have mural depictions of the story of God Rama and in the large complex, there is a big temple of Laxmi Narayan.
The Geeta Bhavan offers Free Ashram Stay on the bank of the Ganges in Rishikesh and Sattvic meals at affordable prices to its devotees. This is the ashram to stay permanently for ladies and gents both in Rishikesh.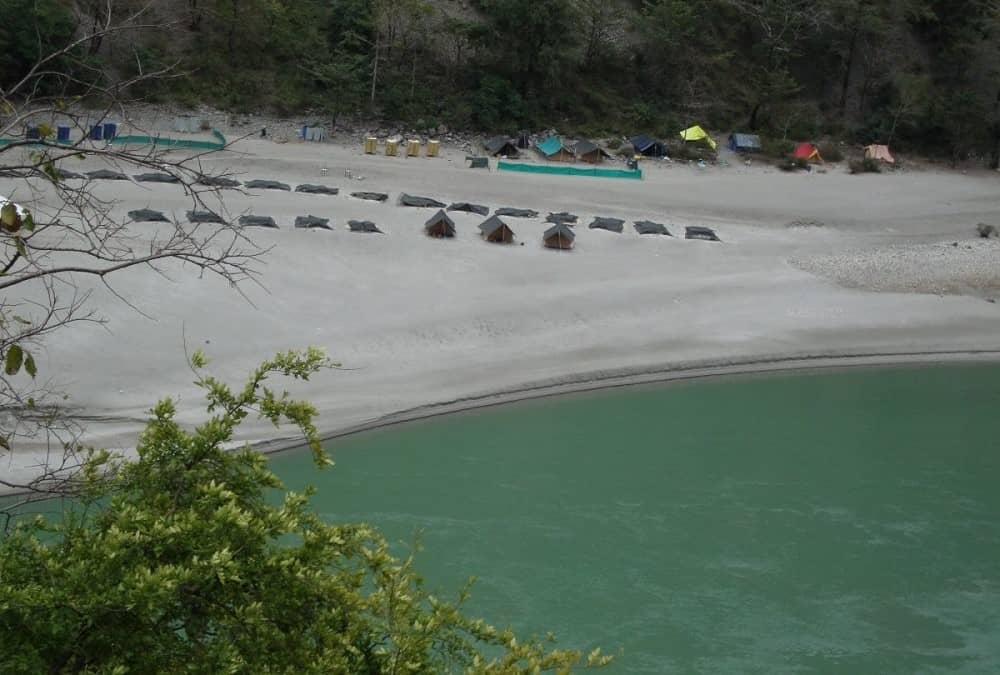 10-Byasi
Byasi is a tiny village nearby Rishikesh on the Rishikesh Badrinath Highway on the left bank of the Ganges a distance of approx 30 km from Rishikesh, Byasi is famous for village tourism and rafting starting point. Now at Byasi coming up a Railway station so, in the future, you can enjoy the train ride. Byasi has the longest challenging rafting starting point for extreme adventure lovers and the best for Rishikesh Camping.
11-Kaudiyala
Kaudiyala is a famous village for adventure activities which is located at a distance of 40 km from Rishikesh on Badrinath road. Kaudiyala is famous for its long-distance rafting starting point. River rafting in the Rishikesh season is from  October to May 
Now it is developing as an en-route stop for the Badrinath and Kedarnath Travellers. There are homestay hotels guesthouses and village tourism too, It is worth staying there for one night.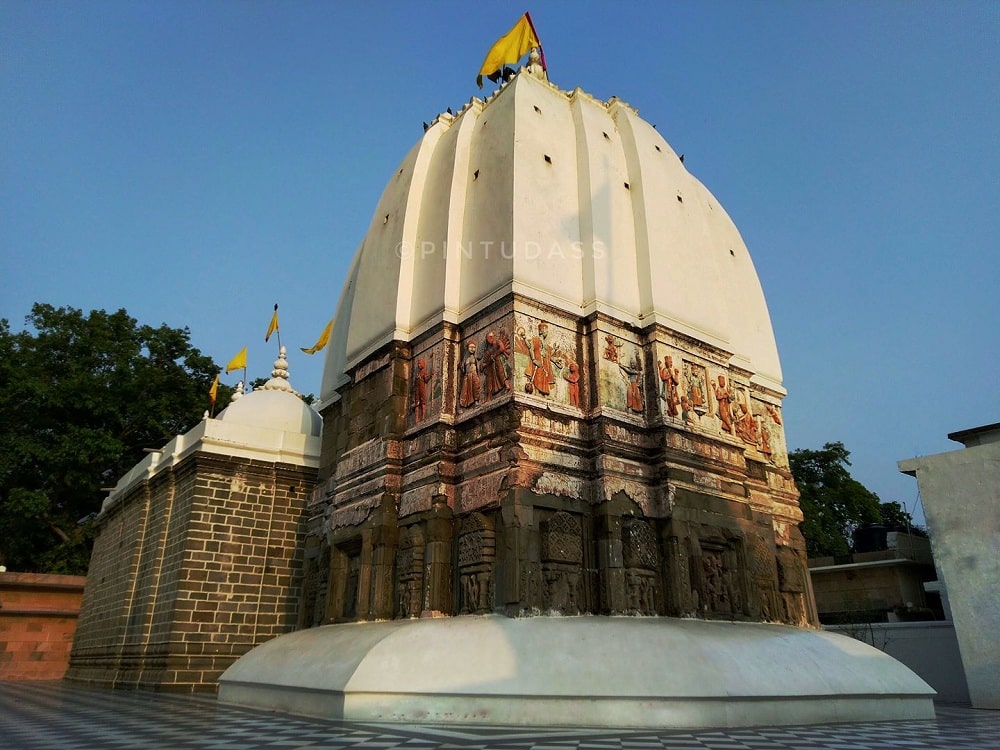 12-Muni ki Reti
Muni Ki Reti on the bank of the Ganges at Ram Jhula Parking near Sivananda Ashram., literally 'Sands of the Sages', The Muni Ki Reti has been the home of many saints and famous Sadhus who used to do the meditation and austerities on the bank of the river.
Form Muni Ke Reti you can cross the river by motorboat and most of the rafting expeditions terminate at Muni Ki Reti in Rishikesh.
13-Bharat Mandir
Bharat Mandir is the most ancient temple of  God Hrishikesh  Narayan  ( Vishnu )  which is located in the heart of Rishikesh nearby Triveni Ghat on the bank of the river Ganges.
Many visitors ask me about the meaning of Rishikesh. I suggest visiting Bharat Mata Mandir and there you find the true meaning of Rishikesh.  God Vishnu is known as Hrishikesh here. the conquerer of five senses.
Rishikund-The Holy Water Tank at Triveni Ghat in Rishikesh
14-Rishikund
Rishikund is a holy tank at Triveni Ghat in Rishikesh. It is an ancient tank that is believed to be built by the Kubz saint and blessed by Goddess Yamuna. The place is popular for morning meditation, many visitors go in the early morning for Puja and meditation.
The temple of God Rama here is known as the Raghunathji. So you can visit the temple at Rishikund also.
15-Tera Manzil Temple
Tera Manzil  Mandir is a famous temple with 13 -story temples, which is located by the Ganga besides Lakshman Jhula hanging bridge, also known as Trayambkeshwar temple.
I suggest going to the top of the temple and you find the best angle of Laksman Jhula bridge photography.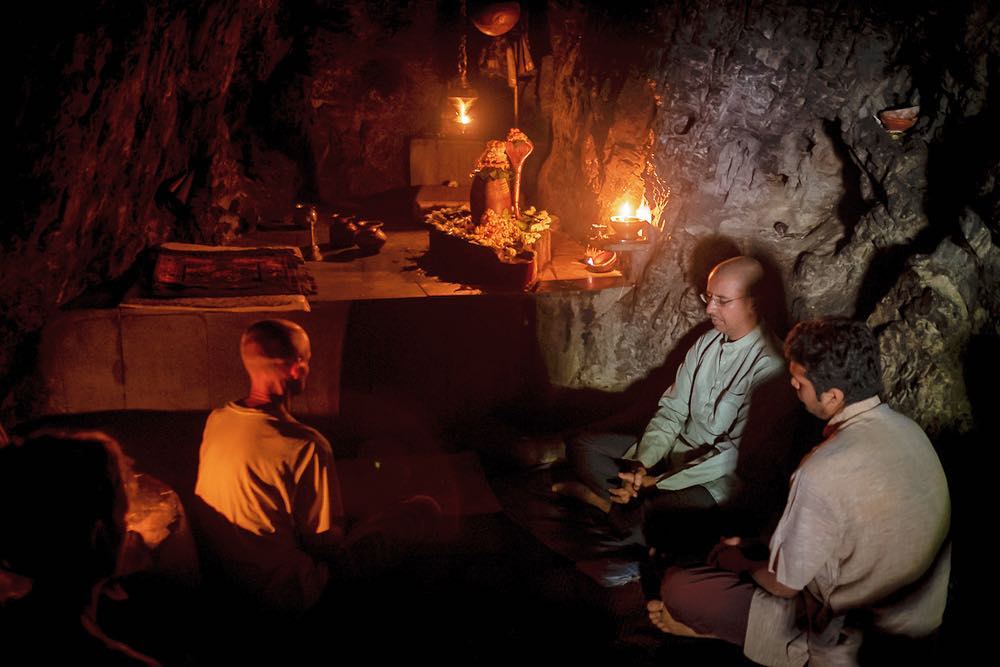 16-Vashistha Gufa
Vashistha Cave or Vashistha Gufa is an ancient natural cave where ancient  Sage Maharishi Vashistha meditated here. The cave is at a distance of 30 km from Rishikesh city on the Badrinath Highway at Gullar (  a local Bazar ) near  Sirasu village.
The cave or Gufa is popular among spiritual travelers those who love to find a place like a cave on the bank of the Ganges to meditate. If you are at the cave place, do not miss watching the birds and Arundhati cave & Jesus Cave Rishikesh are just a little further.
17-Sivananda Ashram
The Sivananda Ashram is at a 3 km distance from the Rishikesh center near Ram Jhula Bridge. The most traditional Ashram in India, if you are in Rishikesh, do not miss the Bhajan & Kirtan Satsang that continues all day inside the Ashram. Sivananda Ashram is the only ashram that offers Free Yoga Classes every day on the Ganges.
18-Omkarananda Ashram
The Omkarananda Ashram is situated at Muni ki Reti,  on the banks of the Ganges River. The highlight of the Ashram is Iyengar yoga Dropping classes by Yoga Guru Usha Devi.
The Omakrananda Ashram provides also  Ashram to stay on the Ganges in Rishikesh.
19-Swargashram
The  Swargashram is the oldest ashram that was built in memory of Swami Vishudhanand, the saint better known as Kali Kamli Wale Baba. It is a very popular ashram across the Ganges famous for charity and free food distribution to all nomad Baba.
20-Rishikesh Yog Peeth
Rishikesh Yog Peeth is the best-known Teacher Training Yoga school in Rishikesh, organizing teacher training courses like 300 hr – 300 hr ar 500 hr in the alliance of  RSY,  offering professional paid Yoga activities. It has a marvelous location and good yoga teachers.
21- Phool Chatti Ashram
Phool Chatti Ashram is located at the confluence of Hemal and Ganga rivers at a distance of 9 km from Rishikesh.
The ashram has a beautiful garden with lots of flowers. Phool Chatti means "land of flowers". The best ashram for yoga and meditation in Rishikesh, surrounded by nature and rivers.
22- Andhra Ashram
Andhra Ashram is renowned among south Indian pilgrims of Rishikesh, the temple is dedicated to Sri Venkateswara Swami – God Vishnu.
The Ashram is located near Rishikesh Sikha Gurudwara in the city, at a distance of 3 km from Ram Jhula bridge and 4 km from the Lakshman  Jhula Bridge Rishikesh.
23-Himalayan Yog Ashram
Himalayan Yog Ashram is a commercial Yoga Teacher Training School that is famous among European to learn Yoga and meditation. It is located in  Tapovan on Tapovan- Kunjapuri Trail from Rishikesh.
24-Vitthal Ashram
Vitthal ashram lies on the bank of the Ganges near Yog Niketan Ashram and Kashi Kamakshi Temple Omkarananada Ashram Rishikesh.
The temple and ashram are devoted to  God Krishna. The Ashram is famous for the evening and morning Aarti of Sri Krishna.
25-Madhuban Ashram
This ISCKON  ashram is run by the ISCON society of India.  Maha Mantra  " Hare Rama Hare Krishna" You must visit the morning and evening aarti of Krishanji.
If you are looking for a vegetarian Restaurant in Rishikesh?  ashram's restaurant is the best restaurant in Rishikesh.
26-Osho Ganga Dham Ashram
The Osho Ganga Dham Ashram is just at a distance of 5 km from Tapovan and Lakshman Jhula bridge Rishikesh. The Osho Ashram is located by the holy river Ganges at Brahampuri, on Rishikesh – Badrinath Road.
27-Vanaprastha Ashram
Baba Kali Kamli Wale Baba's Ashram in Rishikesh, Vanaprastha Ashram in the area of  Swarg Ashram. The oldest ashram of Rishikesh across the Ganges is near Ram Jhula Rishikesh.
28-Rishikesh Railway Station
Yoga Nagari New Railway Station is one of the attractions of Rishikesh. Why you should visit? there is a big garden and modern facilities and a big open Garden with Shiva Statue and a famous terminal point for Rishikesh- Karnprayag Railway Tunnel Project.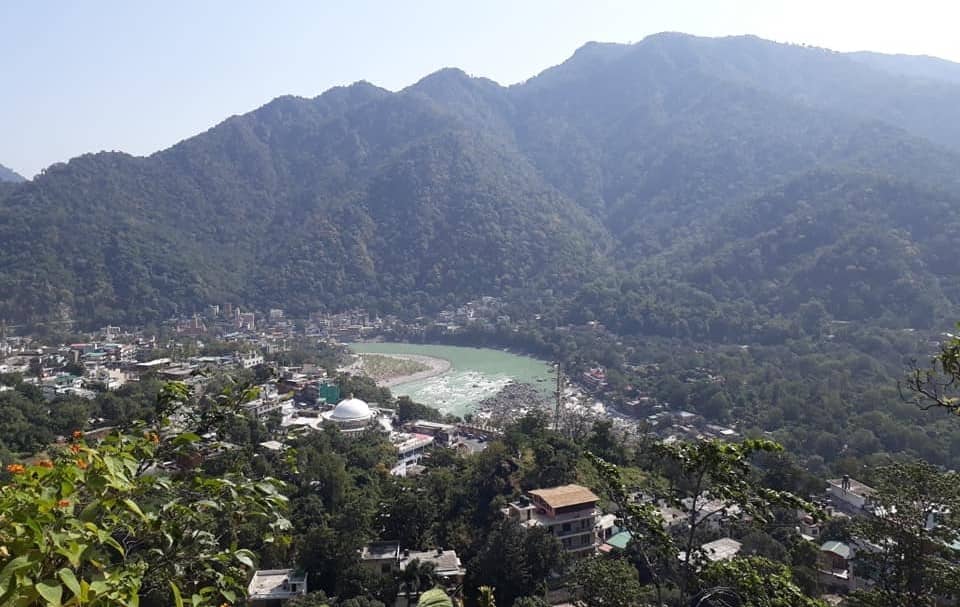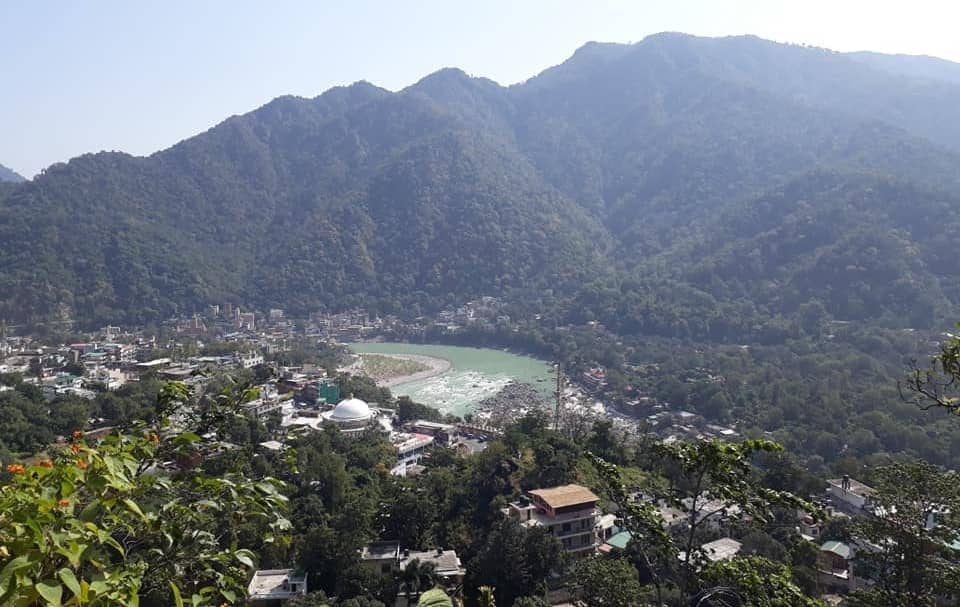 29-Sadhaka Grama Ashram
Sadhaka Grama Ashram was founded in 1966 by Swami Rama,  a famous author of Living with the Himalayan Masters, and Swami Rama wrote many famous.
The Ashram Address: Virbhadra Road, P.O. Pashulok, Aam Bagh, Birpur Khurd, Rishikesh, Uttarakhand 249203.
30-Swami Dayananda Ashram
Swami Dayananda Ashram, Rishikesh,  was established in the 1960s by Swami Dayananda Saraswati, who is a globally famous Vedanta teacher.
The Ashram lies in beautiful surroundings approx a 10-minute walking distance from the Ram Jhula.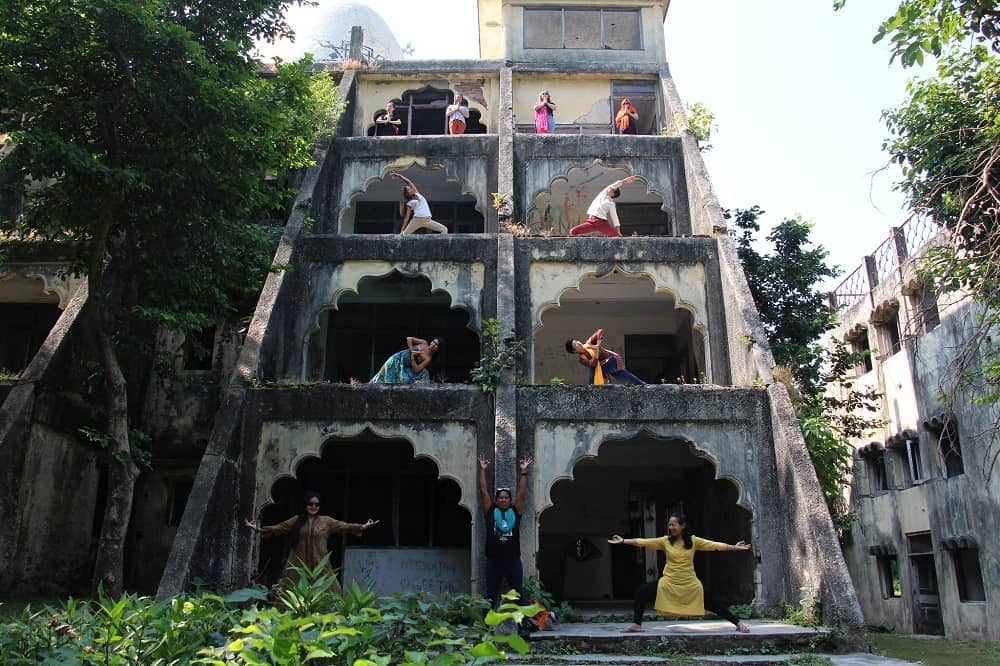 31-Beatles Ashram
Beatles Ashram is the best place to visit in Rishikesh, was founded by the Guru Maharishi Mahesh Yogi in 1960. Beatles Ashram Rishikesh is at a walking distance of 1 km from the Ram Jhula bridge,
Beatles Ashram's entry fee is nominal for India INR 150 and for Westerners INR 600 per head.  Beatles Ashram India is not haunted it living Ashram inside there is a Beatles cafe for visitors.
Beatles Ashram's timings are from 10 AM to 5 PM. Address: 4876+4V3, Swarg Ashram, Rishikesh, Uttarakhand 249304.
32-Kamakshi Temple Rishikesh
The temple is south Indian architecture built inside the Omkarananda Ashram Himalayas in Rishikesh along the bank of the Ganges Address: Swami Omkarananda Saraswati Rd, Muni Ki Reti, Rishikesh, Uttarakhand 249192. The beautiful colorful temple of Rishikesh.
33-Bhootnath Temple
Bhootnath Temple is a Shiva temple near Beatles Ashram Rishikesh, at a walking distance of 1 km from Parmarth Niketan Ashram, was founded by Kailashanada Trust Rishikesh.
The temple is 13 story building in the Rajaji National Park Rishikesh, just behind the Yoga village of Rishikesh.
34-Mahadev Cave
The Mahadev cave is not very popular in Rishikesh because of offbeat in the Jungle approx 5 km from Tapovan Kriya Yoga Ashram Rishikesh.
It is an active cave in Rishikesh only local visit cave during the Sawan month in July & August.  The trek route runs along valley rivers and Rudra Waterfall, so you enjoy hiking there.
35-Rudra Waterfall
Rudra Waterfall is very popular among weekend tourists and travelers and it is a family destination, connected by off-road, there is no trekking or hiking trail, you can reach there on your own vehicle.
It is on the Tapovan Kunjapuri Trail about 3 km from Tapovan, Balaknath Temple near State Bank of India Tapovan Rishikesh.
36-Kali Kund Waterfall
Kali Kund waterfall is the best en-route visit while traveling to  Neelkanth Mahadev Temple from Rihiskesh on Neelkanth Road, Rishikesh. It is a hidden waterfall near Tatta Pani, Phool Chatti, and Rishikesh.
37-Garud Chatti Waterfall
Garud Chatti waterfall is located in the Rajaji National park at Bramhapuri on the bank of the Ganges, about 6 km from Rishikesh on the Rishikesh -Neelkanth road. The landmark is Garud Chatti Ashram near a wine shop.
38-Patna Waterfall
Patna waterfall was discovered by English people, located in the Patna village near Phool Chatti, also known as Phool Chatti waterfall in Rishikesh.
The waterfall is maintained by the villagers at a distance of 2 km from the roadside and the Rishikesh to Patna waterfall distance is 7 km after Bramhapuri bridge on Neelkanth road.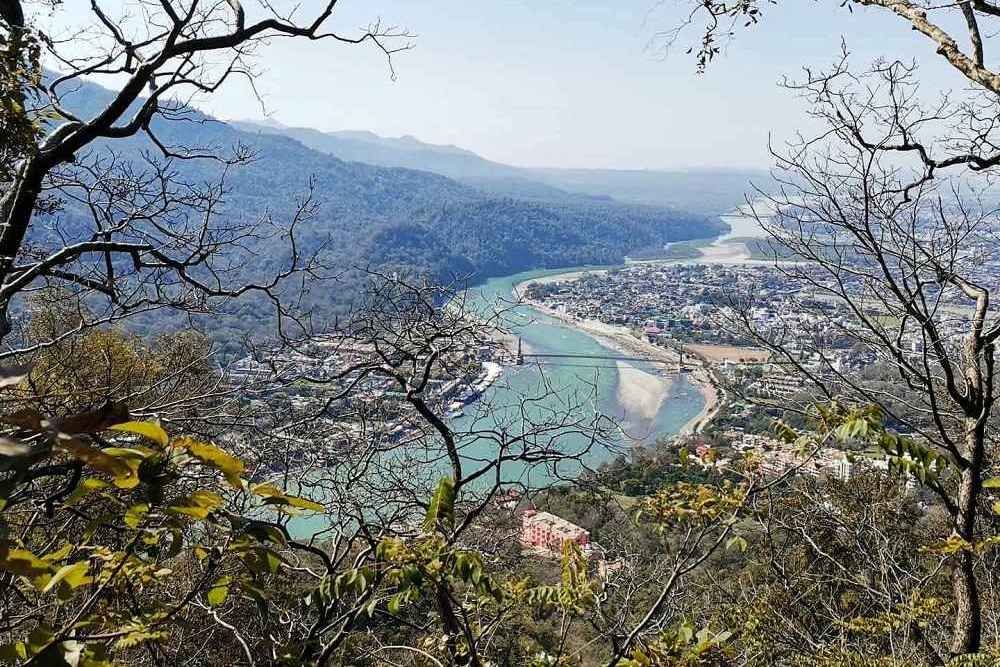 39-Patho Village
Patho village is a mountaintop village near Rishikesh and offers the most beautiful offbeat 4 hr roundtrip jungle trek, trek includes a Birdseye view of Rishikesh, meadows for cattle grazing, village lifestyle and valley river, and Rudra waterfall.  It is the budget and most exciting family trek in Rishikesh.
40- Neer Waterfall
Wow,  Neer Waterfall is more beautiful than Patna waterfall, it has a wonderful scenic trail to reach Rishikesh. The best waterfall near Rishikesh for family adventure and waterfall rappelling.
Moreover, the waterfall is only at a walking distance of 3 km from Tapovan along the valley river. The best destination for kids and family adventure in Rishikesh.
41-Mauni Baba Gufa
The Gufa of Mauni Baba or Moni Baba is located on Rishikesh-Neelkanth Paidal Marg, the stretch of Rishikesh Neelkanth trail is 12 km from the Ram Jhula bridge Rishikesh.
The Gufa was lived by Sri M  and his Guru Maheshwarnath Ji in the early 70s and is the best for yoga & meditation retreats in Rishikesh.
42- Nim Beach
 Places to Visit Rishikesh– Nim Beach is famous for its white sands in Rishikesh.  It is one of the best beaches for meditation and Yoga in Rishikesh, many tourists go for book reading too.
The Nim beach is locally known as Bada Reti, the cremation ground of Rishikesh ( Shamshan Ghat )  Haunted beach of Rishikesh. Nobody lives in the night except some Aghori. Now, The Nim beach gaining popularity as a terminus of river rafting adventures in Rishikesh.
43-Kriya Yoga Ashram
The oldest Ashram of Rishikesh is the Kriya yoga ashram in Tapovan, in the district of Tehri Garhwal of Uttarakhand.
The architecture was designed by  Sri Yukteshwar Giri, Guru of Sri Parmahansa Yogananda Ji. The dome shape building is the main attraction and the best for Kriya Yoga Meditation.
44-Jhilmil Gufa
Jhilmil Gufa is a very popular cave nearby  Neelkanth Mahadev Temple, Rishikesh.  The Gufa is only at a 2 km distance from Shiva Temple, nearby  Jhilmil cave, there are two more caves, namely Hanuman cave & Ganesh Gufa. You can reach there by trek or by road trip from Rishikesh.
45-Arundhati Cave
Arundhati Gufa or Cave is located on the bank of the Ganges in the cave complex of  Sage Vashistha cave at Gullar in Sirasu village on Rishikesh- Badrinath Highway is one of the best Rishikesh Visiting Places here.
Arundhati cave is a small Gufa but faces the Ganges river. You can visit the Arundhati cave for yoga and meditation retreats purpose.   The Gufa is open from 08 AM to 05 PM.
46-Kailash Gufa
Kailash Gufa is dedicated to Shiva, it is a less-visited destination in Uttarakhand, few tourists would like to go there but It is the most beautiful cave at a distance of 40 km from Rishikesh town via  Bramhapuri, Shivpuri & Gullar, it comes among top 10 Rishikesh Visiting Places.
47-Rajaji National Park
Rajaji National Park is one of the best tourist spots for the park safari in Uttarakhand, It draws lots of tourists each year, and the main attraction is the wild elephants and fora & fauna. And it is considered to be the Rishikesh best-visiting places out of the top 10 places in Rishikesh.
The park stretches in Rishikesh & Haridwar along the river Ganges. The Rajaji National Park Map shows you the right location including pictures of migratory birds, barking dear, wild boar, Guldar, and many more.
48-Ved Niketan
Ved Niketan is the best ashram to stay in Rishikesh, they are more professional and easily you can book Ashram online.
The location is awesome on the bank of the Ganges at Ram Jhula Parking Rishikesh. I think it is the biggest Ashram of Rishikesh.  You can book the ashram by phone too.
49-Shatrughan Temple & Ghat
Shatrughan Ghat is a landmark for the boat rides in Rishikesh and the evening Ganga Aarti too. Almost all the tourists who visit Rishikesh must come to this Ghat to cross the river by boat but do not visit the temple. I suggest visiting the temple, is a really beautiful temple.
50-Virbhadra Temple
Virbhadra temple is an old temple of  God Shiva in Rishikesh along with Someshwar Mahadev and Chadreshwar Mahadev temples. These three temples in Rishikesh create Temples' Triangle of Shiva in Rishikesh Uttarakhand.
Out of these three temples, the Virbadra temple is the most beautiful,  address – Aam Bag, IDPL Colony, Rishikesh, Uttarakhand 249202.
51-Neem Karoli Baba Ashram
It is my favorite place to visit in Rishikesh, is located approx 6 km from Ram Jhula bridge Rishikesh on the Haridwar-Rishikesh Highway at Hanuman Chowk IDPL colony Rishikesh. Neem Karoli Baba Ashram is the most divine place,
Baba Neem Karoli himself founded this temple in 1970.  It is the best place to visit for meditation retreats like Bhajan & Kirtan in Rishikesh.
Keywords
Keywords – Rishikesh trip package-Rishikesh tour package – travel to Rishikesh-Haridwar to Rishikesh distance- Rishikesh Uttarakhand India -Rishikesh tour packages from Mumbai- best river rafting packages in Rishikesh Rishikesh temple timings -Rishikesh temperature- Rishikesh altitude -Rishikesh to Haridwar-  Rishikesh Hotels -Rishikesh weather – Ganga Rishikesh- Rishikesh temple- Rishikesh ashram -ashrams in Rishikesh- Rishikesh Yoga – Rishikesh Trip, Rishikesh Camping, Rishikesh Rafting