Sarmoli Village: A Gem of Ecotourism in the Heart of the Himalayas
Hidden in the pristine Kumaon hills of Uttarakhand lies a small village that may appear unremarkable at first glance, but is, in fact, a shining example of ecotourism. Sarmoli Village sits at the foothills of the Himalayas. It is not just a destination; it's an experience that allows you to dive deep into the heart of local culture and tradition.
In this travel blog, we'll take you on a journey through this picturesque village that has earned recognition as one of India's best tourist hotspots.
Sarmoli Uttarakhand: The Ecotourism Gem
When many villagers started leaving Sarmoli in search of livelihoods in larger towns and cities, the locals realized the need to preserve their traditions, culture, and way of life. This realization gave birth to an extraordinary initiative – ecotourism. Sarmoli Village is the living embodiment of this concept, offering an authentic experience of local culture from the grassroots level.
Awards and Recognition
Sarmoli Village's commitment to ecotourism has not gone unnoticed. The Union Tourism Department of the Government of India has shortlisted it as the best tourism village after scrutinizing hundreds of others across the country. The village is set to receive an award for its outstanding efforts in promoting responsible tourism and preserving its rich cultural heritage.
The Charm of Sarmoli Homestays
One of the key attractions in Sarmoli village is its network of 20 homestays. They run by villagers themselves. These homestays offer tourists the chance to immerse themselves in Uttarakhandi village life. It's not just about staying in picturesque surroundings.
It's about becoming a part of the community. From participating in local farming activities, like planting sweet potatoes and kidney beans, to helping villagers weave baskets, every moment spent in Sarmoli village is a hands-on cultural experience.
Nature's Bounty at Your Doorstep
Sarmoli Village's location at the foothills of the Himalayas means that you are surrounded by nature's bounty. The winding roads, imposing mountains, and the soothing sounds of brooks and rivulets make this village a haven for nature enthusiasts. It's an ideal destination for trekkers, offering a chance to explore the breathtaking Himalayan landscapes.
Wildlife Expeditions
For wildlife enthusiasts, Sarmoli Village offers the opportunity to embark on expeditions to spot exotic flora and fauna. The region's wildlife is diverse and impressive, making it a must-visit for those who want to connect with nature on a deeper level.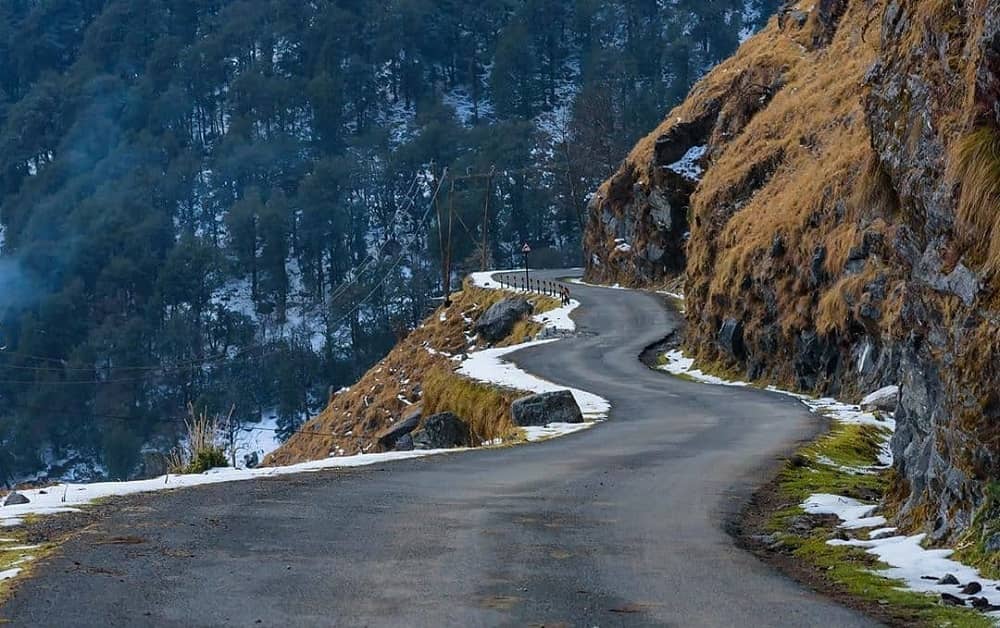 A Global Attraction
Sarmoli Village's efforts in promoting responsible tourism and preserving its local environment and culture. It has attracted travelers not only from India but also from 18 different countries. This global appeal is a testament to the village's unique charm and the warmth of its people.
Things to Do in Sarmoli Village
Sarmoli Village offers a plethora of attractions and ongoing activities to keep you engaged throughout the year. Here's a quick rundown of what you can experience in this charming village:
1. Himal Kalasutra Festival: Visit during the springtime to witness the awe-inspiring Himal Kalasutra Festival, a week-long marathon run. Locals run vigorously on a challenging 20km stretch at an altitude of 8000 feet. The festival also features mini-marathons and bird watching, adding to the thrill.
2. Unique Festivals: Sarmoli hosts unique festivals like the Butterfly and Moth festival and Forest fairs. Notably, it's the first village in India with its own Instagram channel, filled with stories from travelers, trekkers, and locals sharing their experiences in this paradise.
3. Flora and Fauna: Immerse yourself in nature's embrace by exploring the diverse flora and fauna in Sarmoli. Spot birds like the Green pigeon and female grey bush chat, along with endangered species such as the Laughing thrush and jungle cat. Trek to Thamari Kund for a chance to witness musk deer and breathtaking views of snow-capped peaks and meadows.
4. Trekking Adventures: Sarmoli offers a range of trekking opportunities for adventure enthusiasts:
Khaliya Top Trek: Best experienced in winter, this trek offers spectacular views and a chance to spot rare species like Ghurar, Bharal, and Kakar. It's a moderate 4 km trek taking you to the Khaliya Top, where you'll be treated to mesmerizing sunsets.
Maheshwari Trek: Explore the beautiful Maheshwari Kund, a lake steeped in Hindu legend, just a short distance from Munsiyari. The trek is easy and takes only 45 minutes.
Nanda Devi Temple Trek: Visit the Nanda Devi temple, a popular Hindu shrine, after a 3-kilometer trek from ITBP Dhandhar Ridge.
How to Reach Sarmoli Village:
By Road: The most accessible route to Sarmoli is from Kathgodam or Haldwani, roughly 280 km away, via the Almora-Berinag road. You can also take a direct bus from Haldwani to Pithoragarh and then a shared taxi to Munsiyari.
By Air: The nearest airport is Pantnagar airport, with regular flights from major cities, including New Delhi. From Pantnagar, travel by road to Pithoragarh and then take a shared jeep or taxi to Munsiyari.
By Train: The nearest railway stations are Kathgodam and Tanakpur Railway Stations, well-connected to major cities. After reaching the railway station, you can easily find public transport like jeeps and shared taxis to Munsiyari.
Best Time to Visit:
Sarmoli's pleasant to cold weather makes it an ideal year-round destination. The best times to visit are between March to June, September to October, and November to February. Summers are from March to June, and winter months start in November. Avoid visiting during July and August due to monsoon-related landslides.
Conclusion:
Sarmoli Village in Munsiyari, Uttarakhand, offers a diverse range of activities for travelers seeking a unique and immersive experience. From thrilling festivals to nature exploration and trekking adventures, there's something for every type of traveler. So pack your bags and immerse yourself in the captivating beauty and culture of Sarmoli on your next getaway to this Himalayan paradise!