Rupin Valley Trek – A Secret Trail in the Himalayas
Rupin  Valley is a boundless adventure trail in the Himalayas. The Rupin Pass Trek route passes through a densely forested valley, Bugyal, rugged paths, snowfield trail, and climbing too. This is my 10th  trek as a tour operator and the experience was unforgettable. 
Trek was absolutely off-beaten with enchanting sceneries of the Himalayas and the meals were awesome each day. You will bound to say that the Rupin Valley trek is a secret trail in the Himalayas 
Fortunately,  the climate was awesome in the month of September & October.  I enjoyed every bit of trekking in the blue sky, verdant green and white sceneries of both parts of the Himalayas, Uttarakhand, and Himachal.
Outline
Region:- 20%  Uttarakhand & 80 % Himanchal
Duration:– 7 Nights & 8 Days
Grade:- Strenuous
Top Altitude:- 15,250 Ft.
Trekking Route:– 52 Kms.
Rupin Pass
Rupin Pass lies in the Uttarakhand state of India & it is a sky-scraping trek that begins from Dhaula in Uttarakhand and wind-up at Sangla in Himachal Pradesh. It is supposed to be a high-end adventure activity among trekking enthusiasts.
The Rupin Pass trek takes you in undulating and unexpecting diversity of nature, sometimes it seems you very difficult in climbing sometime level-out hike on ridge of the mountains.
The trek takes you from green sceneries to cold landscapes over the snow as you reach closer to the end-point.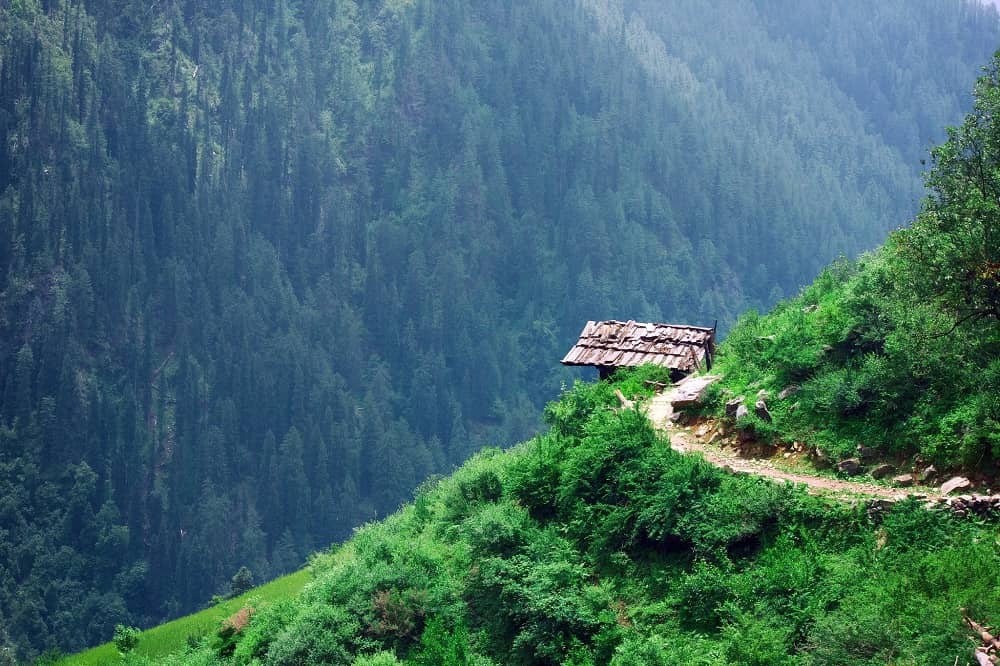 En-Route Attractions
Waterfalls Panorama:  You come across many waterfalls and natural running water streams.
Jhaka Village- A Hanging Village because of its position.

 it appears to you that the village is hanging at the cliff.

Snow  Overpass:

The experience that comes alive when you walk on the snow viaducts.

Thick Forests:

The trek at many spots runs through the forests of fir, Rhododendron & Oak.

Kinnaur Temple:

Pagoda-styled multi-story temple that exposes you to the hidden culture of the Himalayas.

Kinner Kailash Peak:

You are stopped here to look at mighty Kailash Peak.
Day 1: Dehradun to Dhaula (Uttarakhand)
The First day begins from Dehradun where arranged sharing vehicles are waiting to drive us in the remote nature.
We have passed many enchanting towns such as Mussoorie, Purola, Mori, Lakhamandal & many more. Upon arrival at Dhaula village which lies in a thick forest where we camped for a night.
Day 2: Dhaula to Sewa (Uttarakhand)
After breakfast, we start following trails that pass through thick forest along the river, and en route, you come across many waterfalls and streams on the way. After a day-long hiking 9 -10 Km, we touched Sewa village at 6300 ft.
Day 3: Sewa to Bawta (Himachal Pradesh)
It is a very clear day to hike on a dazzling trail from  Sewa. We are hiking along and opposite the stream of the river. After a 3 km hike, we reached a bridge that is connecting these two states Uttarakhand and Himachal Pradesh.
Now we are in Himachal Pradesh. Here, en-route to Bawta, we come across 4-5 waterfalls and we got a shower in one of them.
  At Bawta we made overnight at homestays and homestay was beautiful we were kept talking about it all day.
Day 4 :Bawta to Jakha(Himachal Pradesh)
We left early morning  Bawta in order to touch Jakha village, passing many rivers & jungles.  Jakha seems to you a hanging village because it is on the cliff.
Jakha is a dazzling typical Himachali village at 8700 ft. We played  Kho-Kho here with local children and overnight at homestay.
Day 5 :Jakha to Dhanderas Thatch (11680 ft)
In order to touch the Dhanderas Thatch, we start early morning.  It is a long day trek for us to the campsite. We are passing through rivers, jungles, Bugyals and we find ourselves in the midst of a beautiful valley.
The treeline ends here and we are at the front of snow-clad mountains and waterfalls.
We encounter here many layers of waterfalls, which are breathtaking. At 4 pm, we touched down the campsite but the temperature was  -4 in the night.
Day 6 :Dhanderas Thatch to Upper Waterfall (13120 ft)
Today, we are happy, because the trek is the only fir 3.5 km up to the waterfall.  But steeply climbing & negotiating with waterfalls on slippery rocks was a great adventurous experience. Overnight in camp.
Day 7:  Waterfall to Rupin Pass (15250 ft) to Ronti Gad (13420 ft)
We decide to leave the waterfall at 6 am to see the Rupin Pass early.  This is a long day 9 km. We trek on snow for 4 -5 km. The climbs are steep and snowy to touch the Rupin Pass.
Finally, we have touched the summit of Rupin Pass.  We can see the range of  Kinnaur Kailash Mountain. Later, we trek down and slide down on the snow to pitch the camp at  Ronti Gad.
Day 8 :Ronti Gad to Sangla (8800 ft)
On the last day of the trek, we have to trek down to reach Sangla village in the Kinnaur district. We pass Bugyals (Meadows) and Yaks are seen all around the Bugyals.
We arrived at Sangla at 3 pm and then by road, we leave Sangla to Shimla.
Bottom line
It is an amazing high-altitude trekking trip in the Himalayas. I recommend strongly it to those who love adrenaline adventure.