LANSDOWNE IN UTTARAKHAND-An Unmatched Colonial Beauty 
Lansdowne in Uttarakhand is one of the quietest and most pristine mountain stations in India and is very interesting for motorcycle enthusiasts and most unspoiled mountain stations in India and has been a popular destination ever since the British came to India. Lansdowne in Uttarakhand sits at an elevation of 1,700 meters above sea level.
What to see in Lansdowne, Uttarakhand?
 War Memorial -T

his memorial was inaugurated by Lord Rawlinson of Trento on Armistice Day in 1923. It attracts tourists from all over India.  You see incredible views of the Western Himalayas with enchanting dark forests. It is a perfect place for those long and leisurely walks.
Garhwali Mess– Built-in 1888, Mess Garhwali is one of Lansdowne's oldest buildings and testifies to heritage and superior quality of maintenance.
Kaleshwar Temple– Considered to be over 500 years old, Kaleshwar Temple is the oldest building in Lansdowne Temple. It is dedicated to Lord Shiva and attracts civilians and soldiers from the famous Garhwal regiment.
Kaleshwar Mahadev Temple in Lansdowne
Church of Santa Maria –It was built in 1896  by Colonel AHB Hume. The St Mary's Church fell into disuse after 1947. The building is now restored by the Garhwal Rifles Regimental Center with pre-independence photographs and audiovisual visualization of the regiment's history. Its beautiful architecture is something to admire and to hold on to.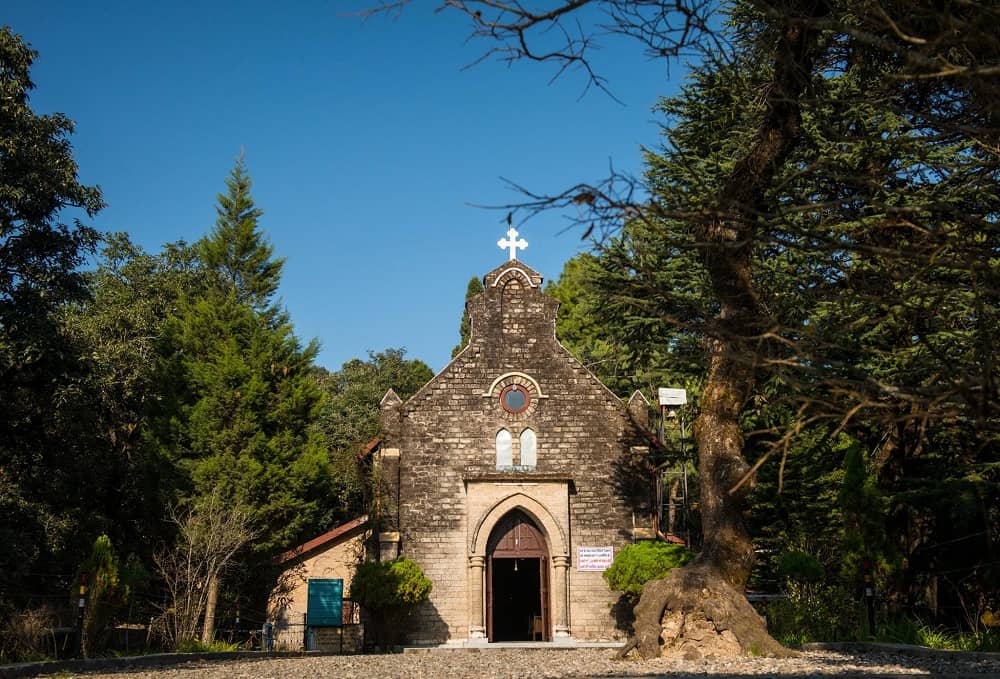 Church of San Giovanni – Located next to the Forest Bungalow, construction on this church was completed in 1934. It reopened in 1980 and continues to be the only church of worship in Lansdowne to this day.
Bhulla Tal – Bhula Tal is an artificial lake, built as memorials to the Garhwali rifle soldiers who involved in its construction. The cool atmosphere and serene beauty of this lake make for a perfect and idyllic spot for a fun day with friends, family, or just yourself. The place has a children's park, machan bamboo (treehouse), fountains, and boating facilities, plus embellished dam areas that will ensure visitors an enjoyable and memorable experience.
Kanvashram is the best attraction in Lansdowne. Many pilgrims pay a visit around the year. The surrounding forests, hillocks, and the closely winding Malini River create an idyllic backdrop for the ashram.
Tip-in-Top is located on the ridge near the church of Santa Maria. On a bright sunny day, it is ideal for a trek to take in lovely views of the Himalayas.
Tarkeshwar Mahadev Temple is an ancient temple amidst dense forests of blue pines, deodars, and oaks. According to local belief, the presiding deity Lord Shiva fulfills the wishes of true devotees. The Shivaratri festival celebrates here with much fervor.