Exploring Dhan Kharak: An ace of Gwaldam
The idyllic scenery of the natural wealth of Gwaldam, Dhan Kharak is a place that is not known to many people and is the reason why this place is still unexploited and conserved.
The fresh green grass all around captivates the tourists. The relaxing scenery of this place pleases the eyes and fills you with piquancy and excitement to track the whole place. One can feel the pure-chilled atmosphere of Uttarakhand here.
About the place
Dhan Kharak is a town, located 2kms from Gwaldam (hardly 40-45 minutes walkable distance) is a beautiful place to stop-by, during your visit to Gwaldam.
There are small cottages and temporarily-built huts of the local people near the Dhan Kharak. The people cultivate here many vegetables such as potatoes and spinach.
You will find both Kumaoni and Garhwali cultures in Dhan Kharak. The people in Dhan Kharak, Gwaldam belong to either Garhwal or Kumaon region.
 Scenic Attractions in Dhan Kharak
From the main town of Gwaldam, when you take your steps closer up towards the hill, you will reach Dhan Kharak. Far away from the hustle and bustle of the main town.
Dhan Kharak offers you a peaceful atmosphere all-around. You can see panoramic views of the hilly landscape and grazing land which you will find best to walk.
You can better explore the place by walking in and all around. The beautiful slope of Dhan Kharak goes to Katyuri valley. You will only get to see the lush verdure and indefinable scenic beauty wherever to move your eyeballs.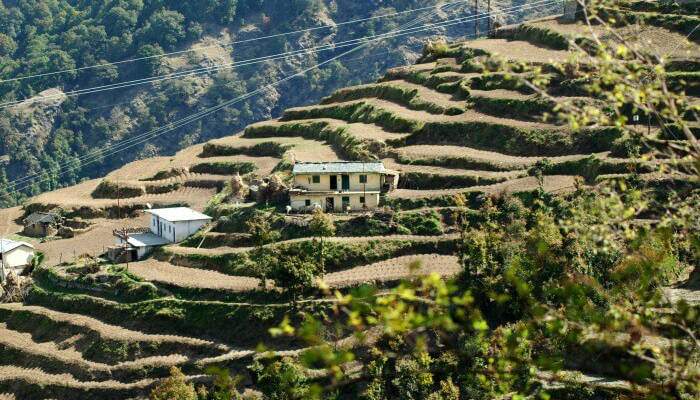 What's around?
The white clouds in the light blue sky when touching the high peaky mountains gives a satisfying view of being in the lap of nature. All you want is to get lost in this sublime beauty of nature. One can explore all-embracing views of the Katyur valley from Dhan Kharak.
Places to visit nearby
Near Dhan Kharak, there is a hilltop named Jaideep top which is named after a famous local personality.
If you are nearby Dhan Khark, do take out some time to visit Jaideep top, which gives a complete view of the town from the top of the hill. Not far from Dhan Kharak, there is a place named Benatoli.  Bentoli is famous for the Bandhangarhi temple, Agyari Mahadev temple, and Gwaldam Nag.
Best time to visit Dhan Kharak
Well, the weather in Dhan Kharak is quite chilled and cool throughout the year. You can visit the place anytime. However, winters are the best.
The climate does not go below 5 degrees so it's good to make a trip in winters. The Summers are also good as the temperature is expected not to go above 22 degrees Celsius.  The Monsoon is a bit rough period to travel as you never know when the rain will shower.