Yoga in Rishikesh

: All You Need To Know-Get Your check-list Now

Rishikesh is the yoga capital of India, and people from all over the world come here to witness the thrill and relaxation of this mindful art. The Yoga Retreat fever in Rishikesh has led to yoga cafes, yoga hotels, yoga retreats, and even yoga courses popping up over the last few years. From luxury yoga resorts to special yoga dresses, your Yoga Tour in Rishikesh will be much more than just yoga. So, Everything You Need To Know About Yoga Tour in Rishikesh India.
Here is a list of Everything You Need To Know About Yoga Tour in Rishikesh India
Expect Crowds
If you are planning a Yoga trip to Rishikesh then make sure that you start planning a couple of months ago. Because Rishikesh is famous for its wonderful Yoga retreats and resorts. So, they are highly in demand.
You will not find any non-veg meal or alcohol to drink in Rishikesh.
You might find most of them booked out if you wait till the last minute booking during the peak season. So, if you are planning to come for a Yoga tour in the summer months, then pre-book your stay at your preferred Yoga resort or ashram.
You Will Only Benefit If You Do Your Part
The best part about a Yoga tour in Rishikesh is the stunning scenery, the fresh greenery, and the rejuvenating air. Practicing Yoga in such serene locales, flanked by the mighty Himalayas will not only cleanse your body but also heal your soul. But to do so, you should also play your part.
Before your Yoga tour commences, make sure to keep away from meat and eggs, and other toxic substances. This will make your yoga tour in Rishikesh even more impactful.
Rishikesh Yoga Retreat
The Satsang Season in Rishikesh
The famous spiritual event of India- Satsang is quite engaging. This raging event starts in Rishikesh from early February to mid-March. This is perhaps the best tip to plan a Yoga tour in Rishikesh. You will be blessed with spiritual workshops, question-answer sessions with the teachers, and also a trance-like feeling that will show you the best of Yoga.
There Are Many Types Of Resorts To Choose From
There are different types of yoga resorts in Rishikesh, which might confuse you. Make sure you pick the best one according to what you wish to get out of this experience.
If you wish to find peace then go for an off-the-radar guest house, if you wish to be pampered opt for the luxury yoga retreats, Volunteer Travel if you wish to follow a strict diet and yoga routine, then Rishikesh has many options for that as well. To get the most out of your Yoga Tour make sure to pick a resort that focuses on yoga and Ayurveda.
Rishikesh Is Not Quiet During The Yoga Season
With all the tourists, the crowds, and people looking for a breath of fresh air, Rishikesh can get a little crowded. This can easily discern the peace that ups felt while practicing your Yoga.
However, you can opt for a quieter area. Just find a more off-beaten place to stay and relish in the serenity of the mountains.
Expect Worn Out Yoga Mats
While several yoga mats are lying around in the yoga ashrams at Rishikesh, you might want to stay away from them. Just get your mat or you can buy one in Rishikesh.
These mats are not that expensive, and you can easily donate them as well if you please. You can also choose from various mats, and get the one that best suits you.
The Stunning International Yoga Day
The famous International Yoga Day is perhaps the best possible time to visit Rishikesh for a yoga tour. The entire city is converted into a Yoga studio and everyone is practicing mindful yoga everywhere you look- at the ghats, at rooftops, and even at cafes. It is quite stunning and, a bit crowded as well. Do not expect peace during this time.
Yoga Retreats Are Not Always Relaxing
A lot of people tend to think that Yoga ashrams and tours in Rishikesh are all about relaxing and unwinding. That is not always true. You might feel tiresome, as some of the retreats follow a strict schedule and will make you do yoga, meditation, and heavy exercises throughout the day.
This might tire you, however, the result is fabulous which makes all the effort worth it. You have to do your bit to get the results, Yoga tours cannot magically heal you and guide you.
Every Place in Rishikesh Doesn't Take Credit Card
Rishikesh doesn't have a lot of fo ATMs, so make sure to carry enough cash with you. Many places in Rishikesh like cafes and guest houses, do not take credit cards, so you need to carry a decent amount of cash with you.
There are withdrawn limits in their ATMs. So be well prepared. You should be all calm and ready to cleanse on your yoga tour.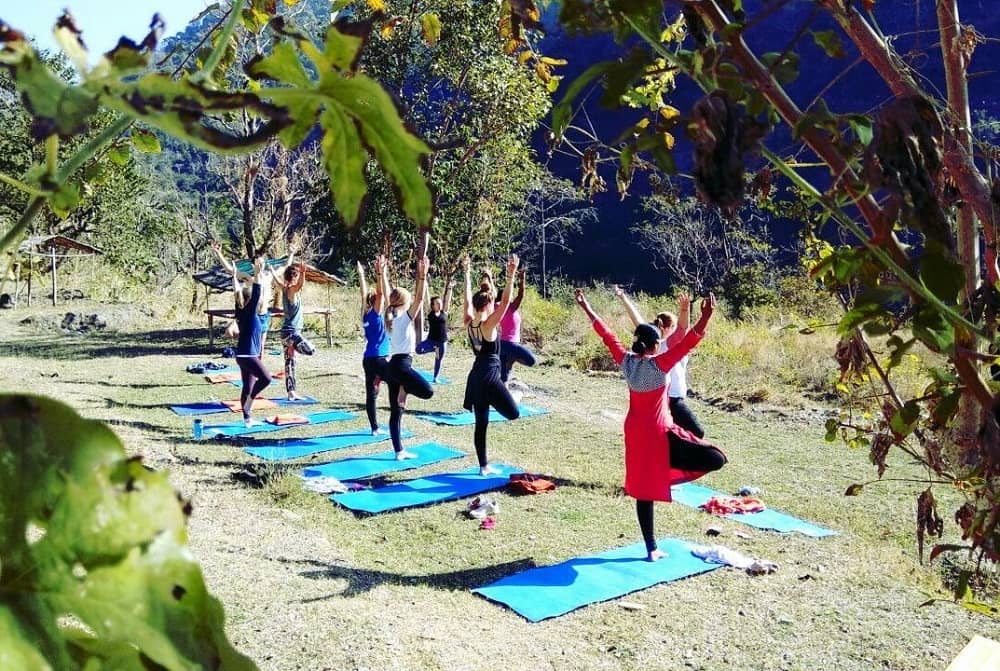 Planning a Yoga Tour in Rishikesh?
It is quite a magical experience. Every day you will learn something new, and witness a lot of wonderful things. From chaos to warmth you will feel all of it. So just be open to whatever is coming at your and let the Yoga Tour in Rishikesh open your senses.
Conclusions
You're now a bit more informed on the different types of yoga retreats in India. You're aware of what you can expect to get out of a yoga tour in Rishikesh. And, you know what to do to ensure you have a safe and enjoyable trip. So, if you're ready to embark on a yoga tour in Rishikesh, India; be sure to book your trip today by contacting  info@rishikeshdaytou.  Happy Travels!