Dharchula- An Ancient Gateway to Kailash Mansarovar
Dharchula is an enchanting location that beckons mountaineers, trekkers, adventure enthusiasts, birdwatchers, and Kailash Mansarovar pilgrims alike. The town serves as an idyllic pitstop for those embarking on the Mount Kailash pilgrimage and is an age-old gateway to the Kailash Mansarovar Yatra.
Nestled in a valley along the Kali River, this tranquil town is encircled by towering peaks that reach for the sky. To the west lies the majestic Panchachuli peak, a sight to behold. Dharchula has served as an ancient trade route between India and Tibet, adding to its rich cultural and historical significance.
The Dharchula – Lipulekh Pass
The government has recently transformed the traditional trade route into a modern 80-kilometer road, known as the Pithoragarh-Tawaghat-Ghatiabagarh road. This roadway begins at Ghatiabagarh and concludes at Lipulekh Pass, a historical entranceway to the Kailash Mansarovar Yatra.
This 80-kilometer expedition entails a remarkable ascent from an elevation of 6,000 feet to a towering height of 17,060 feet above sea level, offering a thrilling journey through breathtaking scenery.
Pithoragarh to Mansarovar ( Old Route)
The updated route entails a drive from Delhi to Pithoragarh, spanning approximately 490 kilometers. From there, the journey continues with 130 kilometers of road travel, followed by a 79-kilometer trek lasting roughly five days, from Ghatiabgarh to Lipulekh Pass across the border. On the other side, a 97-kilometer car ride awaits, followed by a 43-kilometer Parikrama around the sacred site.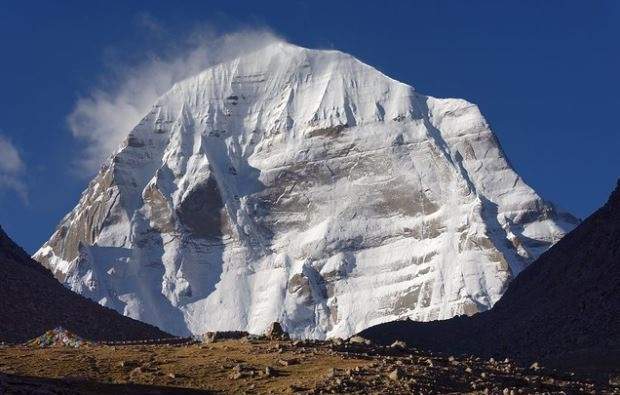 The Location
Located in the Pithoragarh district of Uttarakhand, Dharchula sprawls at an elevation of 915 meters above sea level. It is situated along the Kailash Mansarovar and Chota Kailash routes, adding to its significance as a destination for spiritual and adventure tourism.
The Mythology
Dharchula sets out as an ancient gateway to the Kailash-Mansarovar Yatra. It is the traditional route where our ancient one chose Dharchula village as Tapobhoomi ( penance grounds ).
The place was lived by Byas Muni.  The sage Byas Muni chose this place to meditate before going on the Kailash Mansarovar Pilgrimage.  It is said that  Pandavas visited this place and met here Byas Muni during their exile.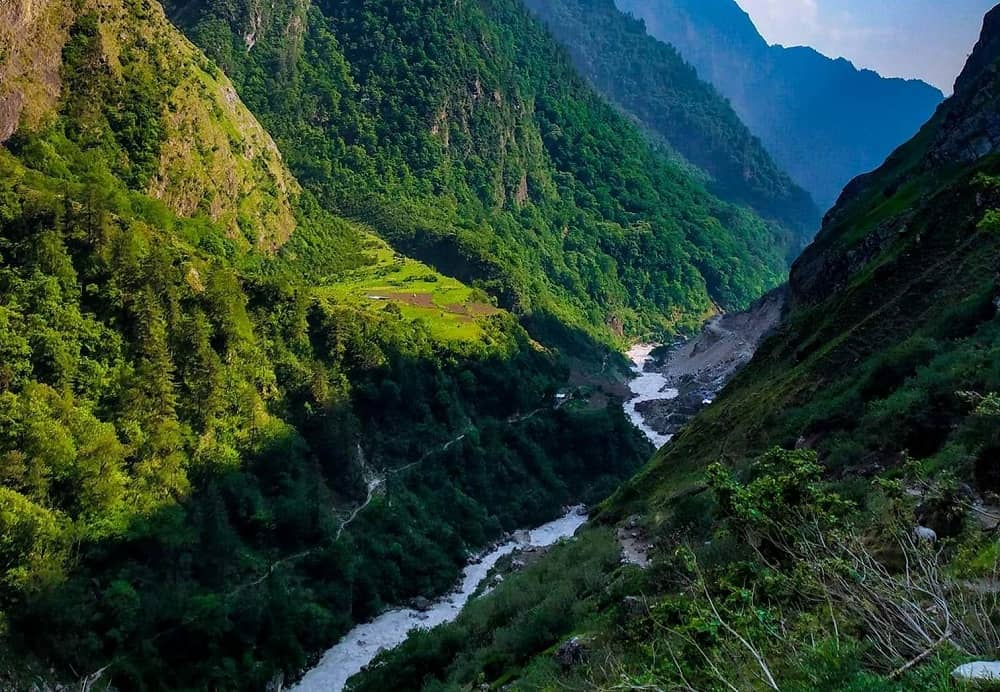 The History
In ancient times, Dharchula served as a prominent trans-Himalayan trading route, attracting traders from India and Tibet. The Bhootia community has inhabited the town since time immemorial, with sheep rearing serving as their primary occupation. Dharchula was a bustling trade center for traditional clothing, with Tibetan traders flocking to the town to purchase woolen garments and monk's robes in bulk.
Numerous small-scale manufacturing units, including spinning, weaving, and natural color dyeing of wool, were scattered throughout the village. However, the scenario shifted after the Indo-China War of 1962, prompting the Bhootia people to settle permanently in Dharchula rather than using it as a summer retreat.
Climate & Weather 
 December –January  Temperature between 5.5 °C and 8 °C.
February – March – temperature between 15 °C – 24 °C
Mid-March until Mid-June.  sometimes temperatures rise up to 40 °C.
July – September -average rainfall is 36.7 cm.
November -October – temperature between 18 °C – 30 °C
Must-Do Activities
Nature Walk – The enchanting natural scenery, rushing river, and wide-spread greenery, the meadows offer lots of natural trails to explore on foot.
Village Walks – Dharchula is a gateway to Mansarovar village and bordering Nepal. So, here you see the mixed culture of Kumaoni, India, and Nepali.
Attend Festival –  Kangdali festival is famous and celebrated for an interval of 12 years by the Bhotia or Bhutia tribe. This tribe is supposed to be the largest settlement in Dharchula.
Travel  Advice– The summer is the best time and in the winter, you may encounter bone-chilling weather.
See Around
1- Kapleshwar Mahadeva Temple
The Kapileshwar Mahadev Temple is about 3 km from Pithoragarh city. You have to take an hour-long climb to visit the temple.
The temple is inside the cave that immerses in nowhere.  The cave is deep and you have to go through many narrowed small caves, will be a thrilling activity here.
2- Askot Wildlife Sanctuary 
Ascot is the most famous wildlife sanctuary in the Pithoragarh district. the sanctuary is about 5o km far from the center an elevation of 5,412 ft above sea level. The sanctuary is populated by the Askot Musk Deer.
3- Dhwaj Temple 
A temple dedicated to Lord Shiva and Goddess Jayanti is situated in the area. To reach the temple, visitors must embark on a 4-kilometer uphill trek, which offers stunning views of wildlife and natural scenery along the way.
4- Milam Glacier & Village
The Milam Glacier is situated at an altitude of 4250 meters above sea level. While Milam village was once a densely populated district village, it is now almost entirely abandoned. Despite having no permanent inhabitants, the Milam Glacier remains one of the world's most renowned glaciers. The river Gori, which is a tributary of the Kali River, originates from the Milam Glacier.
5- Pithoragarh Fort 
The Chand king constructed this fort, which was later rebuilt by the Gorkhas in 1789. The fort is situated atop a mountain in the vicinity of Pithoragarh and provides breathtaking aerial views of the city. Its strategic location offers unparalleled panoramic vistas of Pithoragarh.
Conclusion
trust that you found this information helpful and that you will take it into account when planning your journey to Kailash Mansarovar Yatra from India.