Buddhist Khamba Temple, Gwaldam
Uttarakhand is not only famous for its pristine natural beauty but it is also a state that is well known for many religious and spiritual adobes. It is a place for many Hindu temples and Buddhist monasteries which are also the main tourist spots of the region. Introducing one such spiritual site – Buddhist Khamba Temple, though not much known but worth a visit. See what this temple is famous for and why should you choose to visit the temple.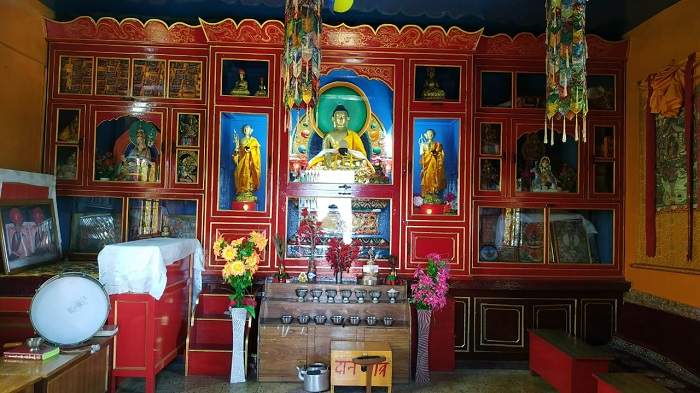 About The Temple
About half a kilometer from the market of Gwaldam is a Buddhist Khamba temple. This famous Buddhist spot is successful in attracting tourists for more than four decades.

Situated in Gwaldam, a small town in the Chamoli district of Uttarakhand, this temple is famous for its serene ecosystem and spectacular views from the temple complex which allures the tourists.

Though this place is not much popular among tourists even so it has managed to attract visitors and spread positive word of mouth.

Established around 1953, this temple

is now owned and well maintained by the Government of Uttarakhand as a religious and tourist destination.

Filled with spiritual vibes of positivity, this Buddhist monastery o

r Baudh Math 

is a place one should not miss during their trip to Gwaldam.

The structure of the temple and the ancient old statues of the Buddha make it worth a visit. One can see the various statues of Buddha's incarnation in the sanctum of the monastery.

The detailed stone carvings on the statues of

Gautam Buddha

are extremely amazing that the viewers can't take off their eyes.
 Around The Temple Complex
As the temple is located in the mountainous region, there are beautiful spectacular locations one can enjoy from the temple complex which gives immense pleasure.

During winters the mountains are covered with white soft snow which fascinates the tourists coming to this place.

One can see the white snowy peaks from the temple complex. Also, the peaceful atmosphere of the temple location makes it more idyllic.
Best Time To Visit 
The winters and summers are the best time to visit Buddhist Khamba Temple, Gwaldam as the climate at this time is clear and cool. It would be better to avoid visiting during the rainy season as the place is threatened by frequent landslides. 
 Reaching Temple
Buddhist Khamba Temple is 1.5 km from Gwaldam. You can reach here by hiring a taxi or car. Gwaldam is well connected through roadways. Gwaldham can approach Rishikesh.