A Guide To Find The Best Backpacking Campsite Location To Pitch Tent in Rishikesh
It has been always difficult to find the best campsite location in Rishikesh to pitch the tents. Pitching a tent is all about location, location, and location.  The location is very important that will define the comfort and safety of your adventure activity. Here is A Guide To Find The Best Campsite Location To Pitch Tent in Rishikesh in order to avoid picking any bad & restricted location in Rishikesh by following these tips for finding the ideal camping spot.
Why Location?
It is not easy to find a high-quality campsite to sleep well in the Himalayas. I have seen the adventure lovers struggling to be easy on the campsite.
A comfortable campsite is essential to sleep well at night. So it's extremely important to know before pitching or selecting the campsite where you sleep.
In Rishikesh,  I found three  theme-based locations that are the best for pitching a tent for all kinds of adventure lovers, and these are theme-based locations are;
 Village Campsite  at Barkot Village Near Kunjapuri Temple, Rishikesh
Jungle Campsite

at  Mala Kunti  Near Marine Drive, Badrinath Highway.

Mountaintop Campsite

at Jaintapuri Temple, Kota Village, Rishikesh
1- Village Campsite -Barkot Rishikesh
The Barkot village is  North of Rishikesh makes you feel 100 km far from Rishikesh. The campsite here is a fantastic place to pitch a tent. You'll find here many spots with breathtaking vistas of the Himalayas.
You can come to pitch camp any season but in autumn & in the spring season when you watch mystic colors of nature along with the sunrays over the mountains.
You are looking for a campsite where you can do also other activities like Kunjapuri Temple Sunrise Trek along with  Birdwatching then this place is absolutely made for you.
 The Barkot village is located at an altitude of 1200 meters from sea level approx  25 km away by a motorable road and about 7 km away by uphill walk from Tapovan, Rishikesh.
Best Time To Camp –  September To June
2- Jungle Campsite at Mala Kunti, Badrinath Highway
You can not talk about camping without waterfalls,  jungle & a little wildlife around your campsite in Rishikesh. The Mala Kunti is a safe campsite that offers you real-life adventures such as a nature-made freshwater pool,  remoteness & darkness of real Jungle with the sound of a little night visitors at a distance.
The entire surrounding lies at the bottom of a very small valley and the place is lived & owned by Mohan Rana Ji who allows pitching the camp on his ground with some restrictions such as No Alcohol, No Smoking. The  Views from the campgrounds here are simply stunning.
This place lies about 800 m from sea level and can be reached by 25 minutes steep walks from the main highway, it offers also some thrilling half-day village and nature trail experiences around along with birdwatching.
Best Time To Camp –  September To June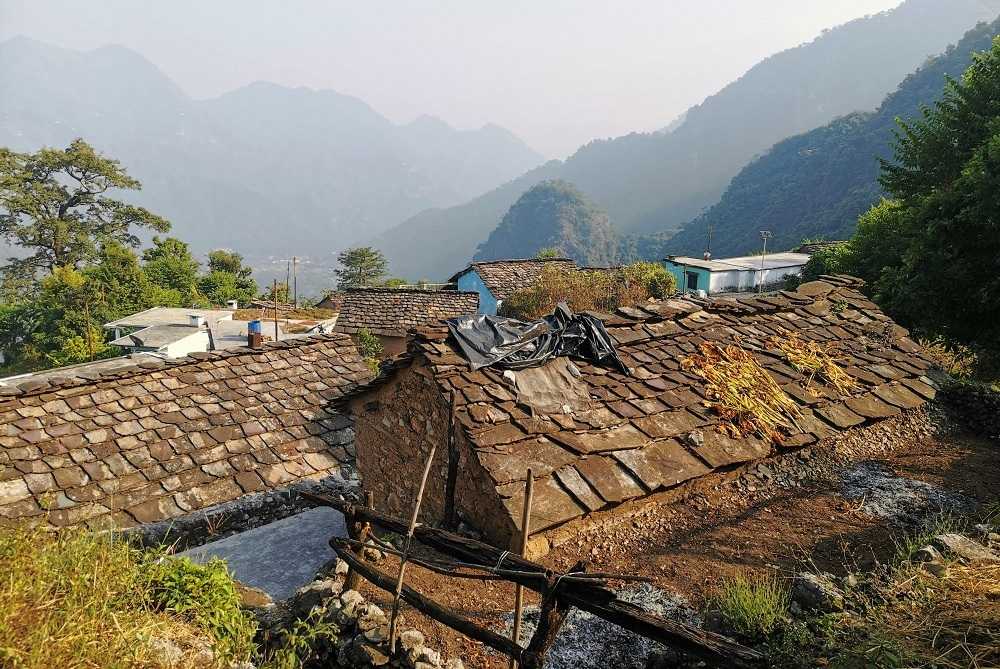 3- Mountaintop Campsite at Jaintapuri Temple
If you are thinking to pitch a tent on a mountaintop, above the cloud among the scattered peaks nearby Rishikesh? The Jaintapuri Temple is the best for you to set up a tent. the place makes an incredibly scenic campsite overlooking the River Ganges.
Amid nowhere above the Kota village, with never-ending layers of the Himalayan peaks, you'll find everything from sprawling Rajaji National Park for remote wild camping spots along with the remote village culture and lifestyle of Kota village.
You also involve yourself in several farming activities during your stay at a campsite or you can choose to stay in the house of locals to experience local life there.
The Jaintapuri Temple is located at an altitude of approx 1200 m from sea level and trekking is the only way to reach there. There are two trails to reach there; 1- Via Phool Chatti Ashram / 7km  Scenic Trail,  2- Via Vsahist Cave / 4 Km Trail Along Ganges by crossing the hanging bridge.
Best Time To Camp –  September To June
Some Tips To Know
 

You need to pick a flat ground here in Rishikesh with a breathtaking location to make your camping memorable.

The campsite should be within convenient distance of waterbody.
Off-Grid, so that nobody can disturb you to have a wilderness experience
Never pitch a tent at the bottom of a mountain &  valley  where the air is less and most humid
Do not pick the location near wild animal trails or wild habitats, which is caused lead to an unwanted night visitor.
Away from danger zones for natural hazards, like avalanches, flash floods, and incoming weather
You must stay away from insect breeding grounds, like waterlogged meadows and stagnant lakes