Top 5 Places For Waterfalls Rappelling & Abseiling in Rishikesh
The adventure is always hot & most demanded activities in the adventure capital of Inda, Rishikesh. It always challenging and thrilling to try out new activities. Nowadays, there are lots of demands of all age-group tourist for For waterfalls rappelling & abseiling in Rishikesh.
The River abseiling & waterfalls Rappelling are drawing more adventure lovers to the valley of the Ganges in Rishikesh from all over India.
The abseiling is like waterfall rappelling, in abseiling the participants glide down freely from the bridge or cliff with the help of a rope. In this article, you come to know about the Top 5 places For Waterfalls Rappelling & Abseiling in Rishikesh.
Top 5 Places For Rappelling & Abseiling
Apart from the Neer Waterfalls,  the rest of the spots are lesser-known among adventure those who come to Rishikesh for sightseeing or adventure activities.
Neer Waterfalls at Neer Village-Rishikesh
Rajaji National Park Near Vindhyawasini Temple
Garud Chatti Waterfalls at Garud Chatti – Rishikesh
Neer Waterfalls at Neer Village-Rishikesh

Phool Chatti at Confluence of the Ganges  & 

The Ratta Pani on the Rishikesh – Pauri Road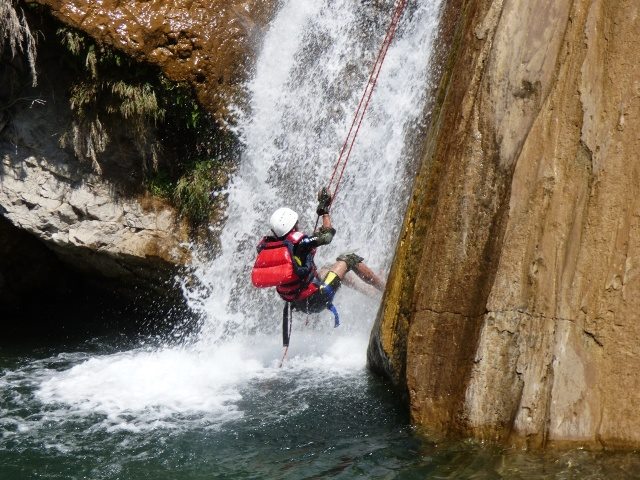 1. Neer Waterfalls, Rishikesh
Neer waterfall is the biggest waterfall in the neighborhood of Rishikesh. It is one of the lesser-known water sports in the adventure capital of India and there are plenty of places that have the potential for adventure like-minded tourists.
The  waterfall patch of rock is not very high approx 40 feet but the experience you get here remains with you forever
However, the best-known is Neer Waterfalls, which is in Neer village just 5 km away on the Badrinath Highway from Rishikesh.
As a totally thrilling experience, the Neer Waterfall is simply stunning – participants have to go on a 30-minute hike to reach the waterfall, where they climb up the waterfall cliff face to rappel down.
2. Rajaji National Park, Rishikesh
When most travelers think of adventure holidays on the Ganges, Rishikesh, they don't simply think of abseiling & water rappelling.
The tour begins at the scheduled meeting point where participants will be moved to a secluded spot along. Here, there is a patch of the rock that is approximately 80 – feet but it is absolutely a vertical slop where you glide down with rope.
 However, the  Ganges valley of the Himalayas, Rishikesh, isn't just a luxury hotel but it has some stunning wildlife sanctuaries.
Approx one hour drive to the east of Rishikesh, there are many beautiful landscapes and rocky mountains which offer rock rappelling in the National Park. Overall, the area has the most stunning landscapes.
3. Garud Chatti Waterfalls, Rishikesh
The Garud Chatti Waterfall rappel  Half-Day Tour in Rishikesh, is suitable for family adventure people and beginners hikers as it offers quite a nature bounty landscapes and sceneries.
However, it will be an organized tour due to the restricted area that falls under Rajajaji National Park, Rishikesh.
The rappellers are assisted by very professional guides. Here you take abseiling cum rappeling from 25 feet high rock and it is very fun-filled due to the surroundings and location and is most suitable for families and kids.
4. Phool Chatti, Rishikesh
Phool Chatti is quite surrounded by the rivers, mountains & sandy white beaches of the Ganges river and Hemal river( local name is  Heul river ), the Hemal river also features small flowing waters at the bottom where participants can cool off.
There is no online agency that offers this activity, however, but we operate this tour to those who only ask for difficult-level rock rappelling.
Wwe ensures it does include very high qualified professional guides who have licenses from the NIM ( Nehru Institute of Mountaineering ).
Here, you can take 2 different drops, including a 100-foot slope or a 50-foot slope, where you have to rappel down with a rope 
5. Ratta Pani,  River Abseiling, Rishikesh
If you have never experienced abseiling then Rishikesh is the best suitable place for you.  We run regular abseiling tours to the stunning Hemal Vallely in Rishikesh.
The place is located about 15 km east of Rishikesh city, the tour does not include any kind of hike or trek but you have a lush forest motor drive toward the bridge where we run abseiling for all age groups people. 
Once, you reach the abseiling point ( the bridge), the professional guide will help you suit up to traverse the 49-feet drop from the bridge in the Hemal river.
However the course of activity is not very challenging, so we recommend this for people who dare to take challenges.
Kimona Waterfall In Chakrata ( Not in Rishikesh )
The Kimona waterfall is the best known for waterfall rappelling & It is just two km away from Chakrata in Uttarakhand.
This waterfall has a fabulous height of approx 35 meters and it has a good drop of slope, on which waters are falling & offering you suitable environment for adventure activities.
The surrounding is awesome, lush green and covered with thickly oka forested mountains.  Moreover, It is only two km away from Chakrata town, now the place is getting popular for waterfall rappelling among the youth & offbeat travelers.
Tips For Rappeling and Abseiling
Always ask for an expert and licensed guide by the related authority of the organization.
It is not a recreational sport but it is a strenuous sport chek your fitness before choosing to rappel
Must carry sportswear while doing rappelling.