Ramayana Circuit in Uttarakhand – Devotional tour to the places associated with Lord Rama
In Deva Bhumi, the Uttarakhand government is planning to develop. The places associated with the great Indian epics such as Ramayana and Mahabharata. This excellent spiritual circuit help devotees to know more about their beloved god and helps them to dwell in devotion. As we all know the Ramayana is not just a myth or a story it is the past time of the supreme soul who took birth to relieve earth from the evil force. Whoever reads or hears the Ramayana their soul overwhelm with devotion. Before going to places associated with Ramayana in Uttarakhand lets us have a look at the story in brief
Ramayana Story Associated with Uttarakhand in brief
The greed of Rama's stepmother Kaikeyi makes Rama, Sita and Lakshmana leave the kingdom and go to exile for a period of 14 years. During the last period of there exile Rakshasi Surupanaka, sister of Demon King Ravan happens to see Lord Rama. Instantly fall in love with his charismatic personality and fearless nature. However, she disguises herself into a beautiful lady and proposes Rama to marry her. Rama rejects her proposal saying he loves only his wife Sita. She goes to Lakshmana he also rejects her. She forces them to marry which angered Lakshmana he cut her nose and ear.
This makes Ravana indulge in matters. Therefore, he visits the hermitage where Rama, Sita, and Lakshaman staying. He becomes wonderstruck with the universal beauty of Sita Maa. With the help of Maricha demon who can change the form, distracts Rama and Lakshmana and abducts Sita Maa. To rescue Sita Maa from the Demon Ravan, Rama along with Vanara Sena headed by Sugriva and Hanuman go to Lanka. A terrific war breaks out between Rama and Ravana.
The duration of the war is 13 days. During an intense movement in war, Ravana was frustrated as he is unable to kill Rama. He decided to attack the Vibishana his brother who fighting for Rama. Lakshmana who understood Vibishana's life is at stake approaches him before Ravana and saves him. This makes Ravana even more furious he attacks Lakshmana with a mighty and terrific spear. That spear hit Lakshman's chest very hard which makes him fall on the earth unconscious. To save Lakshmana's life Rama asks Hanuman to bring Sanjeevani herbs from the Himalayas. Hanuman brings an entire mountain as he was unable to identify the plant.
Ramayana Circuit in Uttarakhand
Rishikesh
Rishikesh is the entry point to the Deva Bhumi. This place is not only famous for the yoga and adventure actives but also for many historical events that took place here. According to Hinduism, it was an abode for sages who were meditating. Rishikesh is the world capital for Meditation. Many events in Ramayana took place here. This is the place where Lord Rama did reparation against wicked Ravan. Before going on the war to Lanka. Temple which is associated with the Ramayana are:
Bharat Mandir
An ancient Hindu temple associated with the Ramayana. The temple is dedicated to Lord Rama Younger brother Bharath. The main deity in the temple is Hirishikesh Narayan. There is a belief here that in the Kaliyuga Lord Vishnu will be worshipped by name Bharat. During the Ramayana era, Bharatha, younger brother of Rama meditated here.
Near to this temple premises, there are temples of Ram, Lakshmana, and Shatrughan. Whereas Near to Bharat temple, there is Triveni Ghat where Ganga Aarti takes place every evening, near to this there is a Lakshmi Narayan Temple.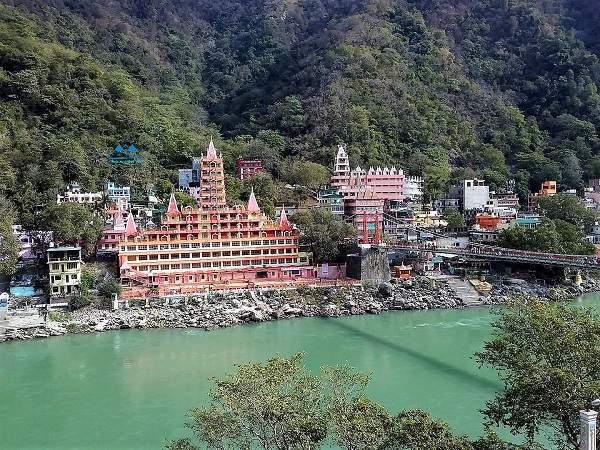 Lakshman Jhula
Another place associated with Ramayana is Lakshman Jhula which is a bridge that connects two villages. This built on the Ganga river, Lakshman uses a jute rope to cross the Ganga river.
Gita Bhawan
This is a Bhawan very Ramayana reading that happens on a daily bases by the Hindu brahmins in the Rishikesh.
Chamoli
This place is an amazing scenic beauty place and also it is the largest district in Uttarakhand. In fact, it is the border of India and Tibet, this place is a divine place that connects with many stories in the Hindu religion. Whereas Ramayana connection with this place is during the war between Rama and the Demon King Ravan. Lakshmana loses consciousness due to the spear released by the Ravana stuck Lakshman very hard in the chest.
To save Lakshmana, Rama ask Hanuman to get Sanjeevani from the Himalayas that is present-day Chamoli. As he was not able to identify the herb he lifts the enter mountain and carries to the Lanka. Here one can see the gap between two mountains which is created. At the time when Lord Hanuman carrying the mountain.
Conclusion
Ramayana Circuit in Uttarakhand is a spiritual and devotional tour that brings devotees and god together. Through the association of places and its spiritual importance.