Ramayana circuit- A spiritual Tour to the places associated with Ramayana
Ramayana is not just the life story of Lord Rama. It is a story that teaches people ethical values and principles followed by the Divine soul. This incredible devotional epic was written by Valmiki Maharshi. Moreover, it is for people to know about the past time of the supreme soul Maha Vishnu. The Lord incarnated as Sri Rama, a Prince of Ayodhya. This incredible story drives one to a spiritual way to get salvation(Moksha) from the cycle of birth and death. Indian Government introduced a spiritual Ramayana circuit which provides the opportunity for the devotees to visit the places where Lord was born, ruled, went to exile so on. Before going to the places and its association with Ramayana, let's have brief look at the great Indian epic.
A brief description of the Ramayana
Birth of Lord Rama
During the Treyta Yuga, there was a formidable dynasty called Ikshvaku. In that dynasty was born a powerful heroic handsome prince called Ramachandra (Lord Rama), an incarnation of the Supreme Lord Vishnu to Dasaratha Maharaja(Emperor) ruler of Ayodhya. King Dasaratha had three wives Kaushalya, Sumitra and Kaikeyi. Rama was born to his first wife, Kausalya. Lakshmana was born to Sumitra, Bharata and Shatrugna were born to Kaikeyi. Lord Rama was the sweetheart of the King and all his wives even among the people. His brothers respect and value him more than there life.
Rama and Sita Devi marriage
One fine day Vishwamitra Maharishi came to the King's palace to fetch Rama to kill the demons who are troubling them during yajna time. Though Dasaratha was reluctant in sending his son to the forest, Ramachandra convinced his father and successfully completed the task. on the way, Vishwamitra Maharishi takes Rama and Lakshmana to the Mithila where Swayamvarm for Sita Devi was happening. Lord Rama wins Devi Sita in Swayamvarm by breaking the magnificent and unmovable Shiva Dhanush. Later other brothers of Rama married sisters of Sita Devi.
Ravan abducting Sita
However, a few years after marriage King Dasaratha decided to handover kingdom to his beloved elder son. This news created a rift in the younger wife's mind. Her greed to make her son King of Ayodhya made Rama leave the Kingdom. He goes to exile for 14 years along with his beloved wife Sita and obedient brother Lakshmana. During the last stage of the exile period in the forest, an unfortunate incident happens. The wicked demon King Ravana visit the hermitage where Rama, Sita, and Lakshmana were living. Ravana was angry and came with a determination to destroy Rama for refusing to marry his sister, Surpanaka. But as a matter of fact, Ravana instantly fell in love with the universal beauty of Sita Maa. Abducted her by distracting Rama and Lakshmana with the help of Maricha.
Rescuing Sita Devi
With the help of the Vanara Sen, led by the Sugriva and Hanuman, Ram builts the Rama Setu bridge called Setu Bandhan. An incredible war breaks out between Lord Rama and the demon king Ravana. Finally, Lord Rama after killing Ravan takes Sita Devi after purification back to his kingdom Ayodhya.
Ramayana Circuit in India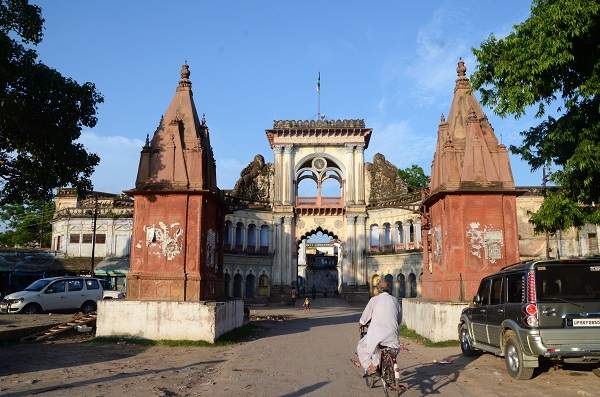 Ayodhya
The circuit starts from the Ayodhya in the Uttar Pradesh state of India. Ayodhya is the place where Lord Rama was born. Ruled after returning from 14 years of exile period. This divine place as many temples dedicated to Lord Rama and Maa Sita Devi. Here devotees can feel the spiritual and devotional vibes.
Shringverpur
During the exile period, people of Ayodhya followed Rama till here where Rama crossed the Gange river. Nishada king(Fisherman king) who was a friend of Rama invites Lord Rama along with Sita and Lakshmana to stay for a night. Since then the place gained a lot of eminence due to the stay of Rama here for a night. A yearly large number of tourists visit this pious place to enjoy the serenity it offers along with the scenic beauty of the place. This place is located 45 km from the Prayagraj in Uttar Pradesh.
Sitamarhi
A place where Sita Maa was born (Mithila region). Sitamarhi is a city which is located in the Bihar state in India. It is a border for India and Nepal. In fact, Janaki Mandir is the place where Lord Rama and Devi Sita's marriage ceremony took place. Hence, Rama Navami is greatly celebrated here every year.
Buxar
This city is located in the Bihar state which borders Uttar Pradesh and Bihar. Ahirauli, a place where Gautam Maharish's wife Ahilya came to life from the curse of Maharshi when Rama's foot touched the stone accidentally. This place is suited 6 km from the Buxar city. During the Ramayana era, Vishwamitra ashram was located in the Present-day Buxar town. In fact, it is the place where Lord Rama Killed Rakshasi Tadika who was disturbing Vishwamitra's yajna.
Darbhanga
This is the heart of Mithilanchal where Maa Sita was born. There are many temples related to Ramayana. Popular among these is Ahalya Asthan and Brahmpur. Ahalya Asthan situated 24 km from the Darbhanga. This is the place where Ahalya cursed to be stone by the Gautam Maharishi. where she mistakes Lord Indira in disguise as her husband pleases his request. Later comes into her true form with the touch of Lord Rama's foot.
Brahmpur, located 33 km from the Darbhanga. That is well known for its Gautham Kund and temple. Here Lord Brahma appeared before Gautham Maharishi. When Ahalya returns back to the original form. With his arrow makes a Kund In this way Mahrashi no need to go for away for water.
Nandigram
A town in West Bengal, where many historic events of Ramayana took place. This is the place where Bharat stays during the exile period of Rama. He felt dejected for his mother's intention for him to become king. He pleaded Rama to return and rule. The divine soul Rama rejects the request of Bharat. This made Bharath keep Lord Rama's footwear on the crown to rule. He stayed at Nandigram and prayed for his brother's safety.
After 14 years of exile period, Lord Rama along with Sita Devi and Lakshman visit Nandigram. Along with Bharat Lord Rama and Sita Devi enter Ayodhya later Lord Rama throne as the king.
Mahendragiri
This Mahendragiri is nothing but the Eastern ghats, another name for this mountain is Mahendra Parvat. After marriage, while Lord Rama along with Sita returning to Ayodhya a fierce Parusurama challenged Rama to fight him. During the fight, Parusurama realizes Lord Rama is none other than Lord Vishnu himself and asks for forgiveness and leaves to Mahendra Parvat to do Penance.
Jagdalpur
Jagdalpur is a city that is located in the Bastar tribal district of the Chhattisgarh which is none other than the Dandakaranya. In the Ramayana where wild beasts and demonic Rakashases were roaming. Rama, Sita, and Lakshaman spent a major exile period in this Bastar region. This forest covers Odhisa, Chhattisgarh and Andhra Pradesh states. This place offers a beautiful scenic beauty of nature.
Bhadrachalam
A spiritual town in the Telangana state. This town is located in the Bhadradri Kothagudem district. Many events in the Ramayan took place here. After the abduction of Sita Devi, Rama in search of her comes to this place. He blesses Bhadra, son of Meru to gain back his original form.
Later he meditates on the Rama based on the guidance given by the Narada Maharishi for several years on the banks of river Godavari. Rama promises him to return after rescuing Sita. Here Fight between Jetaue and Ravana also took place. Hence, yearly millions of tourists visit this divine Sri Sita Ramachandra Swamy temple which is located on the Bhadrardi hills.
Rameswaram
After killing the Demon King Ravan, Lord Rama consecrates a Shiva Lingam as per the advice of sages to absolve the sin of killing Brahmin. This is an important spiritual destination as it is one of the Dham in Char Dham yatra. Therefore, thousands of pilgrims visit this Ramanathaswamy Temple, a divine Dham every year.
Hampi
This is the place where Lord Rama and Lakshman meet Hanuman while searching for the Sita Devi who later takes them to the Sugriva. Near to this place, Lord Rama meets Sabari, an old devotee near the pampa river. The modern name for the pampa river is Tungabhadra. Hampi is not only famous for its eminent architecture and temples but has a strong connection with Ramayana epic Kishkinda Kanda. Hampi is located in East-central Karnataka.
Nashik
Panchvati, the place near to River Godavari in the Nashik region. It is the place where Sita Devi was abducted. By the Wicked Demon King Ravana during the last exile period of the Rama. Whereas the name Nashik obtain from the Ramayana epic. Temples to visit here is Kala Roop Ram, where Rama killed thousands of demons and rakshas. Sita Gufa (Cave of Sita) where Sita Devi use to pray Lord Shiva.
Nagpur
Ramtek city in Nagpur is famous for the Ramtek temple which was once places where Rama lived during the exile period along with Lakshmana and Sita Devi. Agastya Muni hermitage was located near to this place where Rama killed numerous rakshas who disturbs Agastya muni Yajna.
Chitrakoot
A divine place where Lord Rama, Sita, and Lakshmana spent most of their exile period here. It is believed that Trinity in Hinduism (Brahma, Vishnu, and Maheshwara ) took many incarnations at this very place. Here one can see numerous temples dedicated to Lord Rama, Lord Shiva, Lord Hanuman so on. This pilgrimage located in the Satna district of Madhya Pradesh.
Conclusion
Ramayana Circuit is a great spiritual tour where one can visit the places that holds great spiritual importance in Hinduism.