Why Rajinikanth and Mahavatar Babaji

?

The world has been driven crazy by the high-octane superstar Rajinikanth, who frequently disappears for weeks on end in order to ascend spiritually into the cave of Mahavatar Babaji, Uttarakhand Himalayas.

Superstar Rajinikanth takes his films very seriously. Because of this, before every cinematic release, he likes to go into the mountains and do a spiritual retreat in order to center himself
Rajinikanth and Mahavatar Babaji
Famous actor Rajinikanth is a disciple of Mahavatar Babaji. There exists no historical record about this character and whatever is known about him, includes hearsay by people who have come into contact with him. Among these include Paramahansa Yogananda's autobiography, a worldwide best-seller that has sold millions of copies in almost 30 languages.
Mahavatar Babaji
Mahavatar Babaji is said to be a 'deathless' guru who has maintained a youthful form, like a millennial, as The Autobiography of the Yogi says. It is said that Mahavatar Babaji was basically from Cuddalore (in Tamil Nadu) who during later years moved to Rishikesh.
There is still a house in Cuddalore that people say belonged to Mahavatar Babaji or Nagarajan as named by his parents. They also say that the last time he was seen in the Himalayas was during 1861-65.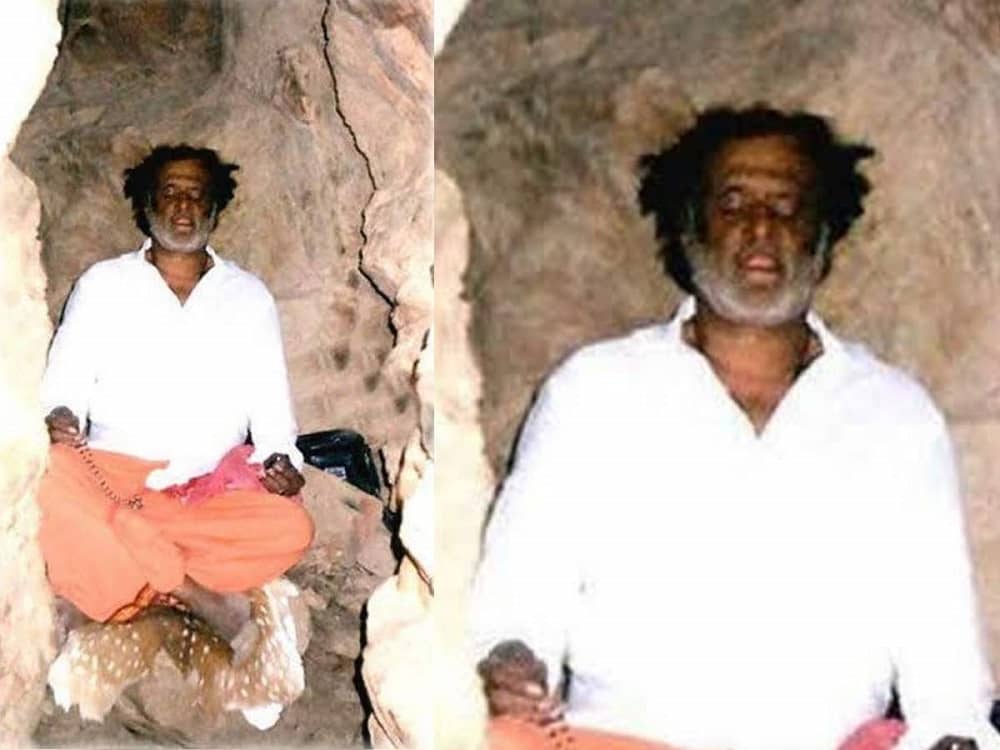 It is believed that Babaji lived in a cave which is an hour away from Dunagiri in Almora district in the Kumaon region of Uttarakhand, and one of India's most beautiful places to visit. The autobiography of a Yogi by Paramhansa Yogananda has published a photo of Mahavatar Babaji and this cave.
Why Did Rajinikanth Become A Devotee Of Mahavatar Babaji?
It is hard to believe that Rajnikanth, a giant of Indian cinema, has never had any formal English training. The heartthrob of millions of Tamilians started reading Autobiography of a Yogi only back in 99′. That's the year Padayappa was released. And that is how he got introduced to Babaji's piece of work. He claims his poor English skills are thanks to Babaji's book.
Rajinikanth says, "I read the book Autobiography of a Yogi, and one of his pictures emanated a light-spark that went inside my body.
After reading the book and becoming an avid follower of Mahavatar Babaji, Rajinikanth turned to develop his inner being with Kriya Yoga – a practice he credits for positive changes in his life. What began as a quest for physical health was soon transformed into a spiritual journey as Rajinikanth discovered his guru.
In order to create a more universal appeal for Babaji, he also directed a film entitled Baba and in so doing, popularized his spiritual guru. Not surprisingly all of the scenes were actually filmed in caves, as stated by Rajnikanth during filming. The cave exploration scenes from Baba became a very helpful guide for filming the Babaji cave light spark.